www.solutionexchange-un.net.in/en/ICT-for-Development
Introduction
A first step  towards a discussion on Child online Protection in India, was taken by organising a session at eINDIA2009, at Hyderabad on August 26, 2009 to interact with varied stakeholders ranging from Central and State Government departments, Educational Institutions, Private Sector and multilateral agencies such as the UNICEF, UNESCO and UN Solution Exchange ICTD.
Child online Protection: Discussion and Speakers
Rajen Varada, Resource Person, ICTD Community, UN Solution Exchange welcomed all delegates while giving a background on  Child Online Protection. He introduced the chairperson of the session Dr Gulshan Rai, Head of e-Security Group, DIT and Director CERT-In and expressed his confidence that Dr Rai's chairing of the session was an indication of Govt. of India's commitment to the cause of Child Online Protection. He hoped that all other stakeholders would also take cognizance of the fact that Child Protection is being taken up as a serious issue of concern at national and international level.
Dr. Gulshan Rai dwelt on the initiatives taken by DIT, Government of India, towards putting in place the regulatory, legal and institutional mechanisms for addressing the issues of Cyber Crime, which also addresses the issue of child online protection. He said that convergence has already started happening in the IT sector in the country. This, coupled with the fact that there are about 1.45 billion websites on the Internet, has made controlling the Web a difficult exercise. He opined that website hosts and service providers were also responsible for cyber crime(s) as they try to attract maximum hits using content designed to appeal to younger users as also through pop up advertisements, etc. He stated that the Ministry has come up with a portal in collaboration with Microsoft Secure your PC . The portal provides information on cases of cyber crime and is updated regularly. Dr Rai added that laws and acts have been amended to include child pornography. He closed his speech stressing on the need for the IT industry in India to come forward with technologies and solutions to better deal with the menace of child pornography on the Internet.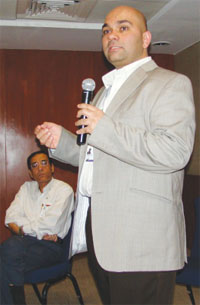 Rajnesh D. Singh, Regional Bureau Manager, ISOC Asia started off by introducing Internet Society (ISOC) and its work. He said that the Internet is simultaneously a world of both "opportunities and challenges". Talking about cyber safety, he stated that online challenges are an extension of real life challenges. He then proceeded to give a slew of statistical data on Internet behaviour of children and young adults in the United States. He explained how the virtual world is different from the real world and how the anonymity it provides, gives users a false sense of security. He said that Internet safety should be part of a child's school curriculum.
Rajen Varada said that if relevant statistics were available on children's online behaviour in India, the scenario would probably prove to be more serious. He mentioned the need to enable a deeper understanding on ways to tackle the child online protection issues. He gave inputs about the membership base of the Solution exchange, which consisted of about 16,000 members who were all in the development sector and potential change agents in their respective fields. He informed that they could be motivated to take up this very important issue to create awareness, develop practical tools and share knowledge and experience on the subject and disseminate it to a large online community in India.
K. Anvar Sadath, Executive Director, Department of General Education, Government of Kerala, who spoke on cyber safety tips, listed various Internet security issues posed by fake sites, inaccurate health information, social networking sites and historical revisionist material. He talked about the responsibility the parents have with respect to children and their Internet usage. He also raised the question of how far it is practical to pursue prevention in this regard. He spoke in detail about the IT @ School Project in Kerala, which he implemented and touched upon the various challenges he faced during that time.
Tulika Pandey, Additional Director, Ministry of Communications & Information Technology (Govt. of India) spoke on the issue of Child Online Protection in Schools / Colleges. She stated that India with its ubiquitous ICT outreach to a very large present and future young population needs to set all requisite mechanisms and guidelines in place to tackle the menace of Child Online Protection. She stated that laws already existed for taking punitive action once crime against children are committed, however, there is a need to address gaps which exist in the form of lack of awareness among parents and educators about handling children/youth towards safe internet access and use as also tools, technologies, other surveillance mechanisms that could be deployed by them. Developing child protection policy, screening staff and volunteers and providing training to all participants were some of the steps process, she suggested for protecting children in schools / colleges.
The next session involved various members of the industry giving their views on the issues discussed till then. Deepak Maheshwari from Microsoft Corporation (India) Private Limited said the anonymity of the Internet can be used as an advantage to allow children to make complaints online. Rajendra Dhavale of Computer Associates  felt that there was a need to integrate all the work that has already been done in silos. Venkatesh H from Redhat was of the opinion that the generation gap between parents and kids with respect to Internet was a major concern in dealing with child online protection. Sanjeev Kumar Gupta from IBM suggested that this issue could be taken up with the CSR wings of IT companies.
Dr Ravi Shankar from the Police Department, Government of Andhra Pradesh stated that the Police at present was ill equipped to handle issues of Child Protection. He added that even for the existing child helpline activities they do not have adequate trained manpower. He suggested that the Women and Child department could initially handle the issue.
Gitanjali Sah stressed upon the inclusion of inputs, comments and suggestions from the end users (i.e. Children) will be very important at every stage, as the COP guidelines should ultimately benefit children in the best possible ways. Providing the concluding note, Ashis Sanyal, Senior Director, Ministry of Communications & Information Technology (Government of India) said that a close-ended case on the issue should be presented to the government with a definite time frame, so that the government can come up with the necessary legal framework in a reasonable time. At the end of the session, all the participants felt that this was a very relevant issue and should be taken forward.
Rajen Varada
UN Solution Exchange
ICT Unit
Apprehending Innovations ! (www.euroindia-ict.org)
If we consider ICT to be a new set of technologies, then we could conjecture that whatever happens in the ICT sector in terms of product, process, or service delivery is innovation. There is some truth to this statement only if we still consider ICT as a new and emerging industry. Euro-India ICT Innovation Workshop sought to move the debate and research to address ICT innovations from a perspective assuming not only newness but also maturity of the phenomenon. In which case everything that comes out of the ICT industry cannot be assumed as innovative automatically; rather innovation in ICT needs be as unique as for any other technology, requiring a persistent effort in understanding how innovation takes shape. Only then can we manage ICT innovations for maximum benefit to the innovating entity and the recipients or users of the innovation. We need a nuanced understanding of ICT innovation that combines knowledge sharing, knowledge transfer, and knowledge capture issues, with ideas linked to the sustenance and management of innovation, with alliance building, and with domain as well as technology perspectives. The nuanced understanding of ICT innovation requires a broad as well as an in-depth understanding of how technologies, domains, social systems, cultures, organisations and management combine, resources and skills to persist in ensuring sustainable innovation in emerging economies. What are the specific challenges that innovators face in these economies? What are the mitigating factors that need to be considered to help innovators in emerging economies? How innovation takes shape in emerging economies and how is it different, if at all, and does the institutional and resource constraint provide opportunities for innovators to ply their trade or do they hinder innovators in the ICT sectors? These are some of the issues that the workshop invited discussion on.
In Hyderabad amidst e-INDIA, Euro-India ICT Forum held the ICT innovation workshop. The primary focus of that workshop was to share the experiences of the Euro-India Knowledge mapping project, which has been toiling away, trying to understand the Indian innovative landscape across all the regions of India.
This workshop invited industry representatives and non-government organisations and other stakeholders to understanding the findings of Euro-India ICT Forum and allow them to react to the data that they saw.
There were a number of themes that emerged from this workshop. First the knowledge mapping project itself indicated that majority of ICT endeavour is focused on products. While innovation itself is accepted as an important value adder, there is very little concerted effort to understand innovation, manage innovation and leverage innovativeness. It also appeared from the discussion that policy has a critical role to play in innovation, primarily in the education sector and discussions around the e-Learning theme took a lot of time. The primary conclusion of the e-Learning debate was that policy makers really do not understand in full the real potential of IT in education and their efforts have huge gaps that need to be looked at comprehensively.
Organisational innovation was another prominent theme being talked about from two perspectives. The first discussion on value appeared that IT provides a unique opportunity to shift the focus from price to value, but IT, while paying lip service to the idea of value, is primarily bottom line businesses. This attitude among the management hurts ICT innovation because organisations do not support their star employees. Furthermore, innovation takes sustained and long term view and since the business model of most IT firms are based on short term bottom line, particularly during recessionary times, innovation takes a back. This leads to the marginalisation of star employees who act like broadly spanners in the organization.
The workshop concluded with three basic themes, first that ICT innovation is critical for India's sustained leadership in the high tech industry. Second, that policy is very seldom, not proactive but reactive and third, that Indian technology leaders do very little to raise the profile of innovation among companies.
Dr Sudhanshu Rai
Team Leader, Euro-India ICT R&D Project (sr.inf@cbs.dk)