ICT Enabled Municipal Initiative of the Year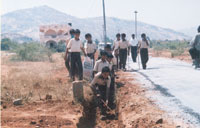 The Municipal IT India 2009 Award for ICT Enabled Municipal Initiative of the Year aims to felicitate those municipal initiatives that have used ICT tools to provide and improve services, transactions and interactions with citizens and businesses. The award in the category of the best government initiative was open for all national municipalities that use or endorse upon the use of ICT tools to increase efficiency of the municipalities, and benefit end users.
---
Luxor Infrastructure Development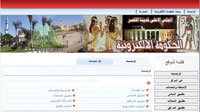 Luxor IT Strategy Vision provided automated verticals services and became municipal service providers to Citizens / Investors and tourist in the country. It enabled increased technology culture at local community level Initiative projects. GIS information center project were developed using latest GIS technology including establishment of  a new location equipped with automated environment. Machines were used for the measurement of the data with the GIS technology and provide service to citizens / investors for their project over specific location . Educational multi-purpose lab were also provided to combat  illiteracy education using computer. As a  national project, education was provided to woman through their vocational training program.
Achievements
Provided IT infrastructure, equipment for technical and end-user training.

Improved services, performance and delivery time.

Provided  general IT Training to the citizen.
Implementor: Luxor IT Strategy Vision
Website: www.luxoregov.org
"As a national project, education was provided to woman through their vocational training program."
---
Municipal Corporation Faridabad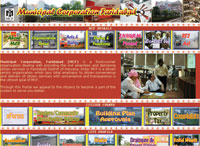 Municipal Corporation Faridabad (MCF) had set up a Complaint Centre, where any citizen could come and get his complaint registered. The complaints are then redressed by different officers dealing with various functions of the Corporation. The facility has been widely appreciated by the general public because of the effective disposal of their grievances and complaints. MCF had reengineered the processes of property/house tax computation and its billing by automating the processes. e-Tendering System was also introduced to publish the tenders online and give emphasis to the community participation in the works undertaken by MCF. This brought in transparency and accountability in the system and is appreciated by the community.
Achievements
Citizen facilitation and online redressal of public grievances.

Complaint centre for citizen facilitation.

Unique identification of properties.

Streamlining and web-enablement of property tax system.

Automation of licensing.

Automation of rent & lease.

e-Tendering, ward works and community participation.

Building plans on Net for registering online objections.
Implementor: Municipal Corporation, Faridabad
Website: http://www.mcfbd.org/
"eTendering System, which aimed to bring about transparency in issuance of tenders/community participation notices issued by MCF, has been highly appreciated by the business community."
---
MCGM Portal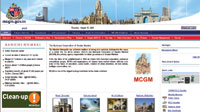 The ICT enabled initiative is a partnership between the Municipal Corporation of Greater Mumbai (MCGM) and Sify Technologies to provide Civic Services to the citizens of Mumbai through Sify's e-Port cyber cafe chain. This partnership is aimed at making the lives of the citizens of Greater Mumbai easier with convenient access to online services from a nearby ePort cafe.
Online solution was the only way out to reach the masses and increase the interactive efficiency among the corporation and the common man. The objective was clearly defined to build convenience for citizens and enhance productivity for the Municipality by out-sourcing their most critical job  of revenue/ tax collection at multiple points across the city.
Achievements
Time and cost of the common man was saved by the digitisation of MCGM platform to streamline the revenue/ tax collection module.

The Sify relationship not only extended a wide geographical coverage with multi-fold citizen touch-points, it also enabled the flawless integration with the critical payment gateway of MCGM. it laid guidelines with the help of its own development team in coordination with MCGM.
Implementor:  Municipal Corporation of Greater Mumbai
Website: www.mcgm.gov.in
"MCGM was earlier available to the citizens of Mumbai through its 24 Customer Facility Centres across 24 Wards in the city. The solution extended by Sify empowered MCGM to represent itself through the 240 and more Internet outlets and PC kiosks available across these wards."
---
Ahmedabad Municipal Corporation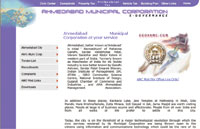 To eliminate corrupt practices, the e-governance system was built to  to provide better services to citizens. Success of e-Governance depended on use of Information & Communication Technology (ICT) in mobilization of Government resources and utilization of these resources. e-Governance enabled the City Government to re-engineer the processes in delivering speedy and better civic services. It eliminated discretionary powers vested with employees and removed human interface in decision making process to ensure transparency. It also eliminated lengthy and cumbersome procedures involved in storage and retrieval of information. The integration of  all the departments have made free flow of information across and has in built audit trial. It has brought corporate culture to city government employees.
Achievements
Revenue collection jumped from 38% to 85% in 5 years time.

All departments were integrated.

As Municipal Corporation were more responsive and transparent, chances for corruption were eliminated.

Quicker services were provided to the citizens.

24-hour remote access to AMC transactions and services.

Payment gateways and electronic transactions eliminated manual intervention.
Implementor: Ahmedabad Municipal Corporation
Website: http://www.egovamc.com/
"It has helped in capacity building of skilled man power to sustain ever changing information technology environment and sustain IT enabled urban e-Governance project for long-term."
---
Government Services Development Programm (Monofeya Governorate)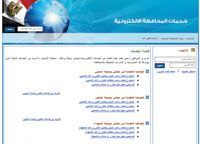 Ministry of State for Administrative Development MSAD through 'Government Services Development Program' intended to improve the quality of services presented to the citizens and address the challenges that government agencies faced formerly. The program aimed at installing single-window-type citizen-service centers at the governorate offices. The project established Citizen Service Centers within the governorates. The work done involved architectural remodeling, furniture, business-processes enhancement, IT infrastructure and Software development as well as staff training. Governorates Portals acted as a media interface on different local government project developments and plans. Other than accessing services online, the citizens could visit Citizen Service Centers in the governorate where government employees were appointed to perform the online service on behalf of the citizens.
Achievements
MSAD through local governorates' efforts focused on enhancing the living standard of the community, as well as simplifying the government services provision to the public and business.

City councils underwent restructuring, civil works, renovations, furnishings, infrastructure building and back office preparations including LAN's and ICT tools and equipments, business applications, staff training and capacity building.

Anti-corruption policies and regulations were applied by separating between government officials at the backend of the processes and the citizens.

Efficiency was achieved through standardization of forms, modern management applications in reducing friction, resolving conflicts and managing relations with customers and investors.

The most significant ongoing goal in the transformation process was to provide better services to citizens.
Implementor: Ministry of State for Administrative Development
Website: http://services.monofeya.gov.eg
"Using a workflow based information system to track the citizens' requests within the different departments, the Local Government Services Project target was to establish portals for the governorates to be active and efficient mediators in serving the citizens in different fields."
---
SUBIDHA- State Urban Bodies Integrated Data Handling & Access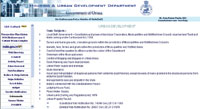 The Housing and Urban Development (H&UD) Department, Government of Orissa, had undertaken several e-Governance initiatives in the Urban Local Bodies (ULB) under "SUBIDHA"- the Urban e-Governance project, developed & implemented by NIC. The project provided both information and services to the citizens.
The services provided could be categorized into two parts: Public Services – where citizen can register the information or enquire from the system and Authenticated ServicesImplementor: National Informatics Centre (NIC),
Orissa State Centre, Bhubaneswar Website: www.orissa.gov.in/housing&urban/index.htm
"Embedded with the features of transparency of the process, non-discrimination of citizens, equality of access, accountability, probity and security features, SUBIDHA was reviewed and accepted by various ULBs. Thus the process of e-Governance in Urban sector of Orissa has gained public and departmental confi dence."

Achievements
The project has given the reformist face to the ULBs.
Empowerment to the citizen for remote access.
Reduction in service delivery time through the suitable
Government Process Reengineering.
Delivery of quality printed certifi cates instead of handwritten ones
leading to citizen certifi cation.
Quick analysis reports/graphs facilitating decision support system.
Quick searching to check certifi cate validity by any Government offi cials / colleges / universities / citizen etc.