"Start Small, Scale Gradually" may actually be the apt mantra to usher in this new way of interaction between government and citizens
S R Rao
Additional Secretary,
Department of Information Technology,
Ministry of Communications and Information Technology, Government of India
---
As the New Year grew a month old and took stock of trends and patterns in technology, a statistic that really stood out was "15 million new Indian mobile subscribers in January 2009".  Incredible!
So many more hands, so much more connected, so much more enabled. With almost 375 million mobile subscribers across the Nation, and growing, the mobile phone is the quintessential device that will most effectively realize the vision of technology being a great leveler. Especially since it knows no boundaries or class distinctions.
Costs are not prohibitive—there's always one model just right for your pocket and needs—and  there's always a service provider with just the right rental or prepaid plan for you. And so,  cutting across all possible sections of the Indian society, the mobile phone is reaching more and  more town-dwellers, villagers, daily-wage earners, salaried employees, small and big  businessmen, shopkeepers, electricians, cab and rickshaw drivers, grocers, students, doctors,  elected representatives, administrators, farmers, men, women, children, and elders. The  biggest sign of long-term sustainability and future potential of this mode is the way the youth  have taken to it, and how they manoeuver along like second nature.
We are surely creating a massive user-base of individually enabled, individually connected,  citizens. And in this compelling paradigm that totally lends itself to individuality, individual  space, individual privacy and freedom, lies the cue for reengineering governance and public  services to make them mobile-ready. After all, what better way, what cheaper technology, to  create a two-way service delivery platform between the government and (each) individual.
The success of Mobile Governance would largely depend on our ability to focus on reaching the  maximum number of mobile users. In the Indian context, it may be inappropriate to peg  the basic service delivery model around anything other than Voice and the no-frills "short  messaging service" (SMS). For, even though WAP- and GPRS-enabled mobile phones can offer internet access, that is something not every subscriber may opt for or may even be comfortable using.
Amongst the foremost benefits "Push" services via SMS can bring is safer, better lives for  citizens. Lifesaving alerts broadcast during natural disasters, suggestions to farmers on which  crops to plant given the current weather conditions, how to protect your family from the new  pandemic that's surfaced, which roads to take during emergency situations, who to contact  when facing domestic violence, are some examples. In terms of "Pull" services, things can  head off to a great start by enabling queries from citizens related to Right To Information (RTI), status of their submitted applications, vaccination schedule for a child who's details are  registered, and so on…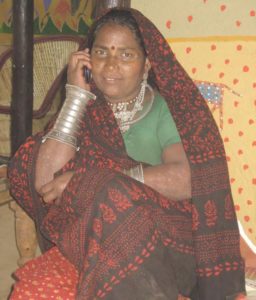 Mechanisms can also be evolved that will issue token numbers and "delivery date" to citizens  interacting via the mobile phone for a service to be delivered at a certain location. Showing the token number received via SMS on the "due date" would enable the citizen to claim what's  waiting and ready at the delivery point, thus reducing the need for elaborate  paperwork and continuous follow-ups that may require numerous physical visits. The latter is quite a formidable task when the notso- navigable road ahead of the citizen residing in a  village is three to four hours long to the nearest semblance of public administration. Guided  voice-based services in a citizen's local language may even be used to fill up forms completely, using the subscriber's "Voice" itself as a signature alternative.
The possibilities are immense, and the platform is ready. The demand side visà- vis citizens is  also considerably high – mobile technology has demonstrated very effectively that change for  the better can happen, and happen fast – leaving citizens demanding even more change for  the better, and even more services. Administrators and elected representatives with their ear  to the ground are no doubt scribbling notes about this "item" on their "To Do Lists". The action  that would or should follow would still require strong will and extra effort. For, the  movement towards mobile governance will, arguably, call for even more intensive reengineering than other modes of e-Governance. And even greater levels of transparency  and accountability. Which, at the end of the day, is even more compelling reason we start going down this path sooner than later.
"Start Small, Scale Gradually" may actually be the apt mantra to usher in this new way of  interaction between government and citizens. Successful small-to-medium scale  implementation models can be found across the globe. Citizens in Singapore regularly receive passport renewal notifications via SMS. A city in Estonia has introduced municipal  m-Governance services wherein citizens can enquire about security, law and order, utilities,  and disaster management by way of SMS; Citizens can even make appointments with  government officials via SMS. In rural parts of South Africa, domestic violence against women  and children  can be reported via SMS.
I take a moment to pause and reflect on general elections happening this very moment – and  on the two players – the candidate, and the voter. While the savvy candidate has very  naturally taken to SMS technology to reach out to the voter-base with his manifesto, the voter  too could benefit in various ways. SMS communities, as and when they are formed, can  enable the voter to inquire about the antecedents of a candidate via Push/Pull. The voter may  even be able to locate his exact booth by way of SMS inquiry.
Meanwhile, even with all the data and all the technology, at some booths, the local bully may  be too insurmountable a reality. Now, if only the voter did not have to face this bully – If only,  this voter could vote without visiting the booth gheraoed by the bully. If only, all that was  needed was an SMS message from the mobile phone that would count as a vote – mobile voting  – now that would be democracy at its participative best and truest!