Engineering plays a vital role in developing products that are smarter, better, simpler, lighter, safer and more energy-efficient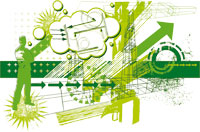 Escalating industrial growth, burgeoning global population and fast-changing standards of living are increasingly having an impact on the environment. However, technology, and engineering in particular, can be used to contain this impact. A major portion of this environmental impact can be attributed to the way products and systems are designed, manufactured, used and retired.
As defined by the US Environmental Protection Agency "Green engineering is the design, commercialization, and use of processes and products, which are feasible and economical while minimizing 1) generation of pollution at the source and 2) risk to human health and the environment."
There are several statistics indicating the huge potential for 'green engineering' through better product, process and systems engineering. Some of these statistics include:
There are abundant opportunities to save more than 50% of energy consumed today by household appliances and industrial systems Every kilogram of  on-board weight reduction for airlines saves thousands of liters per annum in fuel consumption Every 10% reduction in automotive weight significantly increases the fuel economy Ergonomics-related injuries comprise significant portion of disabling occupational injury costs in the US Engineering plays a vital role in developing products that are smarter, better, simpler, lighter, safer and more energy-efficient. The complete lifecycle of products and systems, through Design-Manufacture-Maintain- Retire, impacts the environment and users in many ways.
Better engineered products consume fewer resources in being designed, while also being more resource-efficient in downstream operations like manufacturing, supply chain logistics, customer experience, maintenance and retirement. For example, the lead time for developing complex products like automobiles has shrunk from over 36 months to about 12 months resulting in a significant saving of resources. Effective and efficient engineering ensure better products with a shorter product development lead time and minimal wastage.
Evaluation of manufacturing processes early in the product lifecycle ensures efficient factory processes resulting in better plant throughput with reduced wastage. By leveraging virtual environments for simulation and what-if studies, many leading organizations have drastically cut down the need for physical prototypes. This has resulted in significantly reducing wasted resources in building, testing and recycling physical prototypes.  Also, virtual process planning has been leveraged considerably in improving worker ergonomics leading to reduced job related injuries. According to several estimates, virtual manufacturing helps in cutting down overall manufacturing costs up to about 25% by better planning of equipment, direct labor and manufacturing processes.
'Shop floor to Top floor' integrations facilitate real-time manufacturing visibility and intelligent decision making. This further ensures optimized inventory, reduced downtime, effective asset utilization, better maintenance of manufacturing assets along with higher throughput and quality. Technologies such as manufacturing execution systems (MES) are leveraged to achieve better plant throughput and energy efficiency.
Product, Process and Asset Lifecycle Management (PLM) frameworks enable effective integration and collaboration between multiple stakeholders in the extended enterprise. PLM enables visualization of the real-time product development process in a collaborative environment avoiding costly mistakes (wasted resources, legal liabilities) due to communication gaps between functional groups and suppliers in the eco-system. PLM also enables component reuse by avoiding re-invention. PLM frameworks are playing a crucial role in ensuring strict adherence to regulatory frameworks like RoHS (Restriction of Hazardous Substances directive)  and REACH (Registration, Evaluation, and Authorization of Chemicals). For example, RoHS mandates that companies must not manufacture products with more than a stipulated concentration of materials containing restricted substances such as lead, mercury, cadmium and REACH is targeted at keeping about 30,000 banned chemicals out of the product and the supply chain.
Over the last decade, Infosys through engineering and IT-enabled solutions, has been helping customers across industries develop enhanced products and IT systems to achieve 'green' results. Infosys' contribution in this context includes about 20 aerospace programs, 50 automotive programs, 20 heavy machinery development, 15 end-to-end PLM implementations and 10 industrial automation, MES implementations. Given below are some specific engineering examples of 'green engineering' of products and systems along with the results achieved.
As mentioned earlier, every additional kilogram of aircraft weight is a huge penalty for airlines as they incur significant additional costs on fuel consumption along with added emissions. Optimizing aircraft structural weight has been a great challenge aerospace OEMs have been grappling with. Infosys has partnered with several large commercial and transport aircraft programs for structural design and has delivered substantial weight savings.  For a large US-based aerospace manufacturer, the team reduced over 1000 lbs of aircraft structures weight in two programs, leading to significant savings in fuel and reduced emissions. In several other aircraft programs, knowledge-based engineering (KBE) applications in various product development phases like design, sizing and optimization have led to significant weight savings which would not have been possible through manual iterations, as traditionally executed.
Emission legislations, fuel economy demands and the drive towards cleaner diesel combustion are major competitive advantages for engine systems manufacturers. For a leading diesel engines and engine management systems manufacturer, Infosys supported the development of complex engine control electronics and algorithms to improve the fuel injection and performance monitoring efficiency. Highly power-optimized electronics design combined with advanced engine control algorithms and a new set of mechanical characteristics helped these engines achieve legislative norms and create a new benchmark in the industry.
For a semi-trailer manufacturer, Infosys re-designed the 'sub-frame' assembly, resulting in significant weight reduction and improved manufacturing process. By converting the assembly arrangement from a welded structure to a bolted configuration and by reusing components across multiple variants, Infosys reduced the part count by about 37% and 'sub-frame' weight by 18%. The conversion from a welded to bolted arrangement resulted in reduced assembly time of approximately 30% and significantly reduced the carbon emissions due to change in production process.
For the above customer, Infosys also proposed an innovative solution through cross-pollination of ideas from the aerospace industry experience, leveraging composites to redesign the floor of the trailer van. This design change resulted in a structural performance enhancement by about 12.5% and thermal performance by 83% due to better insulation characteristics of the floor material, and 68% reduction in weld length which resulted in a significant reduction in carbon emissions. The weight reduction combined with better thermal performance led to a significant reduction in fuel consumption for the fleet operators.
For a leading turbo machinery manufacturer, as part of their clean energy initiatives, Infosys team is collaborating in developing advanced gas turbine technology to improve the efficiency by about 1.5% and advanced steam turbine technology to enhance supercritical steam temperature by about 80 degrees Centigrade from the conventional levels to reduce CO2 emissions.
---

Valmeeka Nathan
(Valmeeka_Nathan@infosys.com ) is Vice President and Head of Product Lifecycle and Engineering Solutions (PLES) at Infosys Technologies Ltd (NASDAQ: INFY). He is based in India.
---
Follow and connect with us on Facebook, Twitter, LinkedIn, Elets video