Goa is today turning into a fast developing economy with a vibrant citizenry that is asserting itself over choices and options of development

---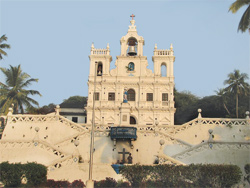 Goa, the tiny coastal state, was liberated from the shackles of Portuguese rule on December 19, 1961 . Goa rose to become the 25th state in the Indian Union in 1987. Located on the west coast, Goa has a population of close to 14 lakh in an area of around 3600 sq. kms. It has a coastline of around 106 kms.
The people worldwide know Goa as a tourists' paradise blessed by silvery and pristine beaches, historical temples and churches and a place of peace-loving people who cherish communal harmony. Very few would, however, fancy that Goa is today turning into a fast developing economy with a vibrant citizenry that is asserting itself over choices and options of development.
In other words, it is slowly but steadily transforming from a long laid-back society into a vibrant and dynamic state. As a result, Goa is witnessing a major citizen participation in the local self government process, where people across the State are seen questioning the type of development and the use of State's scare land and other resources. The State boasts of a very high literacy rate, almost second to Kerala. In terms of per capita income too, the state ranks among the highest.
Development
Interestingly, Goa has been ranked among the leading states on the developmental scale by national magazines. Goa's economy is growing at a faster rate than that of the country as a whole. While the rest of the country is growing at around 7 percent, the growth in Goa touched the double digit in 2005 and it is still going strong.Goan economy traditionally hinged on mining, Gulf remunerations and now on service sector mainly tourism. Gulf remunerations have been on decline in recent times, so too is mining and tourism which are presently facing the pressures of worldwide economic meltdown.
Just to throw some light on Goa's achievements  it  was  ranked the best placed state by the Eleventh Finance Commission for its infrastructure,  ranked on top for the best quality of life by National Commission on Population based on the 12 Indicators,  placed in top three states in India for high rate of literacy and low rate of infant mortality and  declared the second fastest growing state by CRISIL.
For the development in  connectivity, Goa Broadband Project will connect each and every Taluka with a high bandwidth of 10Gbps, and each and every Village with 1Gbps and connects each and every house with 10/100 Mbps depending on demand. With this initiatives each and every house will get a connectivity with voice, video and data transfer facilities at an affordable and reasonable cost.
Industrial Policy
Goa has been on the lookout to attract investments armed with a pro-active industrial policy, which identified biotech, food processing, agro-based industries, IT and IT-enabled services and entertainment sector as core areas of focus. After the State was declared a permanent venue for prestigious International Film Festival of India(IFFI), the entertainment industry led by state-owned Entertainment Society of Goa (ESG) is making big strides in bringing to forefront entertainment as a significant revenue generating sector. The moves are on to make it a entertainment hub of international standards.
Goal of IT in Goa
e-Infrastructure: The government has recognised that the success of IT investments is dependent, to a large extent, on connectivity.
e-Governance: The government intends to optimally leverage IT to restructure government-citizen interface with the objective of providing good governance.
e-Education: Availability of skilled manpower is a prerequisite for promotion of IT sector.
Employment Generation: Government also focuses a lot on the employment generation for Goan youth.
Looking forward
Realising the potential of Information Technology (IT) to impact the growth of every sector of the economy, the Goa Government set up the Infotech Corporation of Goa Ltd.(ITG). The mandate of the ITG is to develop IT-related infrastructure, promote IT-enabled services and implement e-governance objectives of the government. It is acting as a single-window agency for IT and ITES units for incentives under the State Government's IT policy.  Government of Goa is also, focusing  a lot on the employment for Goan youth since they  have an advantage of good English speaking skills which will be required for ITES/BPO Companies.  To attract ITES/BPO Companies to start their business in Goa, Government has identified 3 locations for development as IT Parks.  Rajiv Gandhi IT Habitat, Dona Paula which is developed in an area of around 95 acres; IT Park at Socorro Porvorim will be developed in an area of around 250 acres and  IT Retreat, Mandrem.
Cyber Age Scheme and Training
The scheme was started during 2002-2003, under this scheme, government is providing a free computer, printer and UPS at a nominal cost to all 11th standard student. This will not only help student but also makes their family
e-Literate. Students will be trained in soft skills, accent and social skills to cater to the BPO industries. This will ensure that every graduate in computer savvy in the next 5 years. An incentive of INR 2000/- per every candidate placed is announced for the same. With 82.3 percent literacy rate and accent on IT education, Goa is striving to becoming  a reliable source for competent Human Resources, which will add impetus to the state's progress.
Incentives for Investment in IT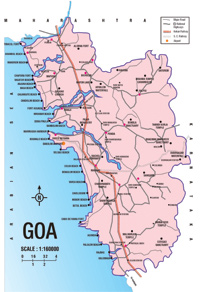 IT Policy was announced in the official Gazette on 17th November 2005.All incentives made available under the industrial Policy, 2003, to the prospective industries intending to invest in Goa, shall also be applicable to IT and ITES. There is lot of focus of   Facilitation of entry of major players. This will be provided to industrial houses among top twenty companies as per NASSCOM annual listing, that intend to open branches or campuses in Goa. Hardware manufacturing is also,  a priority sector for the Government. Goa is well suited for hardware manufacturing industry as it has advantage of harbor facility.
Government will declare IT Park as Special Economic Zones (SEZ) which would further enable conducive atmosphere for rapid growth of IT/ITES industry.  The Government also, plans to l assist incubation of technology-based start-ups for products and services giving Goa a strategic advantage.
In context with skill databases, the state government will encourage and assist the university and other educational organisations to create an online alumni database. A citizen database will also be developed through implementation of Smart Card project. These databases will serve the IT units in the State in their search for skilled manpower.
To boost Goa's IT plan, government will reimburse the entire amount paid by all registered IT/ITES units that purchase or lease and/or building in the notified IT Park or industrial estates operated by the GIDC towards Stamp duty. Regarding quality power the government  will ensure a reliable power supply to IT/ITES units located within notified IT Parks. Necessary investment will be made in the distribution network to ensure reliability and quality of power in the IT Park. IT/ITES units/companies shall be exempt from the purview of statutory power cuts.
Incentives to promote research activities are to  provide grants and other benefits to units that wish to undertake activities relating to research in cutting edge technologies, particularly in advanced telecommunications area. The proposals for such grants to a maximum of INR 10 Lakh will be considered by the government. Registered IT/ITES units that have completed 5 years of operation in the state will be considered for grant of one 'Outstanding Contribution Award' of INR 10 Lakh each year in each category on the basis of objective criteria published by the government. For the Training Institutions Incentives of INR 2000 per candidate will be available to Training Centres/Institutes who have successfully trained the candidates in the communication/soft skills and thereby have been able to place them in reputed IT/ITES companies for employment.
Goa's Journey on IT road map has just begun. In the coming times Goa is set to become a major IT hub and a name to reckon with in the e-Governance sphere. We hope the right decisions are taken at the right time to make this a reality.
Follow and connect with us on Facebook, Twitter, LinkedIn, Elets video