Zenith launches low-cost PC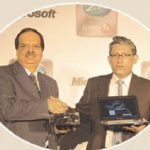 Zenith Computers, the second largest Indian PC manufacturer has  launched  a new laptop and desktop under the brand name 'EcoStyle'. The Zenith EcoStyle laptop priced at Rs 14,999, will be the lowest priced Windows OS enabled laptop in the market; while the desktop PC will be available at a highly competitive market price of Rs 11,999. The EcoStyle PC and laptop will be available across India in time for the festive season. Zenith's chain of 800 authorized dealers and 350 exclusive showrooms will stock these computers.
The laptop is Net enabled, and comes preloaded with the Microsoft productivity suite.The EcoStyle PC will give the customer an option of choosing Windows Vista Starter or Microsoft Windows XP Home. The desktop will also come preloaded with the Microsoft productivity suite. Bringing together ease of use and professional performance, the EcoStyle PC is ideal for small office or home offices owners.In addition to the portability and the relevant content, both the computers have an added advantage of reduced power consumption due to a smaller screen size. One an average, they consume 30% less power.
Juniper Networks Introduces Dynamic Services Architecture
Juniper Networks, introduced   industry's first Juniper Networks Dynamic Services Architecture designed to help high-performance businesses tightly align rapidly changing business requirements with network technology investments to accelerate new service deployments. The Dynamic Services Architecture is the foundation on which the newly announced Juniper Networks SRX dynamic services gateways are built, offering an extensible "no compromise" solution to scaling integrated services and network capabilities on a single architecture. This enables enterprises, service providers and public sector agencies to quickly and cost-effectively take advantage of new service opportunities, address changing business requirements, and deliver superior user experiences.
The Dynamic Services Architecture includes Juniper's dedicated dual management engine and purpose-built, carrier-class terabit speed fabric that allows for massive scale of Ethernet ports and services processing independently. The new architecture delivers the ability to readily "turn-on" a wide range of services, including stateful firewall, Intrusion Prevention System (IPS), Distributed Denial of Service (DDos/DoS) protection, Network Address Translation (NAT), dynamic routing, and Quality of Service (QoS). This ability greatly accelerates application and service deployments. The Dynamic Services Architecture serves as the framework for the evolution of networking, which will not only change the way businesses operate, but also improve how networks are architected.
High- end projectors by NEC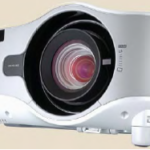 NEC has recently launched a high-end range of networkable projectors viz. NP3150 / NP2150 / NP1150.he projectors support "Windows Network Projector" function, which is one of the brand-new features introduced with Windows Vista. You can make presentations from your PC via the network without connecting RGB cable, if your PC is running Windows Vista. You don't need to install any proprietary software application on your PC. Like using a networked printer, you can simply select which projector to use from the list presented on your PC screen. Furthermore, it is possible to remotely operate a PC installed some distance away from the projector via the network by using "Windows Remote Desktop" function.
In order to support a variety of Installations, five types of lenses are available in addition to the standard lens. The projector supports screens from 30 to 500 inches; select the optimum lens depending on the specific installation environment, such as conference rooms, halls, and exhibitions. For a 100-inch screen, projection is possible at a distance 1.66 m (Wide Angle Fixed Lens) or between 2.4 m to 14.7 m. Lenses are easily replaced by the customer and do not require special tools.