The National Informatics Centre (NIC), Department of Information Technology, Ministry of Communications and Information Technology, Government of India organised a national seminar, 'Grassroots Level Informatics Development Programs', on 9th May 2008 in New Delhi. The theme of the seminar was 'For Sustainable Development and Growth: People, Process, Technology and Information'. The event was attended by policy makers, academia, leading NGOs, BSNL (Bharat Sanchar Nigam Limited) personnel, representatives of both national and state governments etc. Speakers and panelists from remote parts of the country participated in the seminar physically and also through video conferencing. Participants critically deliberated on the current and possible benefits of NIC schemes like Grassroots Level Informatics Development (GRID), Smart Village, and Smart Island. The event was organised not only to discuss how ICTs have and could be further used to gear up rural growth and development but also to see how ICTs can be effectively used in the islands.
Welcome addresses

Moni, Deputy Director General, NIC acted as the moderator and opened the deliberations with a note on the three schemes that aim to convert villages and islands within the nation as 'digital layers'. He expounded how the rural GDP could be doubled in the coming years through ICT intervention. He suggested the need to take up village as the First Mile for Smart Village and insisted each household to have Internet connection in Lakshadweep under Smart Island Scheme where Island should be considered as a congregation of villages.
Y K Sharma, Deputy Director General, NIC, Kuldeep Goyal, CMD, BSNL, and Unni Krishnan, Member, State Planning Board, Government of Kerala delivered the welcome addresses. Sharma expressed the wisdom in today's planning process where the government ensures larger participation of stakeholders.  Sharma predicted extensive connectivity across the country in the next two years. Goyal stated that though India has the second largest telecom network in the world after China, the rural population is yet to benefit from it. What is required, Goyal said, is the reach of IT applications like e-Health, Internet, etc. and the development of IT applications in the local languages. NIC, along with the Department of Information Technology, is trying to work this out; and in collaboration with BSNL, the largest telecom connector in India, seeks to bring high-speed broadband connectivity to rural areas. Krishnan dwelt on the Smart Village scheme in Kerala that is experimenting with decentralisation and a locally developed IT sector.
Every Gram Panchayat in Kerala, except one, has BSNL network. The local government is the pivot of local and 'participatory' development in the state. Self Help Groups (SHGs) are involved in micro-credit and other developmental activities throughout the state. Krishnan emphasised that in Kerala, technology is not the core issue for development. Technology has already penetrated. Spatial data on water, roads, property tax, basic tax, public distribution system, etc. are available in villages across the state. 'What is needed is a human-centred approach: right information available at the right point for service-delivery and decision making', he said. He added that in order to realise this, issues like data convertibility, sharing, standardising, and updating (besides tackling critical gaps in collecting and updating data) etc need to be addressed. Krishnan exhorted a purposeful strategy of inclusion (to include minorities, physically challenged groups, etc.) through Information and Communication Technologies (ICTs).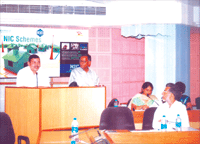 Chief Guest S. Varadhachary, IAS (retired), Former Additional Chief Secretary and Principal Secretary (Finance), Government of Kerala delivered the keynote address. He spelt productivity as created at the micro level by farmers and workers; and therefore saw the introduction of ICTs at this level as critical. His contention was that the Internet should be used at the micro level for obtaining relevant information. A combination of GIS mapping (aerial and terrestrial) and data, he believes, could make decision making more effective. Varadhachary spoke of how data publicised on the Internet could sensitise people and prevent calamities like water logging (a main reason for which common land and forest cover are disappearing). The Internet can also provide information about how redundant and repetitive most of the employment generating schemes like pickle and papad making industry for women are. This information could trigger innovative avenues for employment. Varadhachary, maintained that extending technology is not enough; people have to be trained to use this technology, especially for content. Zail Singh, Deputy Director General, NIC, presented the vote of thanks.
Empowerment of village communities
The theme for the first session was 'Empowerment of communities that have limited or no telecommunications access through the use of latest available technologies, which will help contribute to long-term sustainable and economic development, through Value-Chain, Result-Chain and Input-Chain'. It was presided over by Varadhachary. The lead speakers were Satyan Mishra, MD, Drishtee and Gurmit Singh Palahi, Principal and Chief Project Engineer, National Institute for Integrated Rural Development and Transfer of Technology, Palahi, Kapurthala, Punjab. Mishra expressed the need for villagers to invest in and own a core village entrepreneur program. Drishtee, Mishra added, provides products and services to village communities by identifying retailers or kiosks (computer-based entrepreneurs). These retailers act as the focal point for the dissemination of products and services in a village. The aim is to help villagers set up micro enterprises like small schools, health centres, etc. by galvanising internal resources and by small monetary contributions. Drishtee targets to reach five million families by 2009 in this manner. The challenge, Mishra stated, is that cities are growing much faster than the villages and draw away the rural entreprising youth. Rural India is growing only at 1.9 per cent per year, five per cent less than the growth of the country.
The essential task, Mishra opined, is to let a market grow in the village by harnessing internal resources. Mishra concluded by proposing a model of Village Company, where equity contribution by villagers will be backed by debt provisions by banks. He speculated that the model will generate employment and encourage growth in villages, besides creating community support. Gurmit Singh Palahi lauded the NIC GRID and Smart Village initiatives at Palahi, a village in the Kapurthala district of Punjab. He spoke of Duckweed technology being effectively used in Pisciculture and to purify water; and latrines constructed through ferrocement technology, a simple and inexpensive building method, in most of the households. 'Yet there is a lack of technical manpower and an effective computer and information network in the village as well as the entire state' he added. Palahi stressed on the need for a change in villagers' attitude in adopting new technologies.
He highlighted ICT enabled information on health (particularly for women), drug de-addiction, and e-Learning techniques for village students who cannot afford to move out of their village for higher education as high priority areas. ICT, he opined, can bridge gaps between rural consumers and the urban market, and ensure maximum profit for the former. Palahi concluded by suggesting that the NIC create a single-point access to all ICT requirements of a village.
The panelists for discussion in the session were Sameer Kochar, CEO, SKOCH Consultancy Services Pvt. Ltd. and SKOCH Development Foundation; BS Kalra, Prakriti Foundation, Relegan Siddhi, Ahmednagar; C Krishna Gopal, Professor, National Institute of Rural Development, Hyderabad; N D Mani, Professor, Gandhigram Rural University, Dindigul, Tamil Nadu, and K V Sundaram, Chairman, Bhoovigyan Vikas Foundation. Kochar argued that villages are poor not because they do not have personal computers but because they are not empowered. Kalra spoke about the importance of local knowledge vis-a-vis local topography in development models. Mani expounded the harnessing of specialised services of different entrepreneurs for developmental purposes, while Sundaram stood for rural development backed by government agencies-lent technical assistance, support and cooperation. Sundaram spoke for policy determination at the top and participation at the bottom. He strongly advocated at least a critical minimum availability of information on planning in every village. But, he said, a revamp of village economy can happen only through social reawakening — through an Auto-Kinetic Development Model, where development takes place from within, like the Gandhian notion of an independent village. And this can happen only when scientists, engineers, researchers and volunteers are available at the village level, Sundaram said.
Harnessing ICTs for bottom-up development

The theme of the second session was 'Synergistic combination of efforts and resources of various functionaries at Grass Root Level in order to effectively and efficiently, harness state-of-the-art ICTs, for bottom-up development'. P N Bhat, Chairman, World Buffalo Trust, chaired the session. The lead speakers were S Subbiah, MD, Bharat Immunologicals and Biologicals Corporation Limited, Bulandshahar; AG Ponniah, Director, Central Institute of Brackishwater Aquaculture, Indian Council of Agricultural Research (ICAR), Chennai; Ashok Kumar Singh, IAS, District Collector, Idukki District, Kerala; and Dinesh Tyagi, CEO (e-Governance Program), Infrastructure Leasing and Financial Services Limited (IL&FS).
T R Raghunandan, IAS, Joint Secretary (PR), Ministry of Panchayat Raj, Government of India shared his comments before the session began. Raghunandan professed that until and unless smart community action takes place, the policies are not going to succeed. He stated that the market for information lies in local participative planning leading to district planning. He also said that database can make a quantum leap with IT. Ponniah posited a high potential for dynamic information like current market situation, information on school, colleges and health among farmers than static information.
Subbiah stressed on participatory development, a local need-based village model, and checks against time lag and lack of information and program sharing across sectors. He espoused for benchmarking goods and services, as validated by the users. Ashok Kumar Singh spoke about successful ICT interventions in the Idukki District of Kerala and suggested means by which ICT can further improve life in villages. He argued for ICT enabled redressal cells, listing and positioning of cases in courts, legal assistance, and access to decision makers whereby one can find audience through video conferencing. Tyagi spoke of Common Service Centres (that seek to deliver government and private services to rural India through ICTs) as a movement empowering people to demand services from the State.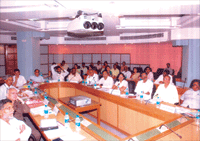 The panelists for the session were S I Ahson, Professor and Pro Vice-Chancellor, Patna University; MV Ramana, CIO, Directorate of Medical Education, Government of Andhra Pradesh; Satyanarayana Sangita, Institute for Social and Economic Change, Bangalore; Vijay Kumar, District Magistrate, Sitamarhi District, Bihar; CS Sundaresan, Institute of Rural Management, KIIT, Bhubaneshwar; Sreekumar, Director, Akshaya Project, Government of Kerala; Bhushan Ambadkar, Director, VANARAI, Pune; and Jayalakshmi Chittoor, Programme Coordinator, CSDMS. Ahson advocated village level training programmes on ICT application. He emphasised on connectivity and content (developed in local languages particularly), especially speech-based content, as most crucial.
Sangita spoke of the digital divide in the country that needs to be addressed. He opined that lack of communication among the departments should be removed and participatory democracy through the Internet should be promoted. He stated that when villagers are empowered with information, the transactional costs could be brought down. Jayalakshmi suggested that while designing policy, it is best to keep in mind that redundancy could seep into both software and hardware. She commented that text-to-speech is the most critical input and that data should not be locked into copyright and rendered unavailable to the public because it is public data. Vijay Kumar suggested that as far as ICTs are concerned, agricultural content should be created with the help of the farmers. The chair, P N Bhat, concluded the session with the observation that validation of information is critical and so is content development. Bhat also suggested roping in private enterprises for effective data availability to the villagers.
Building smart islands
The final session was on 'Envisaging a system that leverages ICT tools and technologies for better delivery of services to the diverse set of population in the Island, organisations and processes by adopting best practices and standards'. It exclusively discussed ICT intervention methods and beneficiaries in the islands. The session was chaired by B V Selvaraj, IAS, Administrator, UT Administration of Lakshadweep, who participated through video-conferencing. He put forward the technological advances made in the island vis-a-vis complete digitisation of employment services, e-Ticketing, digitisation of medical services and  various other services like bill payment, registration and lodging of complaints by the electricity department. The lead speakers were R C Srivastava, Director, Central Agricultural Research Institute (CARI), ICAR, Port Blair and Rohit Magotra, Chief Operating Officer, Community Enterprise Forum International. Both focused on ICT enabled delivery of knowledge services in the islands of Lakshadweep and Andaman and Nicobar Islands. The session concluded with a note that highlighted the needs and demands of Smart Islands.
Conclusion
The seminar saw debates and arguments on the fact that mere provision of technology is not sufficient. The knowledge to use its applications is really the key. These applications can be more effective if developed in the local languages or in the text-to-speech format. And most importantly, the village or island community must evolve the demands and sustenance for development from within, which could be assisted by ICTs.
 Juanita Kakoty, juanita@csdms.in