Data centre planning is best perceived as a process where the needs of various business units meet. Indeed, it requires the close collaboration of business, IT, and facilities management teams to develop an integrated solution. Understanding some general planning relationships will help you translate business requirements into practical data centre networking solutions.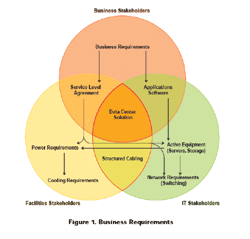 Business requirements ultimately drive all data centre planning decisions (see Figure 1). On a practical level, these requirements directly impact the a single hardware platform,which makes it much easier to scale out cabinet, row, and room decisions over time. Other managers base their design decisions solely on the business application, which presents more of a challenge in terms of planning for future growth. The data centre architectures discussed in this article take a modular, platform-based approach and assume that all compute resources incorporate resilient network, power, and storage resources. This assumption translates to multiple LAN (Local Area Network), SAN (Storage Area Network), and power connections within the physical layer infrastructure. These assumptions can be scaled up from cabinet to room requirements.
Some Data Centre Issues

The following issues are critical to the process of building and maintaining cost-effective network infrastructure solutions for data centres:
Uptime: Uptime is the key metric by which network reliability is measured, and can be defined as the amount of time that users have access to mission-critical business applications. The most common service interruptions to the physical layer result from operational changes.

Performance: When designing a data centre, network designers  must balance today's known performance requirements with tomorrow's anticipated user demands. Bandwidth and distance requirements will continue to vary throughout the data centre, but the need to  maximise your network investment will not.

Security: A key purpose of the data centre is to house mission-critical applications in a reliable,  secure environment. Environmental security comes in many forms, from blocking  unauthorised access to monitoring system connectivity at the  physical layer.
Overall, the more secure your network is, the more reliable it will be.
Designing Scalability into the Physical Layer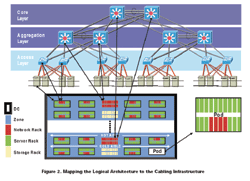 When deploying large volumes of servers inside the data centre, it is extremely important that the design footprint is scalable. However, logical architectures vary between each network, and can often be extremely complex to define. The integrated network topologies discussed in this article take a modular, platform-based approach in order to scale up or down, as required within a cabinet or room. It is assumed that all compute resources incorporate resilient network, power, and storage resources. This assumption translates to multiple LAN, SAN, and power connections within the physical layer infrastructure. One way to simplify the design and simultaneously incorporate a scalable layout is to divide the raised floor space into modular, easily duplicated sub-areas.
Figure 2 illustrates the modular building blocks used in order to design scalability into the network architecture at both OSI (open system interconnection) Layers 1 and 2. The logical architecture is divided into three discrete layers, and the physical infrastructure is designed and divided into manageable sub-areas called 'Pods'. This example shows a typical data centre with two zones and 20 Pods, distributed throughout the room; core and aggregation layer switches are located in each zone for redundancy, and access layer switches are located in each Pod to support the compute resources within the Pod.
Switch Architectures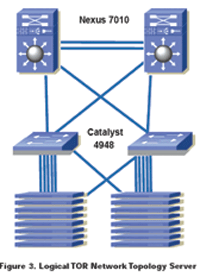 This article describes two types of switching architectures   – Top of Rack (TOR), and Middle of Row (MOR) – and reviews the design techniques needed for the successful deployment of these configurations within the integrated physical layer solution.
For determining whether to deploy a TOR or Middle of Row MOR architecture, it is important to understand the benefits and challenges associated with each:
A TOR design reduces cabling congestion and power footprint, and enables a cost-effective high performance network infrastructure. Some trade-offs include reduced manageability and network scalability for high-density deployments

An MOR deployment leverages chassis-based technology for each row of servers to provide greater throughput, higher densities, and greater scalability throughout the data  centre. Large modular chassis such as the Cisco Nexus 7000 Series and Cisco Catalyst 6500 Series
allow for greater densities and performance with higher reliability and redundancy. Figure 4 represents  a MOR deployment with multiple Pods being distributed throughout the room
Considerations Common to TOR and MOR Configurations

Panduit,  a leading, world-class developer and provider of innovative networking and electrical solutions, is focused on providing high-density, flexible physical layer solutions that maximise data centre space utilisation and optimise energy use. The following sections describe cabinet, cooling, and pathway considerations that are common to all logical architectures.
Cabinets

Cabinets must be specified so that they allow for maximum scalability and flexibility within the data centre. The vertically mounted patch panel within the cabinet provides additional rack units that can be used to install more servers within the 45 rack units available. These vertically mounted panels also provide superior cable management versus traditional TOR horizontal patch panels by moving each network connection closer to the server network interface card, ultimately allowing a shorter patching distance with consistent lengths throughout the cabinet.
Separation is achieved through the use of vertical cable management on both sides of the cabinet frame. The cabinet also allows for both overhead and underfloor cable routing for different data centre applications. Shorter power cords are an option to remove the amount of added cable slack from longer cords that are shipped with server hardware. Using shorter patch cords and leveraging Panduit vertical cable management integrated into the Net-Access  Cabinet alleviates potential airflow issues at the back of each server that could result from poorly managed cabling.
Thermal Management

Data centre power requirements continue to increase at high rates making it difficult to plan appropriately for proper cooling systems needed to support your room. Cabinets play a critical role in managing the high heat loads generated by active equipment. Each cabinet will require different power loads based upon the type of servers being installed as well as the workload being requested of each compute resource. Understanding cabinet level power requirements gives greater visibility into overall room conditions. Panduit Laboratories research into thermal management includes advanced Computational Fluid Dynamics (CFD) analysis to model optimal airflow patterns and above-floor temperature distributions throughout the data centre. This data is then used to develop rack, cabinet, and cable management systems that efficiently route and organise critical IT infrastructure elements. Panduit Net-Access Cabinets feature large pathways for efficient cable routing and improved airflow while providing open-rack accessibility to manage, protect and showcase  cabling and equipment.
Pathways

The variety and density of data centre cables means that there is no 'one size fits all' solution when planning cable pathways. Designers usually specify a combination of pathway options. Many types and sizes are available for designers to choose from, including wire basket, ladder rack, J-hooks, conduit, solid metal tray, and fiber-optic cable routing systems. Factors such as room height, equipment cable entry holes, rack and cabinet density, and cable types, counts, and diameters also influence pathway decisions. The pathway strategies developed for TOR and MOR architectures all leverage the Fiberrunner  Cable Routing System to route horizontal fiber cables, and use the Net-Access  Overhead Cable Routing System in conjunction with a wire basket or ladder rack for horizontal copper and backbone fibre cables.
This strategy offers several benefits:
The combination of overhead fibre routing system and cabinet routing system ensures physical separation between the copper and fiber cables, as recommended in the TIA-942 data centre standard

 Overhead pathways such as the Panduit Fiberrunner  Cable Routing System protect fiber optic jumpers, ribbon interconnect cords, and multi-fiber cables in a solid, enclosed channel that provides bend radius control, and the location of the pathway is  not disruptive to raised floor cooling

The overall visual effect is organised, sturdy, and impressive
Conclusion

Next-generation data centre hardware such as the Cisco Nexus 7010 switch provides increased network capacity and functionality in the data centre, which in turn is placing greater demands on the cabling infrastructure. This guide describes the ways that Panduit structured cabling solutions map easily to the logical architectures being deployed in today's high-performance networks to achieve a unified physical layer infrastructure. Network stakeholders can use modular designs for both hardware architectures and cabling layouts to ensure that the system will scale over the life of the data centre to survive multiple equipment refreshes and meet aggressive uptime goals.
Land Revenue Records in Pakistan to be Computerised Soon
Rehman Malik, advisor to Prime Minister for Interior while inaugurating 'e-Sahulat' project of National Database and Registration Authority (NADRA) said "land revenue records all over the country would be computerised to ensure transparency, remove public grievances and to bring the country at par with the systems of developed countries like USA and Japan."
He said that the computerised data of criminals and health record would also be maintained to overcome flaws of the system. "Government is striving to provide maximum self employment and business opportunities to enterprising youth of the country and projects like 'e-Sahulat' will be a big leap forward in this direction. He urged the public and private sector organisations to come up with bright ideas like e-Sahulat by NADRA which would definitely help in eradicating poverty and unemployment from the country which are the root causes of all social evils.
While handing over the licenses to around 1200 franchisees of Lahore, Islamabad and Multan regions for first phase of the project, Rehman Malik said that one of the top priorities of the present democratic government is to facilitate the masses using the latest technology. So far 8 million bills, worth PNR 6.7 billion have been submitted under NADRA's Kiosk project which is a testimony of public confidence in NADRA. The authority has  received as many as 4,403 applications across Pakistan and in the first phase 1,200 franchise licenses have been issued. Chairman NADRA said that e-Sahulat scheme provides a single platform for each citizen enabling use of multiple services through CNIC. The biggest advantage of
e-Sahulat is its 24/7 availability. Under the scheme, franchises will collect utility bills, dispense pins for scratch cards (mobile phones, calling cards) and will also be able to carry on line verification (VERISYS).