Mobile devices have been hugely successful as a lifestyle product. However, in the last few years, they have made a real time contribution to the  teaching and learning experience through exciting technologies like Personal Digital Assistants (PDAs), Tablet PCs, SmartPones and modern gaming consoles.

Universities can offer courses exclusively through mobile devices by developing content exclusively for such devices. Peer interaction is possible by exchange of messages as well as by posting messages to mobile blogs.
In fact, m-Learning enables prospective learners to concentrate on what studies to pursue rather than thinking about where to pursue studies of their interest. Even the infrastructure such as buildings, resource persons, etc. needed will drastically reduce due to m-Learning.
Challenges of m-Learning
One of the limitations of m-Learning is that it may not be possible to offer some courses in totality through mobile devices as they include practical component. Courses in engineering and medicine are such examples. However, such courses can be offered through dual mode, through convergence of face-to-face, distance and m-Learning modes.
The other limitation is with  live streaming of content to the mobile device. Any interruption in signal to the mobile device will also interrupt the process of learning. Also, operators of the mobile services to a mobile device change as the device roams between different networks. So, there is no guarantee that every operator provides necessary technological support so that the learner can continue with his/her studies through the device.
Other limitation include smaller size of the screen, disturbance of connectivity and life of the battery, etc.
m-Learning Project

M-learning has undergone evaluation since 1990s by various universities. In 2000,  European commission granted funds to M-Learning and MOBIlearn  projects. The major focus areas of these projects are content development for hand held devices and delivery to hand held devices.
There are some major projects underway in the field of m-Learning like M-Learning,  Handscape and Chimer.
m-Learning aims to improve the levels of literacy by delivering interesting content through mobile device. This is a project that is being supported by European Union.
Some of the various software developed for mobile devices as part of m-Learning project are quizzes in Java, MediaBoard,  SMS quiz author, games and quizzes for Pocket PC, authoring software for Pocket PC.
Using Java , quizzes are developed and they can be run on the compatible mobile phone for learners to test their knowledge.  MediaBoard is a web based bulleting board. However, learners can post their messages onto this bulletin board using SMS or MMS.  SMS quiz author enables learners to develop their own quizzes for mobile devices. Besides games and  quizzes and software with the help of which resources for M-Learning can be authored is developed for Pocket PC. The software that is developed as part of M-Learning project can be used in universities, schools as well as by NGOs.
HandScape
Intel corporation is funding a project at Cornell university whose aim is to is to develop software which will enable people to obtain information about museums onto their hand held devices.
Chimer

The aim of this project is to develop applications for m-Learning for hand held devices based on GPS and GIS technologies. For example, if one is lost, he or she can identify the exact location with the help of this device. Route maps are also available which can be run on the hand held to know the route to a specific destination. m-learning modules for schools are being developed as part of this project. Fourteen groups from six different countries are working on this project.
m-Learning And Distance Education
The relevance of m-learning to distance education is significant. Since mobile devices are within the reach of a learner, any information that is provided to the mobile device can be accessed by the learner very easily. The course materials of various courses offered by the distance education institutes can be downloaded by the learner to his mobile device and the same can be assessed whenever there is requirement.
Also, video lectures can be downloaded by learners to their mobile devices and the same can be viewed by them on their mobile device without using a PC  to run the VCDs of lectures.
Most of the elements of distance education can be offered through mobile devices. However, the mobile device of the learner should be enabled for compatible technology and the mobile devices should be java enabled.
m-Initiatives At IGNOU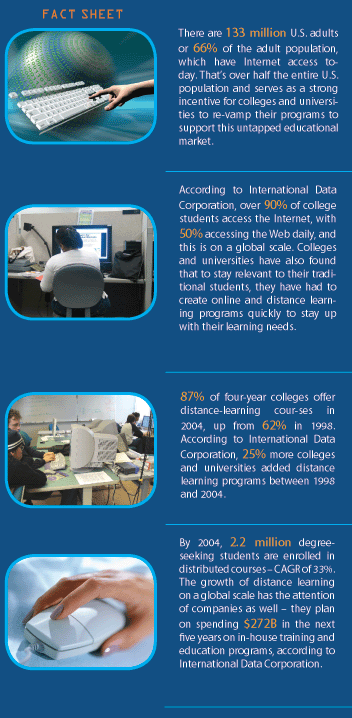 A total of approximately 1.8 million learners are currently pursuing their educational aspirations from IGNOU. IGNOU is working on offering SMS based services to its learners. Initially, it plans to send alerts to learners via SMS. Sample alerts that are of interest to all learners include the last date for submission of examination form etc.
IGNOU intends to follow it up by enabling learners to obtain information on request by SMS. For example, a learner can request for the address of his study center through SMS. This is a two-way communication mechanism where a request is made by learner by SMS and IGNOU responds by providing necessary information to that particular learner by SMS.
IGNOU also intends to offer advanced SMS based student support services to its learners. This will enable learners to update information by SMS. For example, a learner can SMS his address to IGNOU which will replace his old address. Such services are expected to reduce the delay in comparison to the same requests being handled by other modes of communication.
P.Venkata Suresh received MTech  degree from Andhra University, Visakhapatnam in 1997. Currently, he is working as Senior Lecturer in School of Computer and Information Sciences, IGNOU, New Delhi. He is having several research papers in the areas of Mobility, Internet, Distance Education and Higher Education. His research paper at AAOU,China received grant from Common Wealth of Learning(COL) and IGNOU. Also, he is actively involved in Web based projects. His areas of interest include Mobile computing, Web technologies, Software Engineering and Distance education.
Follow and connect with us on Facebook, Twitter, LinkedIn, Elets video