This draft report is a summary of the online discussions and deliberations on eAgriculture.org. The online discussion forum was conducted and sponsored by Kataylst, Bangladesh in coordination with Food and Agriculture Organisation (FAO), UN. This is the concluding part of the report continued from i4d April 2008. Outcome of the report will be put up before World Summit on the Information Society (WSIS) follow-up Action meetings to be held in May 2008. The final report will be presented in the eAgriculture track of eINDIA 2008 event scheduled between 29th-31st  July 2008 at New Delhi, India.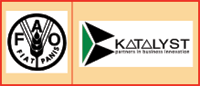 Case 2: e-Haat Bazaar, Nepal
An example of Business-to-Business (B2B) e-Commerce, the Nepali e-Haat Bazaar (www.b2b.com.np) is a joint initiative of the Rural Urban Partnership Programme (RUPP) of the Ministry of Local Development and UNDP, High Level Commission for Information Technology of the Government of Nepal and the Agro Enterprise Centre (AEC) and the Federation of Nepalese Chamber of Commerce and Industries (FNCCI), an apex body of the Nepali private sector. e-Haat Bazaar is a portal which promotes market linkages and enables Nepali growers and producers to explore opportunities within and beyond Nepal. The initiative is linked to www.agripricenepal.com, a website which provides daily agriculture market price information to farmers, traders and the wider business community. Agripricenepal.com is an initiative of RUPP, AEC and FNCCI and is coordinated with the Market Development Division (MDD) of Department of Agriculture of Government of Nepal's Ministry of Agriculture and Cooperatives.
The portal provides market prices and relevant information from 11 major markets from around the country and more than 100 agriculture produce are profiled. Information on this initiative is limited, but some lessons published on the RUPP website include: the initiative that gave positive exposure to local entrepreneurs and municipalities and village development committees to the potential of ICTs; digitally supported B2B business models that can be customised to suit small and micro-entrepreneurs; capacity gap of local institutions and the novelty of the e-Business as a concept result in slow uptake of the initiative.

Case 3: Farmers' Home, China

In Lanxi, China there is a community information centre called the 'Farmers' Home' run by government entities (the local agriculture, forestry and fisheries conservation bureaus) with private sector involvement. 'Farmers' Home' provides a 'one-stop shop' where the community can obtain real-time market prices, agriculture related information and extension services from trusted sources, and learn about new farming input products and purchase input products to which they would not otherwise have access to. 'Farmer's Home' is one of the several models of successful e-Agriculture found in China. Its PPP component is somewhat unique. 'Farmer's Home':
Creates a win-win situation by enabling the private sector to promote its products and the public sector to recoup some costs of running the centre and provide the community with information and products

 Generates content (that is considered both timely and of good quality by the community) for the agro-business community. The onsite presence of government staff and their access to digital information (e.g. China Agricultural Information Network) facilitates the process of content generation and content development

Promotes awareness through various modes of communication (Internet, local newspaper, etc).
Case 4: www.ruralinfobd.com, Bangladesh

WIN Inc, a private sector firm specialising in content and information service development, is working with Grameen Phone Community Information Centres (CIC) to develop appropriate information and advisory services for rural farmers in Bangladesh. With initial assistance from a development project, WIN has successfully developed information for the CICs in native language, Bangla. Farmers avail of information from the CICs where the centre operators consult www.ruralinfobd.com for appropriate information and advisory services. For additional queries, WIN provides solution through e-Mail or mobile phone to the centres. WIN has a contract with Grameen Phone which requires them to regularly update the content. WIN employs the services of a panel of government and private sector experts that validates and authenticates the information. WIN and Grameen Phone make public information on agriculture available to the wider communities where the centres charge for the cost of access. The 550-plus CICs (www.gpcic.org) are franchises of Grameen Phone and each centre is owned by a local entrepreneur. This is an example of how private sector can efficiently distribute information hitherto confined to the public domain. Low awareness among the farmers, reliability of  information and developing real-time, market price information service are some of the challenges WIN is facing.
Case 5: www.gotoknow.org, Thailand

Gotoknow.org is Thailand's biggest online knowledge sharing platform and a web blog community of around 30,000 active members. A good number of the bloggers are agricultural professionals and IT savvy farmers. Agricultural knowledge sharing is also in various stages such as experimentation of farming technique, using blog as journal and peer review mechanism, policy discussion over sustainable agriculture, basic agricultural knowledge sharing and much more. The members consist of multi-disciplinary groups from agricultural experts and farmers to health professionals and academicians. There are cases of farmers finding experts and vice versa in order to engage in intensive knowledge sharing and, more important, is the case of local farmers acquiring scientific information from academicians to significantly improve their agriculture practice methods in the Northeast of Thailand. Gotoknow.org is supported by various groups such as UsableLabs, Knowledge Management Institute of Thailand, TRN Institute and INET (representing public, civil society, academia and private sectors). Lessons  from  gotoknow.org includes:
Facilitating bottom-up knowledge sharing- The site allows users to blog on topics they are interested without major structure (such as in online forum technology). Users use tags 'folksonomy' rather than structured taxonomy in categorising their content

Fostering virtual community leaders to bring more and more people to share knowledge- The site promotes quality bloggers who share experience and builds their sense of community leadership, thus, providing them incentive to bring more individuals into the virtual network

Encouraging decentralised interconnection among members- Members are encouraged to get to know, communicate and interact among themselves without intervention or permission from the site owner in order to maximise interconnection of people with shared interest which results in a stronger virtual community and partnership among members

 Diversifying membership- Members are from many professions rather than only agriculture or knowledge management professionals allowing for multi-perspective agricultural knowledge sharing.
The case studies show that for PPP in e-Agriculture to be successful there has to be a win-win for all involved; the service must be localised (language, delivery mode etc.) and accessible for the intended beneficiaries; information in public domain can be delivered through private channels; awareness issue should be dealt with in context specific manner; and authenticity, timeliness and quality of information is essential.
Summary: Week III discussion

Week III online discussions focused on reviewing the key points and content identified in Weeks I and II and sought a more in-depth review of those priority areas. The deliberations in the online forum also focused on where the e-Agriculture community should consider going next with PPP, and how the valuable output from this forum can be further disseminated.
Content and operational issues
The points discussed are categorised as follows:
Win-win in PPP
Striking a win-win situation is a key to make public-private partnerships work. This requires practitioners to:
Clearly spell out roles and responsibilities and address the interests of the parties involved along with their explicit commitments toward a common goal

Understand different incentives that drive the public and the private sectors: private sector has a profit motive for adding value and growing its customer base, which needs to be reconciled with the public sector's interest of reaching large numbers of the intended beneficiaries. Both can be combined to form a common vision

Understand the roles of the parties and their core competence: on one hand, the public sector generates a lot of useful information and on the other, the private sector could create a sustainable delivery mechanism by creating and developing the market for the information and related services. For example, in Bangladesh, the agencies under the Ministry of Agriculture such as the Department of Agriculture Marketing (DAM) or Agriculture Information Services (AIS) have the latest information and are mandated to provide them to the wider public. They could partner with the privately owned tele-centres and enrich the database and the private sector can expand its service offer. (Public information, private channels of delivery)

Ensure sustainability through a long-term commitment from public sector to the provision of quality public services and willingness of the private sector to invest, share and manage potential risks.
Content development

While there seems to be a lot of information lying around in the different government agencies and research institutes, there is a need for the information to be sifted, collated and digitised properly for the beneficiaries to consume. The link between information sources (government agencies, academia) and content developers needs to be institutionalised.
Furthermore the process of information or content development requires careful review and useful information. Information need to be SMART (Specific Measurable Accurate Relevant Timely); need-based; demand driven; based on local language; Validated, authenticated by experts, credible institutions and tested with the users; digitised and hosted on a website, stored on PCs, CD ROMs etc. and hard copies made available like rice production technology information of IRRI that is made available in simple fact sheets.
Awareness creation
During the course of discussion, there were several recommendations made on how to popularise the ICT-based services in agriculture and agro-business activities. These are:
to use simple activation tools like awareness camps, brochures and pamphlets in local languages

to ensure on-site, hands-on demonstration of the technology (laptop, mobile phone etc.) highlighting the benefits

to build capacity of the information service providers to process information and articulate the service benefits to the target

to organise community gatherings to mobilise agriculture communities with the help of NGOs and their networks

to identify use locations