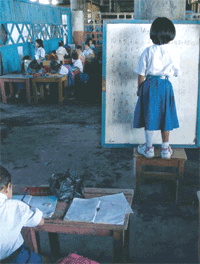 Have national governments followed up on their commitment to the EFA goals? Has the international community provided adequate support to national governments?
Is the world, as a result, progressing towards EFA by 2015 and, if not, which are the goals that have been neglected and the countries or regions in greatest difficulty?
Education has always been a unique  ng a means of basic livelihood to a very effective way to deal with future needs of society. However, everyone knows that unless education for all is achieved, the next level to which education needs to be revamped in order to address the very same needs of society will not be feasible.
'In April 2000 more than 1,100 participants from 164 countries gathered in Dakar, Senegal, for the World Education Forum (WEF). They affirmed their commitment to achieving Education for All (EFA) by the year 2015,"is how the legend goes on the UNESCO portal. Expanding from paradigm shifts in development programmes, the EFA represents a change over to a global 'imperative' that leverages universal sensibilities based on, amongst other things, factors that are propelling economies to boom. Examples of paradigm shifts in global initiatives are many, such as the change over from family planning programmes to the more holistic 'mother and child care' programme; or on realising that more than half the world's work force relies on street food, the initiative to educate street hawkers and vendors on hygiene.
Meanwhile, back at WEF 2000, six key education goals were identified and were aim at meeting the learning needs of all children, youth and adults by 2015. While a lot has happened interim, there still is a lot of ground to cover. Countries that have posted significant progress number 51 out of a total of 129, while 53 are still in the process of catching up with their targets, yet another 25 are closer to the starting point as evidenced by the EFA Development Index. The included small print here states that the Index cannot cover states in uncertain or fragile conditions or suffering from conflict or even, for that matter, recovering from conflict. Strengthening and supporting 'fragile' states has been an emerging priority on the EFA agenda since 2000. Such states are characterized by weak institutions, prolonged economic hardship and/or conflict, with a direct negative impact on education development. More than half a billion people are estimated to live in thirty-five fragile states.
Although the number of armed conflicts around the world is in decline, most wars continue to be fought in the developing world, with civilians suffering the most casualties. By investing in education in post-conflict situations, governments and the international community send out a forceful message about building a more peaceful future.
The four main areas that the index quantifies are universal primary education, adult literacy, gender parity and education quality. Let us take a look at where we stand viz, each of these
six goals.
Early childhood care and education: Strangely indicative of the state of affairs is how early childhood care and education programmes generally do not reach the poorest and most disadvantaged children, who stand to gain the most from them in terms of health, nutrition and cognitive development. There is a paucity of policy measures aimed at providing care and education to children below the age of three. However the silver lining is that child mortality rates have dropped.
The six EFA Goals
Goal 1: Expanding and improving comprehensive early childhood care and education, especially for the most vulnerable and disadvantaged children

Goal 2: Ensuring that by 2015 all children, particularly girls, children in difficult circumstances and those belonging to ethnic minorities, have access to, and complete, free and compulsory primary education of good quality.

Goal 3: Ensuring that the learning needs of all young people and adults are met through equitable access to appropriate learning and life-skills programmes

Goal 4: Achieving a 50% improvement in levels of adult literacy by 2015, especially for women, and equitable access to basic and continuing education for all adults.

Goal 5: Eliminating gender disparities in primary and secondary education by 2005, and achieving gender equality in education by 2015, with a focus on ensuring girls' full and equal access to and achievement in basic education of good quality.

Goal 6: Improving all aspects of the quality of education and ensuring excellence of all so that recognized and measurable learning outcomes are achieved by all, especially in literacy, numeracy and essential life skills.
Immunisation campaigns and improved access to basic health facilities have led to a significant decline in child mortality. However, the comprehensive care and education of children below age 3 remains a neglected area and one difficult to monitor for want of adequate data. Meanwhile, the supply of pre-primary education to children aged 3 and above has improved, but remains very uneven. Many developing countries still have limited or non-existent pre-primary education systems; where they exist at all, too often they combine very low enrolment ratios with insufficient numbers of teachers (and even fewer trained teachers), resulting in high pupil/teacher ratios (PTRs).
Universal primary Education
Access to and participation in primary education have sharply increased since Dakar, and the number of out-of-school children dropped from 96 million to 72 million between 1999 & 2005. The Arab States, sub-Saharan Africa, and South and West Asia have shown substantial increases in enrolment ratios. However, progression through the primary grades and school completion remain important concerns nearly everywhere.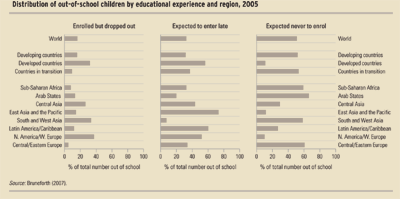 The number of countries that have made education compulsory by law has education has moved to 203, taking the overall percentage to 95% while  23 countries that lacked legal provisions for compulsory education in 2000 have made the neacessary changes. What is heartening is the speedy increase in participation levels in sub-Saharan Africa (23%) and South and West Asia (11%). However, the efficacy of the increase remains moot as in other areas such as pre-primary education, the region lags behind the others.
The number of out-of-school children went down to 72 million evidencing the inclusion of 24 million children between 1999 and 2005. In spite of the increase, substantial differences exist amidst regions depending on factors such as whether the area was rural or urban. Poorer populations and disadvantaged sections were as systematically disadvantaged as those children living in slums. Clearly, education is dependent on the political state of the country as 35 fragile states contained 37% of all out-of-school children. In further bad news, if things carry on the way they are, 58 out of 86 countries that have not yet reached universal primary enrolment will not achieve it by 2015.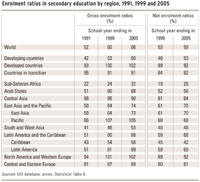 Access to and participation in primary education have sharply increased since Dakar, and the number of out-of-school children correspondingly dropped from 96 million to 72 million between 1999 and 2005. Most regions are close to reaching universal primary education (UPE). In the three regions that are not