The need for microcredit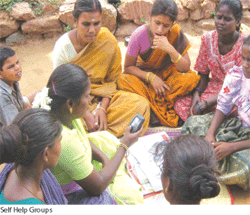 Self-Help Group (SHG) movement in India constitutes one of the largest microfinance networks in the World. However, SHGs' decentralised nature and theoretical independence from any one promoting agency preludes the ability to aggregate, analyse and monitor their data at a state-wide, regional or national level. Current methods of evaluating SHG credit are ad hoc, consisting only of cursory reviews of ledgers and transaction statements. Controls on internal member accounts are non-existing in many cases. Further, performance monitoring of products and services on economic and social impact parametres is at most tertiary, hence disallowing critical input in improving   services and products for better impacts.The main problem in rural financial services is the non-availability of accurate, timely and needed information for decision making at higher levels. In microfinance sector, due to the lack of information, the SHG members cannot ascertain the financial position (profitability) of their group, the documents required to apply for loans and repayment to portray their strengths.
The Ekgaon case

Ekgaon technologies established on 1st October 2002, provides technology and management support for knowledge management, strategic decision-making and business development. It works towards increasing efficiency of value chain process, enabling access to financial services, technology and strategic consulting for primary producer communities across South Asia. Building upon its earlier work in Management Information Systems (MIS), Ekgaon Technologies works towards development of an integrated framework of field based monitoring, transacting and realtime interaction system for addressing the service gap for both SHGs and JLGs (Joint Liability Groups).
Ekgaon's work is centered around enabling support for rural enterprises building economies of Ekgaon's unique business model, identifing its user group as customer for information based services, that are sometimes very crucial for business/professional decision making and hence for sustainability of the business and livelihoods of the client. While creating cost effective technology systems, Ekgaon ensures that sustainability of services are beyond the system on which it has been built. Ekgaon's thinking in this line has led them to believe in principles of open source and emerging technologies enabled through networked approach.
Considering the current and expected growth of the microfinance market in India (and South Asia) the system targets to reach a large number of existing SHG networks and JLGs being promoted by large number of NGOs/MFIs/Banks. Ekgaon is also making efforts to identify and extend service support to several other decentralised SHGs operating in the region with creative products identified to address their information service requirements.
Developing a self-sustaining communities

Accountability of a system is important to achieve when an institutional access is lacking, like what we see in lack in banking services in rural areas. 'Banking Correspondent' mechanism which has now been encouraged by Reserve Bank of India is an aim to enable financial inclusion. SHG model which preceded 'Banking Correspondent' model has its own inherent institutional strength as a micro-banking institution at village level. A technological solution which aims at strengthening the financial service delivery allowing 'financial independence' of the SHG-Federations would in a long way help in developing self sustaining communities.
Community owned and managed financial institutions allows greater control in the financial behaviour of the microfinance institutions to be able to serve the 'real' need of the communities. Technologies and systems as Ekgaon has developed and implemented across Tamil Nadu and Andhra Pradesh, aim at enabling institutional access of community owned financial institutions with formal financial institutions such as banks, venture capital funds and other financial institutions.
The CAM model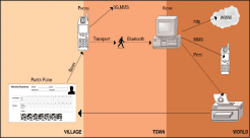 The 'CAM – Mobile Enabled SHG Microfinance Management System' is an innovative development made for the collection of rural SHGs financial information and portrays them on online server to enable the stakeholders to access and retrieve the required financial information, at anytime and anywhere. This enables the rural women to utilise the various services like financial services, banking services, etc. at their doorstep.
CAM enabled mobile Service framework for microfinance is a three-tier document-based architecture for providing remote rural information services for SHGs in Microfinance. The user tier consists of a set of paper forms that people use to record information, perform queries and conduct transactions. The server is a standard web application server, which can reside locally, in a nearby town, or virtually in the Internet ether. The middleware resides on the mobile phone, which plays the role of scanner, user interface, network, cache and pre-processor in the system. The system creates a decentralised management information system, increases efficiency of fund management and reduces credit journey cycle.
Since the data is captured using a mobile phone and sent to the online server, the field staff monitoring the SHGs would supply the computer printed reports to the SHG's which help them to overcome all sorts of difficulties in terms of reports, book-keeping and portfolio management. This also enables the other stakeholders like SHG federations, banks, NGOs, SHPI, MFIs to track their loan repayment online and arrive at the decisions on time.
Ekgaon's success stories

Ekgaon's project 'Enabling financial inclusion and increasing efficiency of Self Help Groups Microcredit Federations' won the first Stockholm Challenge
Follow and connect with us on Facebook, Twitter, LinkedIn, Elets video