Microsoft, SAP provide solutions for healthcare IT
Microsoft Corp. and SAP America Inc., a subsidiary of SAP AG, have agreed to work together to deliver solutions that meet the unique needs of the healthcare industry.
The companies' collaboration will seek to help healthcare organisations increase operational efficiency and reduce costs using software to automate and streamline processes that are today often manual or based on cumbersome legacy technology. The companies will focus their healthcare collaboration activities in the United States.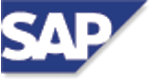 The combination of solutions from Microsoft and SAP is proven to reduce costs and create operational efficiency, with one of the lowest total costs of ownership on the market today. As an example, with more than 70,000 admissions per year, Montefiore Medical Center is one of the largest healthcare organizations in the United States and the dominant medical system in the Bronx borough of New York City.
Working with SAP software enabling technology and utilizing the Microsoft suite of products for communication, Montefiore has been able to overhaul and streamline processes related to procurement including all purchasing activity. Concurrently, Montefiore was able to transform the institution to an online, real-time financial management system, including the budget process, significantly reducing the amount of time it takes clinical and administrative staff to complete non-value activities so that they can spend more time to support patient care.
Maintaining accurate, complete, up-to-date information on inventory levels and materials needs is critical to hospital operations. By providing this information in an easy-to-use format, the staff can enjoy a flexible work culture and at the same time stay focused on patient care.
CompuGroup buys German HIS vendor

CompuGroup recently announced its takeover of hospital  information systems supplier, Dahm Aktiengesellschaft, better known as Fliegel.
The deal gives CompuGroup a long looked for presence in the German hospital information systems (HIS) market. The deal marks the latest phase in the consolidation of the European and German health IT market. Dahm/Fliegel, is a medium-sized HIS vendor in the German market. The price paid for the acquisition was not disclosed.
With its flagship product, the HIS "fd klinika", Dahm/Fliegel has around 200 German hospitals and nursing homes as customers. In addition, approximately 30 laboratories also use Dahm/Fliegel software. Fliegel and its employees will be integrated into the CompuGroup subsidiary Systema, the HIS-market leader in Austria with strong ties to SAP.
The Fliegel-HIS "fd klinika" will continue to be developed further and not be replaced by existing Systema-HIS-solutions. "To create synergies, we will harmonise individual software modules, but not the complete HIS." Such synergies are possible in the field of medical databases, where the CompuGroup subsidiary ifap is already active.
Web-based referral solutions will also be standardised for the different CompuGroup-HIS, not only in Germany but also in Poland, Turkey, Austria and the Czech Republic. Finally, solutions for materials and logistics will be fused, with the CompuGroup subsidiary Aescudata as the company in charge.
GE Healthcare's MRI technology at the Olympics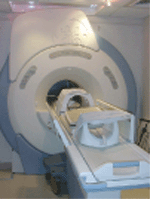 GE Healthcare will be the sole supplier of Magnetic Resonance Imaging (MRI) technology of the Beijing 2008 Olympic Games. Installed at the Olympic Village General Hospital, two of GE Healthcare's advanced MRI technologies, the Signa HDe 1.5T will be accessible to all international competing athletes during the Games.
These technologies within close proximity of all the sporting competitions will enable clinicians to diagnose potential injuries earlier or simply monitor treatment with a view to maximize the time of play for an athlete – in other words, ensure a quick return to play. Every day an athlete spends in rehab is a day lost in training, which is why diagnosing injuries earlier or monitoring the recovery in real time is crucial for elite performance.
Sports medicine is an advanced discipline focused on assisting athletes in achieving their optimum performances while ensuring their physical and psychological integrity. This requires sports physicians to equip themselves with the best available technologies in the field of medical imaging allowing them to have an earlier and more accurate diagnosis platform.
MR imaging as a non-invasive technique proves to be an optimal means of acquiring high-contrast images of both the bone structures and the soft tissue structures, which together create a complex joint such as the knee or shoulder. These body parts are of high risk for athletes as musculoskeletal injuries can occur any time.
In addition, GE Healthcare's Signa HDe 1.5T will help clinicians at the Olympic Village General Hospital not only benefit from high-definition images, but also decreased operation costs (water, electricity, liquid helium,) by up to 40 percent.
Quest Diagnostics provides services to Birla Sun Life
Quest Diagnostics recently announced that its wholly owned subsidiary Quest Diagnostics India has signed a long-term agreement to provide health assessment services, including diagnostic laboratory testing for Birla Sun Life Insurance Company.
Quest Diagnostics will provide a range of health management services to Birla Sun Life, including laboratory testing through its new 65,000 square foot diagnostic testing facility in Gurgaon, as well as case management and appointment scheduling of medical exams by trained and credentialed physicians.
Quest Diagnostics will serve Birla Sun Life using the company's proprietary ExamView medical services and CaseView laboratory-test ordering and reporting software.
Vikram Mehmi, President and CEO of Birla Sun Life Insurance, said: "Birla Sun Life Insurance has, once again, opened a new chapter in the history of life insurance in India, whereby we envision setting new levels of service, new standards in underwriting and improving quality of underwriting and risks involved."
UNM Health Sciences plans US$ 15.5 mn telehealth grid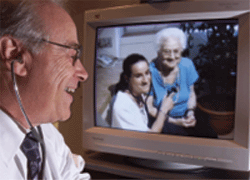 The University of New Mexico Health Sciences Center's Center for Telehealth and Cybermedicine Research has been awarded US$ 15.5 million from the Federal government for the design, construction, operation and evaluation of a Southwest Telehealth Access Grid.
Telehealth and telemedicine services can provide patients in rural areas access to medical specialties in areas like oncology, cardiology, pediatrics and radiology — in some instances without leaving their homes or communities. The system also could be transitioned for emergency use in the event of a natural or other disaster.
The program will use broadband capabilities for sharing telemedicine clinical services across sites and will provide education and training programs to rural health care professionals. More than 500 health-related facilities in New Mexico, Arizona, Nevada, California, Texas and Utah, including Indian Health Services, ultimately will be served by the Southwest Telehealth Access Grid.
Carestream's upgraded product launched

Carestream Health has debuted its newest version of Kodak Carestream Information Management Solutions (IMS) which offers health care providers more convenient viewing of medical imaging exams and other types of patient documents, while facilitating the integration of images with electronic medical record (EMR) systems.
The firm said that these capabilities would be available worldwide in the second quarter of 2008.
The newest IMS upgrade equips clinicians to view laboratory and pathology reports, imaging exams, video files, DICOM images and other types of patient data through one virtual desktop anywhere, anytime. Standards such as XDS (cross enterprise document sharing) protocol may be used to store and retrieve the fixed-content file types.
Simplified access to patient information enhances the diagnostic process and simultaneously delivers improved staff and clinician productivity by negating the need to go to several locations to obtain information. Access is tightly controlled by system administrators: physicians and staff may be granted either read-only or read/write privileges, and access can be further limited to individual patient files or specific exam modalities.
Basic archiving services include remote data storage for long-term storage and disaster recovery. The platform also offers multi-site networking capabilities that allow information communication and sharing among affiliated groups.
System C launches new health care  consultancy 

System C Healthcare has launched a new consultancy service aimed at helping health care organisations meet the challenges posed by the government's reform agenda. Called Perigon Consulting, its focus is on improving services to patients through innovative clinical practice and associated business efficiencies. Areas of specialisation include the design and delivery of clinical assessment services, the redesign of clinical and business processes and public and employee engagement.

This new service has been formed by merging Perigon Healthcare, an existing independent health care consulting partnership specialising in 'future state' health care development, with System C's health care consulting service. This latter service is focused on deployment and change management issues associated with IT programmes.
Perigon will operate as a division of System C Healthcare, and will have access to all of System C's people and resources.
Northern Ireland's Department of Health, Social Services and Public Safety is an existing Perigon client. Previous Perigon clients have included Bolton PCT; Carlisle PCT, Walsall Manor Hospitals; Selly Oak Hospital; Grantham and District Hospital; Whipps Cross Hospital NHS Trust; North Cumbria Acute Services NHS Trust; Cumbria and Lancashire Strategic Health Authority and Nuffield Hospitals.
Nortel, Polycom offer new telemedicine  solutions 

Nortel and Polycom jointly demonstrated their end-to-end solutions for healthcare needs as well as telemedicine recently.
The two companies claim that the telepresence solution offered by them for the healthcare industry, provides hyperconnectivity by creating multi-location virtual meetings so real that geographically dispersed physicians, surgeons, researchers and other professionals will almost believe they are in the same room.
"No one else offers such a complete and open telepresence solution – including technology and services – to address the real-world challenges of today"s healthcare environments," said Charles Salameh, vice president, Network Business Solutions, Nortel. "This includes real-time access to information and expertise regardless of location that can help improve patient care, reduce costs through greater efficiency, and improve overall productivity and effectiveness."
"The outstanding quality of experience of our telepresence and HD video collaboration offerings is ideal for healthcare applications, where seeing and hearing people and content in fine detail is critical," said Ron Emerson, global director, healthcare markets, Polycom. "Polycom and Nortel are delivering these solutions in combination with managed services to provide a complete, end-to-end solution for healthcare organizations."
IBM unveils next gen enterprise health analytics

IBM launched a new ground-breaking, comprehensive portfolio of health analytics solutions for health systems. IBM's Enterprise Health Analytics harnesses the power of massive information generated by today's healthcare industry by converting it into new, data-driven intelligence. This rich source of clinical and business insight can bring strategic differentiation to health systems by giving them unprecedented knowledge about their operations, patients, and effectively all aspects of their businesses.
IBM's Enterprise Health Analytics are a complete suite of services, infrastructure, and tools that can be tailored to the needs of any client-from entry level, off-the-shelf analytics capabilities to custom-built data warehouses for academic and research settings. The solutions fill a significant void in data integration and intelligent analyses that currently poses a major barrier to transformation in the healthcare industry.
At present, most major health-system organizations have adopted a variety of proprietary, disparate processes designed and optimized for transactional performance. These departmental and transactional systems inhibit health systems from having an enterprise view and the ability to quickly respond to changes in the market, such as pay-for-performance and quality reporting. What they require is an integrated system that enables data aggregation and analysis, the results of which are applied in clinical and business settings to dramatically improve quality outcomes.
Microsoft's US$ 3 million fund for HealthVault

Microsoft has created a US$ 3 million fund to invest in applications built for its HealthVault electronic medical records platform, the company announced recently.
Launched in October, HealthVault is intended to allow people to access their medical records through any device, regardless of the health care provider or insurer.
Recently Google too announced a trial with Cleveland Clinic in which potentially thousands of patients will be able to access their health records through their Google accounts.
Microsoft's aim with the US$ 3 million fund is to create an ecosystem around its HealthVault initiative, much like its Windows platform attracts developers to create programs that run on that operating system. In particular, Microsoft is interested in applications related to preventive care, acute care diagnosis and treatment, management of juvenile diseases, women's health, and community and social health applications.
Microsoft, which last week decided to share details of its technology with open-source programmers, also is hosting a HealthVault open-source project to make development for the platform easier.
Max New York Life Insurance enters health sector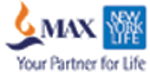 Max New York Life Insurance has entered health insurance sector by launching 'lifeline' consisting of three distinct groups of solutions.
The lifeline brings long term insurance coverage for hospitalisation surgeries and critical illness, Max New York Director Marketing Product Management and Corporate affairs Debashis Sarkar told the media. The medicash plans were hospital cash plans that provided the customer a fixed per day benefit for hospitalisation, ICU admission, recuperation benefit and a lump sum benefit against an unlimited number of surgeries, he said.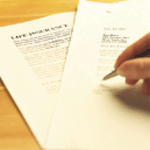 The wellness plans were critical illness covered against 38 critical conditions from Alzheimers to liver disease, deafness to permanent disability, cancer to heart ailments, a range offered by no other insurer in India under one plan, Sarkar claimed.
The third one, safety net was a comprehensive term plus health protection plan offering the policy holder protection from any losses arising from critical illness, accident disability and death.
The company, which has 21 lakh life insurance policies with INR 62,000 crore sum assured, was targeting a business of at least five per cent of last year's business of INR 1,700 crore in the initial year, he said. The company would expand its activities and branch offices in Tamil Nadu in the coming months, he said.
ACS bags US$ 41 million IT services contract with Parkland Hospital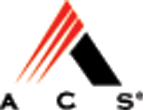 Affiliated Computer Services, Inc., a leading provider of diversified business process outsourcing (BPO) and information technology outsourcing (ITO) solutions for commercial and government clients worldwide, has been engaged into a seven-year, $41 million deal, to offer ITO services to Parkland Health & Hospital System, a public hospital system based in Dallas, Texas. According to the contract, ACS will provide comprehensive infrastructure services, including data center operations, network monitoring and management, asset tracking, disaster recovery platform and support services.
Misys to merge healthcare arm with U.S. rival

British software company Misys has announced the merging of its healthcare arm with Nasdaq-listed US rival Allscripts, a deal it said would help raise group revenue growth to 7-9 percent next year.
The firm said it would raise around 75 million pounds (US$ 150 million) in a share placing to help fund the deal, which will see it pay US$ 330 million for controlling 54.5 percent stake in the combined entity.
The healthcare arm reported flat sales in the first half of this year, rising to 3 percent growth in the third quarter. The combined group would be called Allscripts-Misys and listed on the Nasdaq.
Allscripts-Misys will target the U.S. ambulatory market — patients being treated outside hospitals. It will immediately have one in three U.S. physicians as clients.
"The healthcare market in the U.S is growing at more than twice Gross National Product (GDP), and is more immune to the ups and downs in the economic cycle," Lawrie said.
Perot Systems, ChinaSoft pursue Chinese healthcare opps

Perot Systems Corporation and ChinaSoft International, one of the largest China-based information technology outsourcing (ITO) service and software companies, have announced that they have agreed to cooperatively develop mutually beneficial opportunities in the Chinese Healthcare market.
"Perot Systems is excited about the opportunity to take our broad Healthcare IT expertise into the international marketplace, and our intent is to deepen our relationship with ChinaSoft in order to evaluate and pursue opportunities that are available in China," said Chuck Lyles, president of Perot Systems' Healthcare industry group.
"ChinaSoft International is perceived as the window into China for global corporations. We are trying to build the platform for interacting between Chinese and global markets. I believe the agreement between Perot Systems and ChinaSoft International will improve our mutual development," said Dr. Chen Yuhong, CEO of ChinaSoft International.
Mumbai set up most hospitals, says study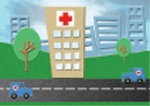 Mumbai provides the best potential to set up hospitals for corporate healthcare providers, says a study by research firm Technopak. The study was carried out to measure healthcare market potential value (HMVP) in the top 14 cities. It was based on three parameters
"Exciting news! Elets eGov is now on WhatsApp Channels 🚀 Subscribe today by clicking the link and stay updated with the latest insights!"
Click here!