A three-day workshop on 'Community Radio in the hands of Community: Its Operations and Collaborations' was held on 2-4 February 2008 at Barefoot College in Rajasthan. The theme of the workshop was focused on Community Participation; Community Management and Community Ownership. Recognising and promoting the concept of 'Lab to Land' as envisaged by Digital Empowerment Foundation (DEF) and Media Lab Asia (MLA), both the organisations have decided to organise a series of workshops aiming to integrate ICTs into specific issues related to health, education, livelihood, etc. The workshop on Community Radio is one of the first workshops in the series.

Participants

The participants in the workshop were Self-Employed Women's Association (SEWA), women members of the Self-Help Groups, doing multifarious activities focusing on socio-economic empowerment of women, Sankalp, an organisation working in the two blocks, namely, Shahbad and Kishanganj, covering 100 villages in the Baran district of Rajasthan, Sampark, an organisation working in the Jhabua district, which is predominantly a tribal district located in the western part of Madhya Pradesh, representatives from Barefoot College, Tilonia, working in the nearby villages on education, health, livelihood and women's empowerment programmes, M.S.Panwar Institute of Management and Communications, Solan, Himachal Pradesh, whose students first worked on Community Radio with the communities in remote villages of Solan, later applied for Community Radio license, etc.
Other prominent participants included S N Goswami from Media Lab Asia; H O Srivastava from World Development Forum; Ina Shastri from Banasthali Vidyapeeth; Rajender Singh from Henvalvani, Uttarakhand; and Raghav Mahto from Bihar. They shared their experiences with the participants on Community Radio: various technology options including low-cost studio; content from communities and community participation, management and ownership.

Release of booklet/CD

DEF prepared a small booklet on 'Community Radio in the hands of Communities' along with a CD containing the online module of UNESCO; a softcopy of the booklet on 'Community Radio: Programme Production and Packaging' and the presentations made during the workshop for circulation to the participants,  was released by Ashish Garg of GeSCI.
During the introductory session, participants expressed their expectations from the workshop which included how Community Radio could be linked to education, women's empowerment, agriculture, particularly to address the knowledge gaps. Participants also mentioned how Community Radio could be given in the hands of Self-Help Groups and how Community Radio could be used as a tool for good governance by highlighting local concerns, local issues and local problems. How ICTs can be integrated with Community Radio; whether Community Radio could also be a part of the Village Resource Centres or Community Centres; Internet radio; World Space Radio and so on.
The two and a half day deliberations were designed keeping in view the grassroots participation in the workshop and sessions were focused on specific issues like why Community Radio; local content; functioning of the radio station; various options of technology and tools with hands on experience; what community radio policy says and what are the codes and guidelines; application process, etc.

Sharing of the best practices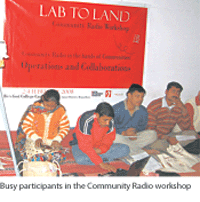 The unique feature of the workshop was sharing of the best practices. The presentation of Henvalvani case-study made the stake-holders learn how a low cost studio could be built with a practical demonstration and how low cost technology could be used for recording and packaging of the programmes. Participants also wanted to know how low-cost studios could be established. Case studies from 'Karol Ki Awaaz', a radio programme from a Mass Communications Institution in Solan (Himachal Pradesh); Banasthali Vidyapeeth(Rajasthan); and Raghav, (Bihar), India provided a good platform to the participants to learn about various components of Community Radio in a holistic manner.
H O Srivastava, Director, World Development Forum, made a presentation on what Community Radio is; what are the various options of technology and audio studios. He also enabled the participants to raise questions on policy guidelines and helped them to understand the nitty-gritty's about transmitters, its functioning and spectrum allocation. While talking about principles and values of Community Radio
Follow and connect with us on Facebook, Twitter, LinkedIn, Elets video