The 3rd National conference of the Telemedicine Society of India (TSI) was held at Hotel Taj Coromandel in Chennai from 1-3 November 2007.
The event kicked off with a pre-conference workshop organized in conjunction with the conference, at the Indian Institute of technology (IIT) Madras, on 1st November.  Dr. T. Ramasami, Secretary of the Dept of Science and Technology, Government of India was the chief guest and Dr. M.S. Ananth, Director of IIT Madras, presided over the events.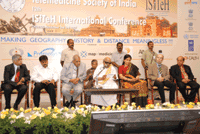 The organizers included Apollo Hospitals, Apollo Telemedicine Networking Foundation, Sri Ramachandra Medical University and Shankar Nethralaya. It was sponsored by Indian Space Research Organization (ISRO), Department of Science and Technology and Department of Information Technology of the Government of India and the World Health Organization.
175 delegates attended the extremely instructive workshop, which covered themes such as Organization & Management of Telemedicine, Tele-Radiology, Tele-Cardiology, Tele-Ophthalmology, Critical Evaluation & Auditing of a Telemedicine Unit, Standardization and legal aspects of the field. A programme booklet was also provided to participants.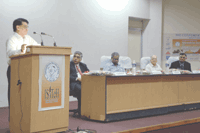 There were live demonstrations of teleradiology and teleconsultation to villages using low cost indigenous equipment through VSAT enabled mobile vans of Shankar Nethralaya, Dr. Mohan's Diabetes Research Center, an example of a 'hospital on wheels'.  A UK-based company illustrated a 'Map of Medicine' programme, currently in use at the National Health Service.
Representatives of Sankara Nethralaya Chennai and Aravind Eye Hospital, Madurai lectured on the dedicated use of VSAT enabled teleopthalmology vans. The Apollo Telemedicine Networking Foundation also contributed key insights into its experience of over  25,000 teleconsultations and of introducing formal courses on telehealth technology. The Apollo Hospitals Group set up the first Rural   Telemedicine Center in Aragonda, Andhra Pradesh, and is now the the single largest Telemedicine solution provider in India.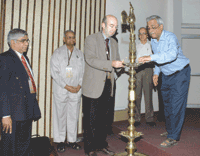 The TSI conference was held along with the 12th International Conference of the International Society for Telemedicine and e-Health (IsfTeH) which was held in South Asia for the first time. They brought together 300 participants  from India and across the globe. International delegates from  Algeria, Austria, Australia Belgium, Bangladesh Brazil, Bosnia, Botswana, Canada,, England, France, Germany, Herzegovina,  Maldives, Myanmar, Pakistan,  Philippines, Spain, South Africa, Switzerland, Sri Lanka and USA participated in the national conference.
The IsfTeH included presentations on the ISRO Telemedicine Network Implementation, telemedicine teaching and case studies. Optimum utilization of the media for low-cost telemedicine, transformation of health care through e-health and Design And Development of Portable Cardiac Telemedicine System were other areas discussed. International delegates from Bosnia and Herzegovina, Brazil, Singapore, Spain, Maldives and the USA contributed with the sharing of best practices and innovations. Privacy and security issues in the Indian context were also addressed. Each presentation was followed by an interactive question and answer session for a few minutes.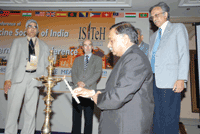 The activities also included three video conferencing sessions from the USA. Chief Minister of Tamil Nadu, Dr. M. Karunanidhi addressed the delegates on pertinent topics related to the health sector, particularly, e-health.  A total of 83 papers were presented on a range of topics such as telehealth in India, teleeducation and VSAT enabled teleopthalmology.  Sankara Nethralaya,  Aravind Eye Hospital and Apollo Telemedicine Networking Foundation (ATNF) shared their practical experiences in the field. The ATNF shared its experience of overseeing more than 25,000 teleconsultations and of introducing formal courses on telehealth technology.
India can benefit from almost every aspect of telemedicine with its vast geographical area and varied topography. Approximately 70 percent of the population lives in mote villages to which access is difficult and where infrastructure is poor. The Ministry of Communications and Information Technology has classified "Telemedicine" as one of the thrust areas for development in the country.
TSI promotes and encourages development, advancement and research in the science of telemedicine and its associated fields.  Its membership consists of doctors, engineers, technologists and administrators, including 50 officers of the Armed Forces The TSI conference brought together stakeholders in telemedicine and helped create awareness about its application to the rural  and remote parts of the country. The conference was well received and covered widely by the media.
IsfTeH promotes the dissemination of knowledge and experience in Telemedicine and eHealth internationally and provides access to recognized authorities in the field across the world.