Introduction
The state of Haryana is located in the northern part of India. Chandigarh is the capital of the state, which is administered as a union territory and is also the capital of Punjab. With a total geographical area of 44,212 sq. kms, Haryana has emerged as one of India's most industrialised states. The city of Gurgaon is emerging as a major hub for the information technology and automobile industry.
The state's e-Governance vision statement is 'to achieve efficiency, transparency and accountability in governance by providing ICT enabled access and opportunities for all, anywhere, anytime'.
The state has taken various steps in order to realise this vision.

IT POLICY
The Government of Haryana forumulated its IT policy in the year 2000. The IT Vision of the state of Haryana, which is to transform Haryana into an IT driven economy, is sought to be realised by achieving the following objectives:
1. Upgrading the standard and quality of administration, particularly in social and public services sector through a process of modernisation and rationalisation of the administrative set up,
2. Providing public centred, efficient and cost-effective government,
3. Extensive percolation of IT literacy and education in the state,
4. Promoting investments in IT industry,
5. Encouraging private sector initiative in IT related infrastructure and services,
6. Increasing the share of IT in State Gross Domestic Product,
7. Generating IT related employment opportunities, and
8. Enhancing earning capacity of the residents thereby ensuring a better quality of life.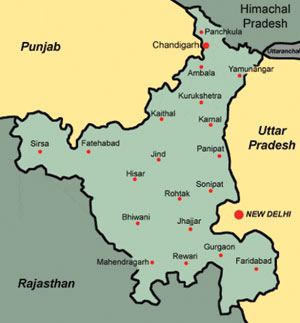 The State IT department facilitates the other departments of the Haryana Government. The National Informatics Centre, the Haryana State Centre (NIC-HRSC) and Haryana State Electronics Development Corporation (HARTRON) assist in technical aspects. A well defined system for the systematic approval of the departmental IT action plan has been put in place through various high power committees which include state level IT steering committee (IT-PRISM), state technical committee, society for IT initiative fund for e-Governance initiatives at state level, district IT society in each district. Till date 104 IT plans/project proposals of various departments/organisations have been approved by IT-PRISM, covering almost all major departments/ organisations.
e-Governance Projects in Haryana
The Haryana State e-Governance projects have already received 12 prestigious national awards. During January 2005 – May 2007, a number of e-Governance projects, including most of the state sector Mission Mode Projects (MMPs) of NeGP have been initiated and implemented successfully. Some of the important MMPs implemented in the state of Haryana are:
On-Line Treasuries Information System (OTIS) is an integrated workflow automation system. OTIS facilitates role based dynamic menus and security and automation of treasury functions like payments, receipts, pensions, bank scroll, voucher preparation.OTIS has received Microsoft  e-Governance excellence award 2006.
Haryana Registration Information System (HARIS) facilitates registration of properties and land. The salient features of HARIS include deed writing, capturing storing of photos, security checks, collector rates, registration fee information, biometric and statistical reports. It is being implemented on a self-sustaining model at all 67 Tehsils and 45 Sub-Tehsils covering 100% locations.
Haryana Land Records Information System (HALRIS) is a complete Integrated workflow automation system of land record components. HALRIS provides a single window interface for deed writing, registration, mutation and copy of Record-of-Right (ROR). It has been implemented in all 20 districts of the state. To bring greater transparency and to ensure hassle free services, the HARIS has been integrated with HALRIS.
e-Panchayat: The panchayats (administrative unit at villages) level works monitoring and information system has been implemented under e-Panchayats initiatives as a web enabled village information system. An exclusive website of the department has been launched. Panchayat information is being uploaded on to National Panchayats portal.
Value Added Tax Management, Assessment, Collection System (VATMACS) include modules like VAT return processing, dealers registration, fact sheet compilation, statutory forms inventory, road side checking. The VATMACS is being implemented at all 21 Deputy Excise and Taxation Commissioner offices.
The House Tax Assessment and Collection Information System (HACIS) has been implemented for all municipalities as per state's latest house tax policy. Significant increase in tax collection has been recorded. The birth and death and other certificates issuing system for district headquarter level municipalities are being issued through e-Disha.
Computerised Driving License and Registration Certificate of Vehicles are being implemented at a number of Sub-divisional Magistrates offices. For this, the national software systems namely Sarathi and Vahan have been adopted as a standard across the state. Significant increase in revenue collection has been recorded.
Complete Computerisation of Haryana Roadways: In order to implement this project successfully the modules implemented are total work-flow, traffic and route management, inventory management, vehicle monitoring systems, purchase orders module, service books records with auditing of leaves and increments. A pilot project is running in Chandigarh Roadways Depot.
AgMarkNet: All 108 Mandies (wholesale marketplace) and 25 sub-centers of agriculture marketing board have been provided with computing and Internet facilities and training to publish prices of agriculture commodities on daily basis. Other projects such as AgRIS, Agrisnet, national horticulture mission are also being implemented.
Police G2G Suite: A suite of software packages has been developed and implemented for facilitating police functioning. Dynamic police web portal with citizen interface has been launched.
Employment Exchanges: Internet based employment exchange registration information system initiated in Panch-kula, Ambala, Faridabad, Kurukshetra, Gurgaon districts.
e-District Project has been introduced in the state. The comprehensive network (LAN), a modern IT training lab, district level e-Disha centers in each district mini secretariat, a suite of office automation software packages, revenue courts computerisation system (RECORD), arm licenses, public grievances redressal, development projects' monitoring. All major functions of revenue administration in a network environment have been planned to be integrated.
State Sector Additional Mission Mode Projects under NeGP
e-Health.Net: This has helped in greater availability of medicines to the patients in government health institutes and Doctor's in rural dispensaries. e-Health.Net received National Silver Icon Award along with Health Care Foundation at 8th National e-Governance conference.
On-line off-campus Counseling Project for all engineering admissions during 2006 has been successfully implemented the Haryana Government. Haryana is first state to implement such a system in India.
Haryana School Education Board: All major functions of school education board, Bhiwani, have been automated, administrative reforms were carried out and all results, admit cards, provisional certificates are published on web. This project has received National Gold Icon Award at 8th National e-Governance conference.
Haryana Pensions Processing and Information System (HAPPIS) for more than 1.2 million pensioners. The system is helping in timely disbursement of pension to old age and other pensioners every month. HAPPIS received National Silver Icon Award at 6th National e-Governance conference.
e-Food.Net: Web enabled food procurement and storage monitoring system. The procurement and storage of food grains is being monitored through e-Food.Net system at all District Food and Supplies Controllers (DFSCs). The project had received "Merit Citation" National Award at 7th National e-Governance conference.
IMPACT-Haryana: The integrated monitoring of PWD Building and Roads (B&R) activities is a web based monitoring system, which has been  developed and implemented across the state for more than 4500 works of PWD. The roads programme (Pradhan Mantri Gramin Sadak Yojana) is being implemented at all 21 offices of B&R. 
References
http://www.egovonline.net/articles/article-details.asp?articleid=1289&typ=FOCUS
http://haryana.gov.in/policies/it_policy.htm
http://haryanait.nic.in/New%20htmls/egov.htm
http://en.wikipedia.org/wiki/Haryana
Follow and connect with us on Facebook, Twitter, LinkedIn, Elets video