Information flow system on new crop varieties has greatly benefited profitability of growers in Western Australia and a similar system may prove beneficial for the Indian grain producers
Introduction
New crop variety information can greatly affect the profitability of growers. Newer high yielding varieties provide growers with greater profits and allow the local grains industry to utilise or export better grain quality. In Western Australia, 95 percent of the wheat produced by growers is exported. Local growers are very aware of national and world grain industry trends. By providing growers with state/national crop performance information, growers can grow the crop varieties suggested for their local environment. These crop varieties have been endorsed by the single-desk grain export authority, AWB which includes testing for suitability for particular end-products (ref: AWB, AWBI). Hence, by growers using these best varieties, they will increase their yields (and profits) and the local grain-industry and marketers are better able to market the grain on national and international markets for suitability for particular end-products. This use of information feeding back along the supply chain and ultimately back to the grower benefits the whole grains industry and the country and governments involved. A similar situation can be suggested for the Indian grain producers.
Australian grain growers

Western Australian growers get crop variety information from various sources which vary from publications, websites, agricultural advisors and neighbours. But the one they most value is crop performance information demonstrated in their local farming environment. This could be from farmer demonstration trials, research trial or a local farmer growing a new variety in their paddock. Getting this information and then distributing it locally is often a challenge with field days and agricultural advisors being the preferred methods of delivery. With the advent of greater penetration of Internet into country areas, growers are using computers much more to conduct their businesses. Information websites are being established by breeding and seed companies with information about available crop varieties enabling growers to access this information.
NVT, a national testing programme, has recently been introduced to evaluate varieties available to grower and provide independent information on crop and grain performance (ref: NVT). The results are delivered by a website and downloadable reports, with an ability to compare between varieties. Recent developments have  provided the capability to ask 'what-if' questions for these recommended varieties to enable the grower to make a more informed decision. This 'what-if' information has been delivered for several years by DAFWA via downloaded Microsoft Excel programme that runs on the grower's computer (ref: DAFWA). The problem with this method of delivery is that the programme needs to be downloaded regularly with the latest information to ensure the latest variety comparison information is included. Growers have greatly valued this programme to use it as a planning tool for deciding on  what combination of varieties to grow for next season.

Further studies
A pilot study in 2002 with Australian rice growers was carried out to help growers manage the increasing amounts of information they need to process if they are to manage and run their operations in the most effective and efficient manner (ref: Graham et al). The strategy involved using a rice-information based website with a SoW module (i.e. information delivery system and strategy) and a rice-industry search engine. A newsletter was produced every two weeks and an eMail strategy for grower to receive newly posted information via eMail. The results revealed that almost 100 percent of respondents felt far better off after the pilot as they now felt: (1) much better informed; (2) a resource existed that keeps them up-to-date in a way they could not attain in the past; (3) it helped organise their time via meeting dates, etc; and (4) and a resource now existed they felt confident to re-visit to find what they wanted. Even children and spouses became involved in making this system work (ref: Graham et al)
Data collection on grower practices is also very important for the grains industry and Government. The Grains Council of Australia reports that information in the area of on-farm performance and the use of various farming practices is patchy, anecdotal and often reliant on the efforts of public agencies (Ref: Grains Council). They suggest that relying on such public data is problematic. The grain industry is information-poor and unable to find solid evidence, either to back many of the positive claims made by the industry, or in defense against various charges made against the industry (Ref: Grains Council).
Umber (2006) reports that growers can benefit from sharing information by reviewing what has worked in Western Australia for environmental management. He suggested that the recording and reporting of desirable practices by growers may be a useful measure of an individual or an industry's contribution to environmental management. This concept can also be used to allow producers to compare their performance with accepted best practices (Ref: Umber). Umber reports that for information to be effectively used by growers, it needs to be delivered in a format that can be easily integrated into grower decision-making.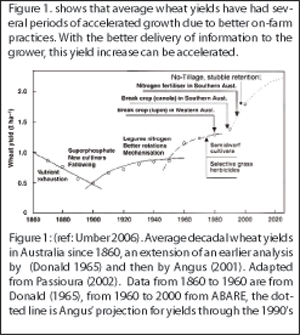 Western Australia grains industry has developed an information supply chain. This information chain is important for more than just increasing yield for growers as demonstrated by Umber (2006). In order to maintain this increasing yield over many years, the issue of environmental sustainability must be addressed by both government agencies and the grains industry. Work on sustainability is carried out by the Grains Council of Australia to provide growers with best practices to encourage continuous improvement in management and sustainability. Such an opportunity to work with businesses within the grains supply chain in order to deliver end-products to customers may also exist in India. The Western Australian situation differs in both scale of interactions and other local issues. For example, there are approximately 5,500 growers in Western Australia (ref: ABS) compared to approximately 240 million people directly involved in agriculture in India and 740 million people living in rural India  (ref: Directorate of Economics and Statistics).

Application for India's grain growers

As demonstrated, working with businesses throughout the supply chain enables information to be shared with the producer of the grain, the grower to give a better end-product or outcome. How this is achieved is dependent on the businesses and conditions involved. Streamlining the grain supply chain in India is very difficult to achieve. The identification and continual addressing of the limiting issues within communities will provide the knowledge for other communities to adopt for their specific requirements. ICT will play a role in both distributing information within and between communities and enable the grains industry to continually improve the value of the supply chain.
Follow and connect with us on Facebook, Twitter, LinkedIn, Elets video