The National Mission Mode Project (NMMP) for municipalities has been initiated by the Ministry of Urban Development with a vision for e-Governance in municipalities. The project also aims to leverage the ICT for sustained improvement in efficiency and effectiveness of delivery of municipal service. Municipalities provide basic services for the citizens living in urban areas. As we progress towards maturity of e-Governance, there is a need of an integrated approach of IT based service delivery.
Background

As per the Census of India 2001, the urban areas in India account for 27.8 percent of the population. About one-third of urban India (71 million) lives in metropolitan cities. The number of such cities in India has increased from 23 in 1991 to 35 in 2001. Urbanisation is associated with increased incomes, improved health, higher literacy, improved quality of life and other benefits. At the same time it results in strain on the physical and social infrastructure. The job profiles in the mature urban areas are driving the need for an effective, efficient and economic urban service provider. The urban local bodies i.e. Municipal Corporation and Urban Development Authorities (UDA) play this role and use of Information Technology via e-Governance initiatives is gaining momentum in the provision of the urban services to the growing number of urban customers.
ICT For urban services
Information and Communication Technology (ICT) has gained a strong base in the field of urban services in India over the last decade. This is primarily because of role of IT in the day-to-day lives of urban citizens. Development of ICT sets the road map for e-Governance. e-Governance in India has picked up the pace. This is evident from the e-Readiness report for Indian states published by Ministry of Information Technology, Government of India, where in, as many as 27 states show up as IT ready states in 2005. The report also identifies the states of Karnataka, Kerala, Tamilnadu, Chandigarh and Maharashtra as leading states. The National Mission Mode Project (NMMP) for municipalities has been initiated by the Ministry of Urban Development with a vision for e-Governance in municipalities. The project also aims to leverage the ICT for sustained improvement in efficiency and effectiveness of delivery of municipal service. Municipalities provide basic services for the citizens living in urban areas. As we progress towards maturity of e-Governance, there is a need of an integrated approach of IT based service delivery with a strong backing of a service support mechanism.
This article intends to map a framework around IT solutions that are being built at various urban local bodies across the country.
Information Technology Infrastructure Library (ITIL) Framework
The ITIL is a set of best practices intended to facilitate the delivery of high quality information technology (IT) services. It defines IT processes that are required to support business processes. The ITIL processes aim at achieving high financial quality and value in IT operations. These procedures are supplier-independent and have been developed to provide guidance across the breadth of IT infrastructure, development, and operations.
ITIL is the most widely accepted approach to IT service management (ITSM) today. ITSM has derived enormous benefit from ITIL best practice approach and follows ITIL framework in accordance with the ITIL documentation. ITIL best practices are drawn from the IT implementations in public and private sectors internationally. The acronym ITIL (IT Infrastructure Library) is a registered trade mark of the United Kingdom's Office of Government Commerce (OGC). The best practices documentation forming ITIL– Version 2 is divided in two parts namely Service Delivery and Service Support. Version 2 is currently undergoing a major refresh which will be rolled out as Version 3 in 2008. Service Support and Service Delivery together consist of 12 disciplines that constitute the framework for the provision and management of effective IT services.
The Service Delivery is primarily concerned with the proactive and forward-looking services that the business requires from its ICT provider in order to deliver the desired services to its users. It is focused on the business as the customer of the ICT services. The Service Support is focused on the users of the ICT services and is primarily concerned with ensuring the access to the appropriate services to support the business functions. Figure 1 below illustrates the ITIL framework and the processes which support the service delivery and service support disciplines.
Changing trends in Urban Areas

The Indian IT industry has been known to have its base in all the metros cities. The cities referred as Tier I cities, including Mumbai, Delhi, Kolkata, Bangalore and Chennai have all emerged as significant hubs for both Indian and global IT companies. At the time when these cities are attracting IT investments and creating employments, escalating real estate costs, and overstressed infrastructure such as power, roads and airports, are creating challenges for the organisations that have set up operations in these cities.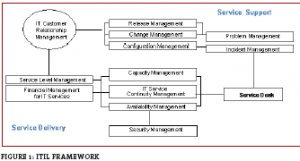 In the recent past, it is being felt that other urban centers referred as Tier II and Tier III cities need to be developed for the IT, in order to take off the pressure from metro cities. These urban centers provide advantages in terms of cheaper real estate, access to relatively skilled manpower and gradually improving physical infrastructure. The Tier II cities are coming into their own in terms of drawing global and Indian IT majors. As per estimates by NASSCOM (National Association for Software and Service Companies) these new IT destinations are expected to employ 30% of the projected strength of 850,000 IT professionals and 1.4 million BPO professionals by 2010. The offshore IT and BPO industries directly employ around 700,000 professionals and provide indirect employment to approximately 2.5 million workers.As these new investments set up either in the urban centres or on the urban fringe, it will put direct demand for urban infrastructure and services as support systems for economic activities.  Further the user base of the services shall desire online and quality service provision.
India has a total of 423 urban centers managed by Urban Local bodies (ULBs). These urban local bodies are statutorily responsible for the provision and maintenance of basic infrastructure and services in areas of their jurisdiction. However these local bodies are experiencing tremendous financial stress even to operate and maintain the existing services at satisfactory levels. It's a well known fact that around 60% expenditure at a ULB constitutes salaries; operations and maintenance; and Interest on Payments.  On the revenue side, property tax, octroi and betterment levies are major contributors. There is need for the ULBs to gear up for the challenges which are coming their way, provision and maintenance of efficient services is a key requirement for the future investments in these areas.  The shift to e – Governance is a positive indication in the direction.
e-Governance initiatives in India started mainly around 1990 with various states starting projects of varying nature like, e-Literacy programme in Kerala, computerisation of departmental processes like document registration in Andhra Pradesh, agricultural marketing in Madhya Pradesh, land records computerisation in karnataka, Maharashtra and Tamilnadu, e-Nagarpalika in Gujarat, are few initiatives which got national recognition.
ICT initiatives go through 3 distinct phases of implementation
1. Provision of Static Information: This stage is where urban local bodies/government department has a website of its own. Citizens can access information, seek procedural details about city services, however they cannot interact with any of the process within ULB.
2.  Capability for Transactional Services: This stage is where user can carry out transactions online.
3. Creation of Online Communities: At this stages ULB website provides interoperability with various organisations within urban area enabling the participation of citizens in developmental activities and interaction with officials and NGOs.
Majority of e-Governance initiatives fall under the first stage as outlined above. In Indian cities the service delivery is fragmented with multiple entities in each of the service. These entities often map to different departments under state / central government. The net result is that the ULB has limited control over the key services provided in their jurisdiction impacting the statutory functions which a ULB is required to perform. Further the e-Governance initiatives in the different departments are carried out independent of each other; as such the impact of the initiatives is diluted for the want of a user base. This builds a case for an integrated approach for the delivery of urban services backed by efficient service support mechanism involving a user interface. Shared IT infrastructure and adoption of ITIL framework is a possible solution.
Application of ITIL framework

IT implementation in urban India is happening in bits and pieces. IT has found place on the agenda of all the departments however what it lacks is an integrated approach to its rollout and effective sharing of IT infrastructure to economise the initiative. At a National level this has been achieved with agencies like National Informatecs Centre (NIC) where a centralised data base has been created and information is available through one single portal. However it still falls in the first category mentioned as above i.e. providing static information.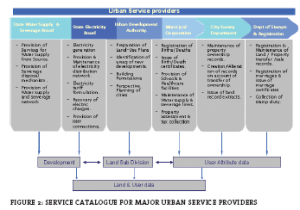 For effective implementation of e-Governance in Urban Services, it's essential for these initiatives to mature to stage II where in its users can carryout transactions and use the service leading to wide-ranging benefits. Figure 2 below outlines a big picture of urban services and the service catalogue highlighting key services of each provider. It illustrates the interlinkages amongst the various departments providing the basic services to citizens (users) in urban areas. The users go through series of rework loops for the want of information and information updating subsequent to any transaction carried out. A centralised data repository shall result in faster transactions and reduction of non-value added work for the customer of the service.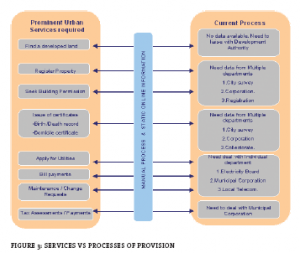 For a user of urban services, there are some basic requirements which are" Critical to Quality" (CTQs) for the service under consideration. These link to "Voice of Customer" (VOCs) in all process improvement initiatives. While considering the CTQs for a service it is equally important to review the activity pattern which a user follows while following the process to avail the services. The ones considered here in are the major services availed by the citizens of an urban area. Figure 3 illustrates the handoffs / sharing of similar information / need of interaction with multiple providers.
Interpretation of ITIL framework in Urban Services context
Use of ITIL best practices is well known in the organisations providing services across geographical locations via a suitable user interface. While providing these services the organisations within themselves have different IT applications supported by different teams. ITIL provides the framework for effective provision of the services via efficient co-ordination using the twelve ITIL disciplines. In the context of urban services a similar situation exists where in individual service provider is interacting with same set of users independently. As a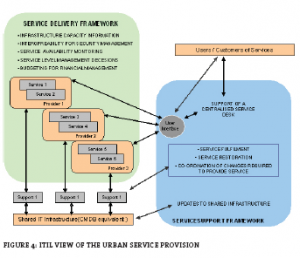 result the processes followed result in a series of rework loops, duplication of efforts and non value added works. At the same time the optimal use of IT infrastructure is not achieved. Application of ITIL framework to the provision of urban services shall result in mutual benefits to the providers as well as its users. Figure 4 below illustrates the ITIL view of urban services provisioning.
ITIL framework for Urban Services

As illustrated in Figure I above, ITIL framework is structured in two parts with six disciplines each. The definitions of each of these in the context of urban services are given below.
A. Service delivery
(i) Service Level Management (SLM): SLM process is focussed towards the maintenance of the quality of service by the provider. Each service provider needs to outline a service catalogue and the associated Service Level Agreement (SLAs) for the provision of the services.
(ii) Capacity Management: For the provision of services the provider needs to ascertain the handling capacity of the in place infrastructure. This information also needs to be available to the customers.
(iii) Availability Management: Processes at Provider end to ensure the availability of service to the customer.
(iv) Service Continuity Management: Processes at provider end to ensure the service / information availability to customers in event of disasters and quick/controlled recovery of services post disaster.
(v) Financial Management of Services: Effective planning of resources to cope up with the demand of the services.
(vi) Security Management: Process to ensure data security.
B. Service Support
(i) Service Desk: Centralised or virtual user interface for users for all service related activities. i.e. service requests, request for change, request for information etc.
(ii) Incident Management: Instances of interruption of services reported by users to be documented and resolved as per SLA.
(iii) Problem Management: Identification of causes of service interruption and providing permanent fixes, post implementation reviews, maintenance of knowledgebase of past incidents.
(iv) Configuration Management: Intent of this process is to ensure that infrastructure component information is kept updated. This results in optimal utilisation of infrastructure items based on its lifespan. On time replacement also minimises the outage of services and leads to effective monitoring of usage.
(v) Change Management: Changes to the infrastructure on account of a service request or an expansion of service needs to follow this process. In such an event-infrastructure-change this process prescribes the documentation of any change via this process in conjunction with the configuration management processes. Centralised approval authorities (equivalent to Change Approval Board in IT space) need to approve all changes to minimise the impact to other services.
(vi) Release Management: This process provides a structure for carrying out infrastructure changes to a plan. As a result all concerned teams are informed about the upcoming change to the infrastructure. The teams can gear up for any response in event of materialisation of any risk associated with the change.
Information for City Managers

Each of the above processes have a set of Key Performance Indicators (KPIs) associated. These KPIs play a vital role in the governance of IT services. For urban services, these KPIs provide useful information to the City Managers to plan, finance and implement the city level infrastructure initiatives and maintaining the level of services performance. The few important ones are listed below.
1. Information on volume of service request with break-up by type and nature.
2. Cycle time and first level resolution of service requests.
3. Monitoring of incidents (Complaints) and their resolution cycle time.
4. Information on frequency and details of changes to city infrastructure.
5. Record of outages of the services.
6. Record of SLA breaches in service provision / fulfilment.
7.  Useful information for capacity planning  for infrastructure provision based on land transactions/service requests received.
8. Control of building activity in areas where infrastructure capacity is inadequate.
Benefits of Adopting ITIL

The benefits of ITIL adoption for IT service provision are enormous. The ITIL framework not only benefits the provider from management perspective but also benefits the end user. Some of the major benefits are mentioned below.
Improved quality of information for optimal resource management and decision making.

Better management of IT infrastructure.

More efficient and effective usage of resources related to service provision and subsequent cost reductions.

Improved interdepartmental    teamwork.

Expeditious response to customer requests and complaints.

Virtual "Single Window Service" reducing the crowding in offices and saving in travel time of citizens to offices.

Transparent transactions.

Reduced paperwork.

Ease of tracking requests, complaints and SLAs.

Online exchange of interdepartmental user specific data to effectively reduce cycle time for service fulfilment.
Conclusion
ULBs and other government departments in India are implementing IT infrastructure  initiatives   aiming  at automating their current processes. As a result the implementation is happening in silo style and lacks the required interlinkages resulting in lots of rework / duplication of effort. With the variation of volume and nature of services, IT is expected to stay ahead of service demand to ensure efficient service delivery mechanism. This necessiciates a proactive policy for IT service deployment. The most expeditious way to deliver the service which user needs is to identify and apply an industry best practice, which in the context of urban service delivery is ITIL.
Follow and connect with us on Facebook, Twitter, LinkedIn, Elets video