Open Standards enable interoperability and greater data interchange/exchange across the existing diverse technology components. Open standards have become the backbone of interoperable systems. They provide the system integrators with greater choice of technology and flexible and innovative technology platforms.
The wide spectrum of e-Governance applications ranging from information portals to G2G/G2C interactive transactional solutions have transformed the way government services are delivered to its citizens.  The increased use of e-Governance applications stem from the lower cost, increased quality and speed of services.
In order to fully realise the aforesaid benefits, it is vital that the various systems and components of e-Governance interact with each other and interchange information in a seamless manner. The ability of various systems to interoperate and communicate with each other reduces the initial and operational costs of applications.  Such interoperable systems are the key to the successful implementation of e-Governance applications across the country.
Standards play a central role to confirm that the services will work together irrespective of its sourcing. Suffice it to say that compliance with global standards will ensure quality, safety, reliability, efficiency and interoperability, all these at economical costs. In e-Governance operations, standardisation is an essential prerequisite for seamless information flow and inter-departmental process integration. The deployment of a standardised ICT infrastructure will streamline intra-government and citizen-to-government communications.
When viewed from the angle of public availability,  standards are sometimes classified either as 'open' or 'proprietary'. As the names imply, a proprietary standard is one that is owned by an individual or an organisation who can restrict its accessibility and usage, whereas, an open standard is one that is developed through a consensual process and is freely available to users.
Proprietary standards are not the outcome of a consensus building process and are derived from proprietary products. They, oftentimes, represent a sort of restrictive influence on the users through intellectual property (IP) rights.
On the contrary, open standards enable interoperability and greater data interchange/exchange across the existing diverse technology components. Open standards have become the backbone of interoperable systems. They provide the system integrators with greater choice of technology and flexible and innovative technology platforms.
The role of interoperability in e-Governance and the need for standards for ensuring interoperability are discussed in the following sections.
The term interoperability has been hitherto used in the context of systems and equipments having to work seamlessly. Stating the common definition of interoperability as per the IEEE (Institute of Electrical and Electronic Engineers), it is "the ability of two or more systems or components to exchange information and to use the information that has been exchanged", the term has assumed significant importance in the area of e-Governance applications; the area that has applications needing to interoperate, interchange information but stand isolated.
Interoperability in the area of e-Governance
The European Industry Association for Information Systems, Communications Technologies (EITCA) description of interoperability as 'the ability of two or more networks, systems, devices, applications or components to exchange information between them and to use the information so exchanged' is more apt in the context of applications and more specifically here to e-Governance systems. The limitations in the existing legacy e-Governance applications that surface during integration for providing a single window services has made the demand for interoperability more felt. Fragmented approach taken during development is another major hindrance while having to share information. Given the growing diversity of technologies, access devices each having its own technical specifications, achieving interoperability at the technical specifications level or 'technical interoperability' has become the challenge. Emergence of IP as the preferred protocol for data exchange is an indicator of technical interoperability at the network layer. A second area that is critical for intero-perability amongst applications is the 'semantic intero- perability' to facilitate meaningful exchange of information between systems.
Standards- 'Open Standards' and Its Role in Interoperability
The pressing need in the e-Governance application systems and domains existing today is interoperability of software from different vendors. However, in reality the present e-Governance applications are fraught with many issues that are detrimental to interoperability and lack of standards stands out as one of the main amongst these. In the absence of standardisation, users may be forced to use technologies of any one particular vendor or more specifically tied to one single technology.  Although standards are considered to be the panacea to interoperability, in reality, building applications based on the multitude of 'standards' available does not always guarantee interoperability .One of the reasons is the lack of a standard definition to the word 'standard'. The various standards setting organisations have adopted their own principles while defining the principles of 'openness' in 'standards'.
Open standards are commonly defined as "publicly available specifications that provide a common method of achieving a particular goal". Open standards are also referred to as "voluntary consensus standard" that brings into focus the process of evolution of standard. The European Interoperability Framework for Pan-European e-Government Services defines the attributes of open standards as the following:
The standard is adopted and will be maintained by a not-for-profit organisation, and its ongoing development occurs on the basis of an open decision-making procedure available to all interested parties (consensus or majority decision etc.).
The standard has been published and the standard specification document is available either freely or at a nominal charge. It must be permissible to all to copy, distribute and use it for no fee or at a nominal fee.
The intellectual property – i.e. patents possibly present – of (parts of) the standard is made irrevocably available on a royalty-free basis. There are no constraints on the re-use of the standard.
The above mentioned European Commission's European Interoperability Framework (EIF) requirements of open standards should be that it must be available either for free or at a nominal charge for usage, copying and distribution and any patents present are to be made irrevocably available on a royalty-free basis, and there should be no constraints on the re-use of the standard.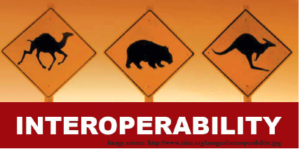 American National Standards Institute (ANSI) describes open standards as those standards that are developed by a process where there is consensus by a group or 'consensus body'. ANSI tries to balance the interests of the implementers and users of the standard with the parties who own Intellectual Property Rights that are essential to implement the standard by allowing the payment of reasonable license fees and/or other reasonable and non-discriminatory license terms that may be required by the Intellectual Proprietary Rights (IPR) holders. The Business Software Alliance (BSA) have also come out with their definitions and policies on open standards as one that should be published without restriction and in sufficient detail to enable a complete understanding of the standard's scope and purpose and should be publicly available without cost or for a reasonable fee for adoption and implemen-tation. Any patent rights necessary to implement it are to be made available by those developing the specification to all implementers on reasonable and non-discriminatory (RAND) terms (either with or without payment of a reasonable royalty or fee).
The varying underlying principles make it apparent that what is really missing is the standardisation of the definition of 'open' in 'open standards' .The principles of 'open standards' must be evaluated keeping in view of the fundamental objectives of e-Governance applications viz. interoperability, reduction in vendor- and technology-specific lock-in situations that will eventually provide wider flexibility and choice of technology for service delivery, data  accessibility and preservation. The implications of the principles of open standards are of consequence and we need to adopt those that are not detrimental to the interests at a larger perspective. We must also not forget that the ramifications of what we adopt today will be seen for decades to come.
The standards that are evolved without following a 'consensus' process has the potential of the leading to products that cannot inter operate. Such standards are evolved as new ones to meet the need of a particular technology or vendor, even though similar international standards evolved through consensus process exist in the market and such standards may have the following drawbacks:
Detailed technical specifications for document formats, data formats and communications protocols may not be clearly or openly defined;

Other industry stakeholders (vendors, users) have minimal influence over the standards; and

Originating vendors may introduce barriers (software patents or related intellectual property claims) to ensure that competitors are legally encumbered or locked out of the market.
CONCLUSION

While it is true that interoperability is critical for the integration of disconnected systems, its significant and beneficial features cannot be realised without adhering to a set of standards. The current disjointed scenario has come about as a result of lack of commonly accepted and widely available standards in the development of e-Governance applications. The importance of open standards stems from this scenario. It can be argued that a semblance of interoperability may result even without the use of open standards. Hence, to focus merely on 'interoperability', ignoring the importance of  open standards will not take us any further than where we are today.
It is therefore essential to emphasise the use of open standards for the development of e-Government applications to achieve interoperability at the basic level. Interim solutions  suggested such as interoperability labs or the use of  adapters with non-open specifications to ensure interoperability in the last mile are all indicative of missing the woods for the trees. In reality, true open standards will eliminate the need for these and allow products and technologies to be interoperable, thus allowing the users to choose their own technology and even replace it with others.
Any policy in this domain must therefore promote the use of true 'open standards' that will ensure interoperability and thus free the user from being tied to any technology or platform. Without debating further, we need to strive to adopt truly 'open standards' and this is particularly crucial at this point in time when we are poised towards a major leap in the area of e-Governance. 
*The views expressed are of the author's own and do not reflect the views of  National Informatics Centre
Follow and connect with us on Facebook, Twitter, LinkedIn, Elets video