The rapid spread of Internet and information communication technology has created tremendous opportunities in making information available instantly and economically. Use of this medium is highly suited to empower the farmers with information. IT can play a significant role in providing timely information for the farmers in a cost effective and commercially viable manner. As Internet is highly interactive, this technology can be optimally used for agricultural marketing. It is very important that information technology reaches rural areas where agricultural production takes place. Apart from its role in information dissemination, ICTs also facilitates in data support for better research and sustainable planning, bridging the gap between knowledge and practice, commissioning judicious land use resource surveys, implementing efficient management practices and promoting sustainable use of natural resources.
The current agricultural marketing scenario in India is characterized by the situations of plenty and scarcity which is are detrimental to the interest of producers and consumers. One of the major factors attributable to these situations is inadequacy of proper marketing information to producers. The producers require continuous flow of information on current prices, market arrivals, welfare schemes of governments, credit facilities and forecasting on marketing trends. Simultaneously, farmers are in sheer need of information about access to a specific market to realize remunerative price and supportive information like storage, transactional methods, quality requirements, post harvest handling requirements etc.
It is an established fact that if agricultural marketing has to succeed, it must have a sound and effective marketing information system. Our regulated markets need to be strengthened so that they may be able to provide live marketing information to the farmers on arrivals, current prices, likely price trend, market practices etc. To supplement the above, there is a need to open up information kiosk at village/block level. Such kiosks are supposed to keep up to date marketing information and pass on the same to the farmers for their benefits.
In order to achieve this objective, a number of thrust areas have been identified where IT can play a crucial role in leveraging traditional methods of agricultural marketing. Some of these are:
1.   Agricultural Market Intelligence System (AMIS)
2.   Price Forecasting Application
3.   Creation of National Market Atlas
4.   Electronic Auctioning System
5.   Electronic Display Boards (Rural Connectivity)
6.   Creation of e-Catalogues for Commodity Profiles
7.   E-commerce in Agricultural Marketing
1.  Agricultural Market Intelligence System (AMIS)
Agricultural marketing essentially deals with post harvest management of produce and finding competitive markets for getting best available returns. In order to reduce the risk of marginalisation and vulnerability of small farmers, who constitute about 76.3% of total farmers of the country, it is necessary to develop an 'Agricultural Market Information System' that is accessible to the resource poor farming community. Internet technology based applications on agricultural resources are expected to facilitate agriculture-based development of rural and economically backward areas in the country. Design of agricultural market information system is crucial for the support of various management systems at the national, state, district and village levels.
The Agricultural Marketing Information System (AMIS) model will be an informatics model aimed towards developing a reliable and integrated system, wherein all the information associated with marketing is readily available. This informatics model is based on – multi-database information system; knowledge-based expert system; geographical information system; and on-line distributed query capabilities. Informatics for agricultural marketing information system requires coordinated inter sectoral approach and application of appropriate information technology tools in the area of agricultural marketing (involving storage, packaging, infrastructure), agricultural extension and transfer of technology, agro-meteorology, agri-business, quality assurance and agricultural inputs (viz. seeds, fertilizers, manures).
2. Price Forecasting Application
Agricultural producers and agribusinesses face a diverse array of marketing and production alternatives. Each time a marketing or production decision is made, farmers or agribusinesses must estimate what impact this decision will have on their risk management plan. Under this scenario, agribusinesses must determine the price expectations beforehand, in order to know what forward price to offer.
In the agricultural sector, prices affect the quantum of total production, the crop mix that a farmer decides to grow and the investment for capital formation. The relative level of agricultural prices influences the allocation of production resources and hence the level and pattern of agricultural production.
Price fluctuations cause investment in agriculture to be low. For given levels of price, the larger the price fluctuation, the larger is the depressing effect on output and productivity. Too low prices have a dampening influence on the investment. If they are too high, they adversely affect consumers in the short period.
Thus it is important to develop effective and accurate price forecasting applications, which takes into consideration multiple parameters, and datasets to give realistic price forecast output. Computer based database and statistical package provides considerable convenience in such forecasting analysis on a real-time and continuous basis.
National Institute of Agricultural Marketing (NIAM) in collaboration with Karnataka State Agricultural Marketing Board has developed an application to workout future prices for agricultural commodities to safeguard the interest of the farming community by providing suitable base for market intervention both by central and state government authorities.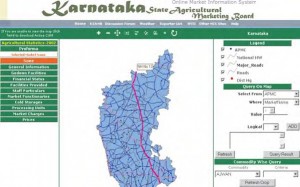 3. Creation of National Market Atlas
Substantial structure and policy changes have swept the agricultural marketing system in the context of economic reforms of 1991 and more so, after establishment of WTO. Many committees have reviewed the system thoroughly and put forth various recommendations to make it more conducive to the change environment.  The common thrust of the working groups is on developing infrastructure facilities, identification of new markets, modernization of existing markets, assessing movement of marketable surplus, developing sub-markets and matching the infrastructure with output availability.
The application of National Market Atlas will mitigate much of these problems and will help in prioritizing the category of markets that need to be developed first (i.e. whether it is primary market, secondary market or rural market).
National Market Atlas is of immense use in identifying the imbalances between magnitude of production and availability of market centers in that area (mass production and inadequacy of selling points or low level of production and density of marketing network). Under these circumstances Atlas is an effective tool to out grow such infrastructure imbalances by suggesting appropriate combination of these two parameters.
The Atlas also goes a long way in contributing and exploiting the natural endowment with the view to explore possibilities of producing cash and semi-cash crop in areas having uncultivated land. It can also help us to judge whether the virgin land can be cultivated for food grains or commercial crops and if it is feasible to develop markets in near future. It can also be used to determine which are the areas where processing can be taken up and marketing linkages can be developed.
The Atlas can also be of great help while finding out the most optimal route for transporting agricultural commodities, satisfying various geographical and commercial parameters, along with perishability of agricultural commodities.
Ministry of Agriculture, NIAM and National Informatics Centre are working closely in this project. Knowledge part of the Atlas is being done by the NIAM and technology part is being taken care of by NIC. Data collection and digitisation work has already been completed for three states namely – Punjab, Rajasthan and Uttranchal and very shortly they will be available on-line. Training part has been completed for five more states namely – Karnataka, Maharashtra, Tamilnadu, Himachal Pradesh and Jammu & Kashmir and their data collection work is in progress. A detailed plan has been designed for a covering all states and union territories of India over the next one year.

4. Electronic Auctioning System

The electronic auctioning system (EAS) is a system to perform electronic bidding of agricultural produce in wholesale markets. It is the first time in India that EAS has been implemented for Azadpur mandi (Asia's largest vegetable & fruit mandi) of the Agricultural Produce Marketing Committee (APMC), New Delhi. EAS helps in automating the highly chaotic and unsystematic way of bidding done in wholesale agricultural markets. The system aims to minimize paper work in the bidding process, automate the billing and revert system, improve the efficiency and transparency of the process, provide a disciplined structure for the bidding system, provide easy, efficient and summarized information and ensure data security.
Under this system, traders perform the bid with the help of miniature wireless keyboards, which they use for entering their bid amount into the computer system. An electronic display board (generally mounted at a prominent place) highlights the bid amount, as and when they are entered. This helps every one to be aware about the current prices in the on-going bidding process.
EAS also provides the facility of bidding and delivering bid information through SMS. The buyer can bid for his desired material by sending SMS from his mobile. Similarly, farmers/producers in far-away places can enquire about prevailing market rate of commodities through SMS.
5. Electronic Display Board  (Rural Connectivity)
IT applications such as rural connectivity through electronic display boards can be of great help for the agricultural community of the country. Although the current thrust of information technology is on data support for better research, better results and sustainable planning, it is equally important to ensure that farmers get remunerative prices for their produce and consumers get fresh produce at fairly reasonable rates. With this objective, National Institute of Agricultural Marketing (NIAM) has decided to prepare a pilot testing of agricultural information dissemination model at the doorsteps of producers at gram panchayat level through electronic display boards. The pilot testing is proposed to carry out the objectives such as – providing market related information in regional language through electronic display boards at the panchayat level; providing state level and national level market information; providing commodity exchanges future prices; providing  software/hardware technology for updating data on regular basis and providing important government messages in rural areas.
The primary objective of the study is to provide a way of easy access of information for the users and remove all types of corruption in the process. Site for mounting the display board is usually identified by discussing with Secretary, Agricultural Produce Market Committee, Chaksu and the villagers. A village, which is a junction point of 7-8 adjacent villages, is usually selected for this model. Display boards are installed on roadside (as per the guidelines of Supreme Court) for proper visibility and information is updated into the system by GSM or CDMA technology. This helps in disseminating the much-needed market information to the rural producers and assists them in taking informed and timely decisions for optimising the returns.
6. Creation of e-Catalogues for Commodity Profiles
In the present time of export competitiveness, each and every agricultural product needs publicised highlighting of its characteristics on nutritional values, chemistry, quality standards, seasonality, shelf life, bi-products, supply/availability,  prices etc.
A brief commercial profile of the commodity would help the buyer  in making comparative analysis on account of cost and margins. Therefore, it is necessary that each commodity have specific commercial profiles. All such profiles need to be communicated to international markets through websites. In addition, commodity profiles containing entire market related information for important commodities should be put on CD for mass dissemination in areas where there is no Internet connectivity. Information in CD should be in local languages with multimedia features to enable transfer of knowledge to producers/traders.
The CDs will contain information such as – important producing areas and volume of commodities grown; important varieties in demand in national and international markets; phyto-sanitary, grading, standards and packaging requirements; wholesale, retail outlets and important trading and consuming centers; marketing regulations related to the commodities; facilities for direct marketing to consumers and processing units; availability of institutional credit, storage, cold storage and warehousing; professional agencies providing marketing services; and marketing related schemes of the government and public sector organisations.
7. e-Commerce and Agricultural Marketing
There are unexplored potentials for electronic media in domestic as well as international agricultural marketing. An agricultural producer faces unrelenting pressure for efficiency, myriad choices and marketing volatility brought on by discerning consumers, quality- conscious buyers and a global marketplace.
In order to compete and thrive in an era of constant change, there is a requirement of a pro-active marketing mindset, an intimate knowledge of production costs and a detailed knowledge of the quality of commodities produced. The rapid spread of Internet is ushering in a new era of agricultural marketing using web-based electronic storefronts and on-line marketing through e-catalogues of commodities. The major activities of e-commerce as applicable to agriculture involves – bringing products to markets, easy networking and communication between buyers and sellers and delivering information to potential consumers. However, in India, there are very few players in the domain of e-commerce in agriculture. The foremost requirement for successful electronic commerce is the access to market information system. In the long run, electronically linked producers and retailers will be able to lower their costs and increase transactional efficiencies by reducing intermediary operations.
With all these initiatives in place, the agricultural sector is poised to undergo a revolutionary change by harnessing the invaluable resource of information through use of technology. IT has the potential to cure the most critical ailment of agro-producers – the 'information gap', arising out of geographical separation and isolation of producing areas. Once information flow is ensured across all regions, producers will no longer run the high risk of uncertainty in agriculture and neither will they lose out on getting the best returns for lack of market information.