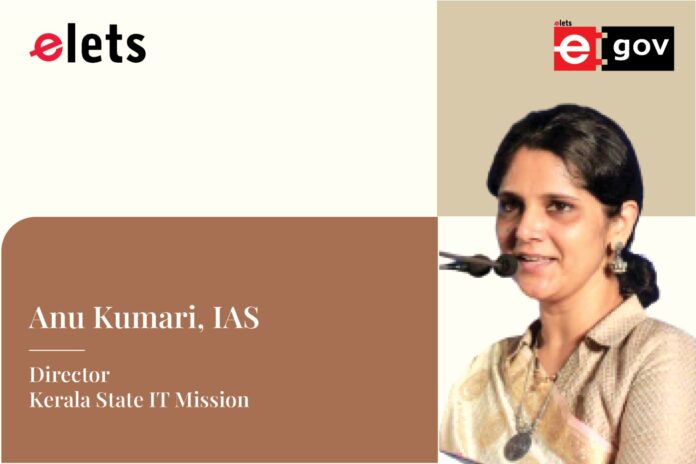 Kerala State IT Mission is actively addressing the issue of digital divide and ensuring that benefits of the technology reach to all segments of the society, shares Anu Kumari, IAS, Director, Kerala State IT Mission in an exclusive interview with Krishna Mishra of Elets News Networks (ENN). Edited excerpts:
Can you share key achievements of the Kerala State IT Mission in enhancing citizen services and government efficiency through e-governance?
The Kerala State IT Mission has achieved significant milestones in enhancing citizen services and government efficiency through its e-governance initiatives. The state has transitioned into a Total e-Governance State, prioritizing transparency in service delivery. The key achievements include the digitization of government offices through the e-Office project, resulting in faster decision-making and a shift towards a paperless environment.
The e-District Project has streamlined citizen services, offering online access to a wide range of government services, while e-Procurement has enhanced transparency in public procurement activities. The eSevanam and mSevanam platforms provide simplified access to over 911 services from various government departments. Additionally, the Centralized Procurement Rate Contract System (CPRCS) ensures cost-effective and transparent procurement of hardware items. DigiLocker integration facilitates secure document sharing, while CERT-K addresses cybersecurity risks, safeguarding government and citizen data. These initiatives collectively exemplify Kerala's commitment to efficient, transparent, and citizencentric governance.
How is the IT Mission addressing the digital divide, ensuring technology benefits reach all segments of society, especially in rural areas?
The Kerala State IT Mission is actively addressing the digital divide and ensuring that the benefits of technology reach all segments of society, with a particular focus on rural areas. The 2700+ Akshaya Centres serve as crucial touchpoints, offering services such as Aadhaar enrollment, digital literacy, and online services, effectively bridging the digital gap in rural communities. Special camps are organized for the enrollment of children aged 0-5 years, ensuring even the youngest citizens have access to vital identification. Unique initiatives like Aadhaar enrollment for bedridden individuals and Aadhaar enrollment camps in schools further extend accessibility.
Also Read | Kerala leading in governance transformation
The ABCD campaign for Document Digitization for Tribal Communities has digitally preserved essential documents, a pioneering effort recognized nationally. Additionally, initiatives like KFI, providing free Wi-Fi at public places, KFON connecting 20 lakh BPL families to the internet, and the KSMART mobile app for hassle-free service delivery collectively exemplify Kerala's commitment to ensuring that technology benefits are inclusive and extend to all corners of the state, especially in rural areas.
The digital transformation landscape is ever-evolving. What emerging technologies (e.g., AI, blockchain, IoT) is the IT Mission exploring for potential integration into government services?
Kerala recognises the potential of emerging technologies like Artificial Intelligence (AI), Blockchain, and the Internet of Things (IoT) in enhancing government services. These technologies are expected to revolutionise the e-governance landscape, making services smarter, more efficient, and citizen-centric. AI is being considered for data analytics and improved citizen interactions, allowing for predictive insights that can shape governance decisions. Blockchain holds promise for secure and transparent record-keeping in various government processes, ensuring data integrity for predictive analysis.
IoT is envisioned for applications in smart infrastructure and public service monitoring, providing realtime data for predictive governance. These technological advancements align closely with the government's vision for Digital Kerala Architecture, which strives to create a unified, one-government experience for citizens. The overarching goals include providing a unified view of government services, designing services to meet citizen requirements, promoting data-driven governance, fostering state data policies, and strengthening the digital security framework. By embracing these emerging technologies and predictive governance, Kerala's IT Mission is deeply committed to achieving these objectives and ensuring a more efficient, inclusive, and secure digital transformation for its residents.
What strategies are in place to attract tech startups and investments to Kerala, and how do these align with the state's broader vision for a knowledge-based economy?
The primary goal of the government is to make startups more attractive to investors. To achieve this, there is a need for a significant amount of soft intervention and the availability of early-stage funding. The state has devised various schemes and policies to assist startups in obtaining early-stage funding. One such scheme is the Innovation Grants program, which ensures that startups receive grants of up to 30 lakhs from the government. This will help startups develop their products and make them more appealing to investors. Additionally, other funding schemes such as loans and central government programs like Seed Funding and Nidhi Prayas are also available.
Furthermore, the government has implemented the Fund of Fund scheme, which makes equity investments in startups. Kerala Startup Mission acts as a Limited Partner (LP) to various venture funds through the Fund of Fund program, and an amount of 80 crores has already been disbursed to startups via this program. Other government agencies like KSIDC and KFC also provide funding to startups, ensuring that investment opportunities are consistently available for scalable startups.
Kerala Startup Mission offers various programs and schemes, such as Future Technologies Labs and Fab Labs, which assist startups working on emerging technologies in engaging more deeply with the available tools and gadgets. Machines and cloud computing spaces are made accessible to startups for their work on new technologies.
What measures and policies are in place to safeguard the safety and security of the citizen data?
Kerala is deeply committed to ensuring the safety and security of citizen data through a range of measures and policies. The state has integrated Aadhaar for authentication and e-KYC services, guaranteeing secure access to services while upholding data privacy and security. Furthermore, Kerala is actively working on a State Data policy, a progressive initiative. Two unique projects, the Unified Registry and Aadhaar Vault, are in their early stages, focusing on enhancing data privacy and security for citizens. The Kerala State Spatial Data Infrastructure (KSDI) serves as an Internet-based Geo-spatial Data Directory, facilitating data sharing and exploration related to various aspects of the state.
In the realm of cybersecurity, CERT-K plays a vital role in identifying and mitigating risks to protect citizen data and government systems. They conduct security testing and vulnerability assessments and have introduced a Cyber Security Learning Portal to enhance awareness of basic cybersecurity aspects among citizens and bureaucrats. The "Stay Safe Campaign," conducted nationwide, and Cyber Security Awareness Discussions, classes, and social media campaigns during Cyber Security Awareness Month in October further underscore Kerala's commitment to safeguarding citizen data and promoting digital safety.
Also Read | Kerala's IT landscape and the role of ICT Academy
Could you provide insights into the future direction and priorities of the Kerala State IT Mission?
The Kerala State IT Mission's future direction and priorities are centered on enhancing service integration, standardization, and data-driven governance. They aim to establish a unified "ONE GOVERNMENT" experience for citizens through the Digital Kerala Architecture. The mission places a strong emphasis on data privacy and security while promoting open data policies and world-class connectivity. Strengthening the digital security framework and fostering citizen awareness are key components of their cybersecurity initiatives. These collective efforts reflect the IT Mission's commitment to providing a seamless, secure, and inclusive digital experience for Kerala's citizens.
"Exciting news! Elets eGov is now on WhatsApp Channels 🚀 Subscribe today by clicking the link and stay updated with the latest insights!"
Click here!