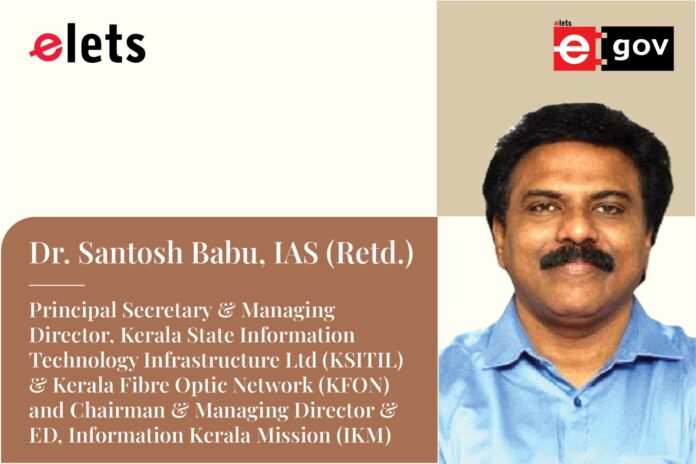 When the integration of computer systems was in its inception worldwide, Kerala took proactive steps to develop software, positioning itself as a pioneer in eGovernance initiatives in India shared Dr. Santosh Babu, IAS (Retd.), Principal Secretary & Managing Director, Kerala State Information Technology Infrastructure Ltd (KSITIL) & Kerala Fibre Optic Network (KFON) and Chairman & Managing Director & ED, Information Kerala Mission (IKM) in an exclusive interview with Krishna Mishra of Elets News Networks (ENN). Edited excerpts:
How has IKM adapted to recent changes and emerging digital needs in the state of Kerala? And what role does it play in supporting the overall IT mission of the government of Kerala?
IKM, which stands for Information Kerala Mission, was established when the People's Plan was initiated in Kerala. During the early stages of computer system adoption worldwide, Kerala took the lead in software development. For instance, the Information Kerala Mission produced many applications, including the 'S series' – Sanjaya, Sujita, Sajaytra, Sagarma, and so on. These applications or software were considered highly advanced not only in India but also worldwide. Considering Kerala's decentralised nature, approximately 30% of the state budget goes directly to local bodies, such as the 1,400+ municipalities and corporations. Kerala has a highly nuanced approach to decentralisation and adhered to the 73rd and 74th Amendments. The mission behind developing these software solutions was to enhance e-governance efficiency, especially in panchayats and rural bodies.
When I assumed the roles of CMD and ED in 2022, we had approximately 32 developers and a testing team of around 360. They had developed numerous applications, which we integrated into one ERP system. In 2022, we also implemented this system in our rural bodies, where it has been running very successfully ever since.
However, over time, technology has evolved, but our applications have not. Despite our heavy reliance on these outdated technologies, local governance is still heavily dependent on these applications. Nowadays, there is a lot of discussion about blockchain, VR, AR, IoT, analytics, and cloud technologies, but we are still anchored to technology from 1999.
What were the challenges posed by these outdated applications?
The crux of the problem was the inefficiency. Officials had to shift between different software platforms for routine tasks. This prompted me to suggest the creation of an application called 'K-Smart' or Kerala Solutions for Administrator Reformation and Transformation. I've always championed two concepts: citizens shouldn't have to visit government offices, and our employees should be content. The goals were simple: joyful citizens and joyful employees. Currently, Kerala boasts around 900 online services, but the downside is the need to navigate multiple websites.
That sounds overwhelming. How did you streamline this?
To address these issues, we collaborated with the National Urban Digital Mission using a platform called 'UPYOG'. We faced challenges, like the platform being based on Java while our developers were proficient in C.Net. To overcome this, we partnered with about 10 companies, bringing in their Java developers.
K-Smart is slightly different from all other software developers in the country. We follow a 82-day sprint strategy, focusing on developing nine citizen-centric modules out of the total 30. All these modules are citizens facing modules like Birth & Death, Building Permit, Property Tax, Finance, HRMS, File management etc. and are now being developed on an 82 days sprint strategy.
Can you explain what you mean by an "82-days sprint"? How does this methodology benefit the project?
Typically, the project we're working on would take about two years. We're aiming to complete it in just 82 days, leveraging microservices architecture and DevOps technology.
Using microservices means that each service is independent yet interconnected. This ensures that if one service faces issues, it doesn't impact the others. We're also employing project management tools like Jira, Confluence etc thereby reducing our dependence on individual software developers. In the past, our applications depended heavily on specific developers. This new approach mitigates such risks. It's about building a resilient and efficient system for the betterment of our citizens and the workforce.
Could you explain how your organisation has adapted to changing dynamics in the tech landscape?
Now, we are not dependent. We are converting all our processes into what's called SRS (software requirement studies), which revolves around the software development lifecycle. SRS is our strength. We've assembled an exceptional team of domain experts from clerical cadre to officer cadre, and Panchayats to Municipalities. We've conducted extensive workshops across the state to develop comprehensive SRS. This SRS is then translated into wireframes on the Figma application. We decide on aesthetics like colours, look, and feel of the application. This information is then passed on to the solution architect who enhances the design, look, UI, and UX. Following that, we break down these designs into small stories.
Each morning, we assign these stories to available developers. They write the code, which is then reviewed at four different levels before it is deployed to the production environment. We closely monitor the development process on tools like Jira and Confluence. Our approach to software development, being implemented in a government setup, is rather innovative.
Absolutely, it sounds like you're incorporating modern software development practices. Can you explain more about that?
Precisely. Usually, we relied on thirdparty solutions from companies like Info or TCS. However, now we have adopted a system where we have full control over the development. In just two or three months, we've developed fantastic applications with nine modules. This control has enabled our team to become experts in platforms like Jira and Java. This strategic shift was a key reason I was brought on board. It's part of several transformations we're implementing. Our organisation's discipline has also improved; people arrive earlier and are more engaged. The goal is to reach a world-class level of software development.
It sounds like you're not only focusing on development but also governance and citizen empowerment. Can you share more about that?
We had discussions with the ex-Chief Secretary, current Chief Secretary and all the relevant officers on the role of technology in enhancing governance. We pondered whether our system can eliminate corruption entirely, boost efficiency, and serve as a decision support tool. We are now empaneled consultants for the national urban digital mission. Multiple entities, including state governments, have approached us to utilise our tools. States like Uttar Pradesh, Karnataka and Jharkhand have reached out to us seeking our IT solutions.
We're eyeing opportunities overseas. We aim to be a world-class IT solutions provider, potentially collaborating with African nations or Sub-Saharan and other regions.
Let's talk about digital infrastructure. What's the progress there?
As the Managing Director of K-FON and Kerala State Information Technology Infrastructure Ltd (KSITIL), I oversee the IT infrastructure in the state of Kerala. We have successfully laid 30,000 kilometres of fiber optic cables across the state. Our primary objective is to provide internet connectivity to over 30,000 government offices and offer free internet to 20 lakh families below the poverty line. I am pleased to report that we have achieved the target of providing free internet to 14 lakh families so far. We are committed to achieving self-sufficiency and generating profits from our infrastructure. Currently, we provide services to companies such as Airtel, Power Grid Corporation, and BSNL.
How does this tie into the larger goal of bridging the digital divide?
There are around 80 lakh families in Kerala out of which only twenty lakhs have fiber connection. Our dream is for every home in Kerala Our dream is to have fiber connectivity for every home in Kerala. Though almost every household has mobile phones, fiber provides a more stable and versatile connection. Our infrastructure is prepared to support forty lakh connections, and we're the largest ISP in Kerala. The state government aims that every government institution be it schools, colleges, hospitals, offices should be on K-FON. Besides this, we are also mandated to provide free connectivity of upto 30 MBPS to all the BPL families in the state.
As we look to the future, what are the key areas you'll be focusing on?
Our vision is to introduce a Smart Kerala Mission and predictive governance. The latter aims to eliminate the need for citizens to repeatedly apply for services when the government already possesses their data. Citizens often apply for various documents such as birth certificates, caste certificates, income certificates, and home certificates. Instead of citizens reaching out to us each time, why can't we provide these documents based on the lifecycle of individuals, as the government already has all the necessary data? The Kerala government offers over 800 digital services to its citizens, and we are striving to lead an API revolution. K-Smart will play a significant role in this endeavour.
Rather than continuing with the current file-centric system, our goal is to adopt a human-centric approach.
When you're looking at the current landscape, what is the main focus?
We are adopting a human-centric approach in governance. However, one thing we are not prepared for is the security around this data. So, we need to secure it. We might even have to use quantum security to protect this data surrounding the citizen. I believe that some other department can serve as the data securer. They should be empowered, perhaps through an act or legislation. There are areas to discuss, but our main focus now is on what our government has announced, such as free connections for families below the poverty line and connectivity for over 30,000 government offices.
Beyond that, it's about creativity. How do I work with vendors, people across the ecosystem, government departments, etc., to make time available for the citizens? Both you and I, no matter our backgrounds or differences, only have 24 hours in a day. The essence of governance is freeing up people's time, not wasting it. When you visit a government office, you spend money on transportation, food, and might face other inconveniences. Around 500 to 600 pieces of currency get wasted in such a visit. The idea is: why should a citizen have to visit me? I'm a government servant; I should be serving them.
So, how do you envision the future of government-citizen interaction?
Think about companies like Microsoft or Google. They have back offices where all the governance happens. The front office is just the product. Similarly, for the government, the back office does the governance, and the front office provides services. Ideally, citizens shouldn't even need to know where the government office is. With technology today, we could potentially run everything from a smartphone. We're barely scratching the surface. We might use our smartphones for simple tasks like messaging or videos, but there's a vast potential in governance. For the citizens, time is precious, and good governance should respect and free that time.
Also Read | Kerala leading in governance transformation
The best form of governance would be a system where law and order are maintained, citizens' needs are met, and they can live their lives without any hindrances. We have the technology and skillset to provide world-class governance. We should think ahead, envisioning what India might look like in a hundred years.
So, you're basically talking about the ultimate empowerment of the common citizen…
The citizen is supreme. The theory of social contract explains that citizens have entrusted a small group to govern them. But it's the citizens who are superior. Government should serve the citizens, not the other way around. We should allow citizens to live their lives as they wish, and with today's technology, we can achieve this, even through a smartphone.
It's a powerful vision. I hope we see this transformation soon. It's easy from a technological standpoint. It's all about execution and mindset.
"Exciting news! Elets eGov is now on WhatsApp Channels 🚀 Subscribe today by clicking the link and stay updated with the latest insights!"
Click here!