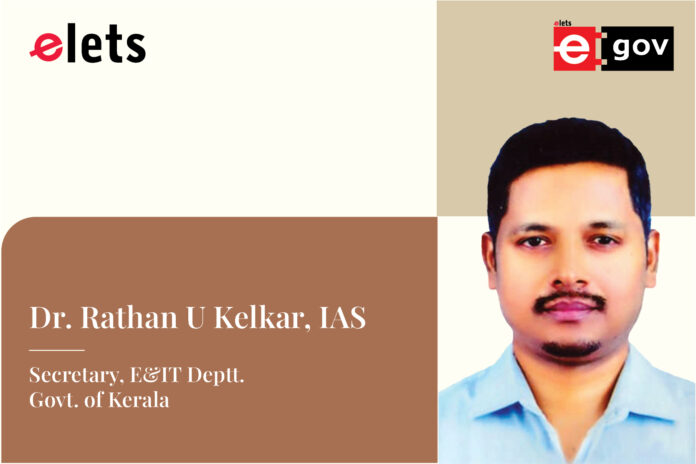 A strong emphasis on robust technology infrastructure as well as human capital development is making Kerala a preferred destination for tech companies, shares Dr. Rathan U Kelkar, IAS, Secretary, E&IT Deptt., Govt. of Kerala in an exclusive interview with Krishna Mishra of Elets News Networks (ENN). Edited excerpts:
What are the primary focus areas and key priorities of your department? How is the department harnessing the power of technology to enhance the efficiency of governance and the delivery of public services?
The IT department is committed to a set of core objectives. Firstly, it strives to digitally empower citizens through initiatives such as digital identity, participatory e-governance, and a unified government portal. Second, the department focuses on enhancing human capital development in key technology areas by partnering with educational institutions. Additionally, it actively promotes the IT sector through marketing strategies, aiming to attract global industries to Kerala and nurture sustainable entrepreneurship. Lastly, the department underscores the importance of robust infrastructure, both digital and physical, including disaster recovery, connectivity, and IT parks. Overall, the IT department's overarching goal is to harness technology to enhance governance efficiency, improve public service delivery, and create employment opportunities while bridging the digital divide for more equitable access to essential services.
Also Read | Digitalisation & Transformation of Governance
Could you share insights into some of your initiatives, aimed at promoting digital literacy and narrowing the digital divide within Kerala?
In our drive to promote digital literacy and bridge the digital gap in Kerala, we've implemented innovative initiatives. Firstly, we're strengthening the ICT Academy through global partnerships and entrepreneurship infusion in the curriculum. We're also aligning our education system with industry needs by mapping online courses to our curriculum, enhancing our students' employability. Our commitment extends to government staff, with IT skill development programs to enhance efficiency. To empower the public, we're providing digital literacy programs through Akshaya Kendra, ensuring everyone can participate in the digital economy. Additionally, our visionary Digital Science Park project in Thiruvananthapuram is set to be a hub for innovation, research, and collaboration, driving technological advancement in the region. These initiatives equip our citizens and state with the skills and resources to thrive in the digital age and promote innovation while narrowing the digital divide.
How can the synergy between industry and government be strengthened to materialize Kerala's vision of a digitally empowered, progressive society?
In our pursuit of Kerala's vision for a digitally empowered and progressive society, we adopt a comprehensive strategy. We emphasise collaboration through public-private partnerships and working groups to harness industry expertise and government resources for digital initiatives. Industry engagement is a priority, with regular meetings and forums enabling industry feedback that helps tailor government policies to specific needs. Skill development remains at the forefront, with curriculum updates and training programs to ensure our workforce aligns with industry demands. Investment in robust IT infrastructure is pivotal, and incentives such as tax breaks and awards serve as motivation for innovation. Knowledge-sharing platforms foster a culture of innovation, and ongoing policy reviews keep us agile in a rapidly changing tech landscape. This multifaceted approach forms a harmonious partnership between government and industry, propelling Kerala toward its vision of a digitally empowered and progressive society.
Tell us something about your future plans and projects to accelerate the Digital India Mission in Kerala.
Our vision for accelerating the Digital India Mission in Kerala is characterised by ambitious objectives. We aim to boost IT exports, triple infrastructure capacity, and foster innovation with a surge in startups. Furthermore, we're committed to expanding internet accessibility, embracing 5G, streamlining citizen services, and achieving 100% digital literacy for the majority of the population. These measures are set to position Kerala at the forefront of the digital landscape, driving progress and prosperity. With a strong focus on technology and innovation, we're dedicated to creating a digitally empowered and progressive society, ensuring that the benefits of the digital age reach every corner of our state.
Could you elaborate on the existing policies and strategies in place to attract investments and encourage startups in emerging tech sectors such as AI, cloud computing, and IoT?
In our endeavour to attract investments and promote startups in emerging tech sectors like AI, cloud computing, and IoT, we've adopted a streamlined approach. We place a strong emphasis on robust technology infrastructure, making our region highly appealing to tech companies. Simultaneously, we prioritise human capital development, aligning our workforce with the specific demands of these emerging sectors. Our marketing systems and incentives are designed to attract both domestic and foreign investments, creating a conducive environment for startups.
Also Read | Digital Transformation of Governance in India
Furthermore, we open doors to local market opportunities for tech players, allowing them to test and refine products within the state. Promoting local product manufacturing and assembly not only drives economic growth but also reduces import dependence. To simplify the process, we're in the process of formulating an industry facilitation sub-policy, streamlining administrative processes to create a business-friendly environment, especially for tech startups. In essence, these strategies collectively work to position our region as a thriving hub for cutting-edge technology and innovation.
"Exciting news! Elets eGov is now on WhatsApp Channels 🚀 Subscribe today by clicking the link and stay updated with the latest insights!"
Click here!