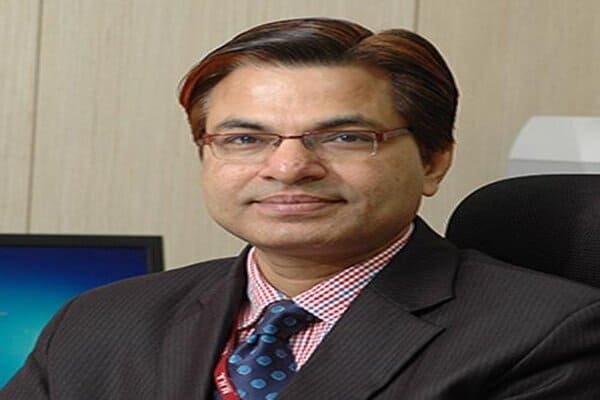 The Government of India has been proactive in exercising the digital transformation of governance in the country. And, major initiatives have been taken under an umbrella programme 'Digital India' launched by the Ministry of Electronics and Information Technology (MeitY). Shedding light on this Dr Rajendra Kumar, Additional Secretary, MeitY, Government of India, addressed the Governance Leadership Summit 2021.
Dr Kumar delivered his special address emphasising the importance of technology and how digitalisation has transformed the governance in India. Addressing the existing technology framework of the government, he said, "As we all are aware that the current digital framework of the government in India is under the umbrella programme 'Digital India'. It was launched in 2015 and it has been by far the most important programme for ensuring that technology can be deployed effectively by all stakeholders including the private sector to transform their overall interface for citizens and businesses." Digital India broadly talks about leveraging technology for transforming governance but it is also a vision to ensure India can leapfrog its development initiatives using technology, he added.

Speaking on the Ministry of Electronics and IT (MeitY) initiatives to transform governance, Dr Kumar said, "Before Digital India, there was a bouquet of e-governance projects in various domains of governance for transforming their service delivery paradigm. The Digital India programme brought all these different e-governance projects together. Under Digital India, we have worked on the JAM trinity – Jan Dhan Yojana (an initiative to ensure bank accounts for all), Aadhar (biometric-based identification system) and Mobile (using mobile as a platform to extend citizen services)." MeitY had also taken up large initiatives in the past five to six years to help transform the paradigm of governance to benefit citizens. An example could be Direct Benefit Transfer (DBT) which utilised the government's e-governance framework based on Jan Dhan, Aadhaar and Mobile to directly transfer the government benefits and subsidies to the concerned beneficiaries, he added. Dr Kumar named a few more such initiatives by MeitY like Government e-Marketplace (GeM), MyGov, e-Hospital, Open Government Data Platform, GIS-based initiatives, DigiLocker and more.
Also Read: Transforming Governance in India post-COVID
Elaborating on DigiLocker, he said, "This is a secure digital platform where citizens can store all their documents and ID cards. Also, respective government departments are using this to add documents in the digital locker of the citizens rather than delivering a hard copy of the same. This has helped in transforming the governance into a completely paperless, faceless and presenceless form." This has been one of the core ideas that the Ministry has been propagating to all the government departments to ensure that citizens need not have to visit offices to avail any services, said Dr Kumar.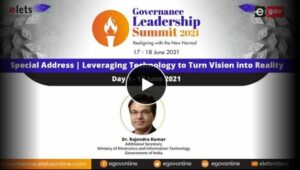 "In 2019, MeitY has unveiled its vision to achieve a $1 trillion digital economy by 2025. Under this vision, all the departments have been brought on board, have been encouraged and being extended complete support from the Ministry to introduce digital interventions and transform their own domains of governance, their interphases with businesses and citizens, so that we can leverage technology to achieve our goal," told Dr Kumar.
Also Read: Selecting Right Digital Partner for Transforming Records Management

Addressing emerging technologies, he mentioned that "we have a large initiative on emerging technologies. This is a major area where we're promoting all the government departments and other stakeholders to use emerging technologies like Artificial Intelligence, Blockchain, Internet of Things (IoT), etc. to ensure that not only citizens but also the private sector can benefit from the emerging opportunities." He added, "I called this opportunity because the Indian IT sector which is already known for its competitiveness can work in this domain and be a world leader."
Indian IT sector which is already known for its competitiveness can work in this domain and be a world leader." However, this requires continuous support from the government to ensure that skilled resources are being provided. Therefore, a massive programme would be required on skilling on emerging technologies. "We need to introduce these emerging technologies in our government departments that can further pose as a platform, for leapfrogging into this new realm of opportunities., he added.
For the successful adoption of emerging technologies, Dr Kumar said, "We've set up 22 Centres of Excellence across the country with industry associations. Also, we're trying to promote startups in these centres with a goal to launch them in the mainstream world. Through these centres, the startups will be able to compete in the global markets and perform well. It gives me pleasure to inform you that there are numerous startups that have graduated from these Centres of Excellence and have attracted fundings from investors within India and abroad." Many industry partners have benefited from new research and developments being done at these Centres and implementing those technologies in their line of work.
"We also have a MeitY Startup Hub that we established in the previous year. Through this, our goal is to bring all the technology-based startups onto a common platform to ensure that they're being supported by the Ministry to grow and become competitive. We're supporting them through our mentoring network which consists of experts from the private sector, academia and government sector," highlighted Dr Kumar. Also, the Ministry has launched programmes in the form of challenges to support startups by funding. Under these challenges, startups from across the country are invited to compete with each other and the winners are provided with funding and support from the Ministry, he added.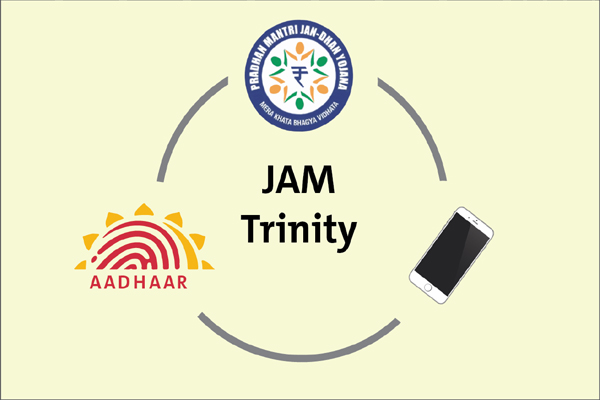 Elaborating on the startup challenges, Dr Kumar cited the example of a challenge rolled out by MeitY to develop video conferencing tools. He added, four teams were selected as the winners and the Ministry has mainstreamed their products in its own departments. "It is good to see that those solutions are now being adopted by the private companies as well (paid versions).
Also Read: Digitalisation & Transformation of Governance
Dr Kumar pointed out that "a major initiative we've launched in the government domain to ensure that the entire government is perceived as connected government by the stakeholders. So far the efforts have been focused on different domains as individual silos. So the programmes they were implementing were aimed to improve that particular domain of the government. Now, we've brought in a new framework called India Enterprise Architecture wherein we're trying to bring all the different government programmes on a single platform where citizens would be able to avail all the services from a single platform. An example of this could be the National Digital Health Mission which has been launched by PM Modi last year. It has been launched in six union territories (UTs) as of now and will be launched across India in the times to come. This is an example where technology and the vision of connected government are transforming the entire healthcare sector into one seamless platform for stakeholders to utilise."