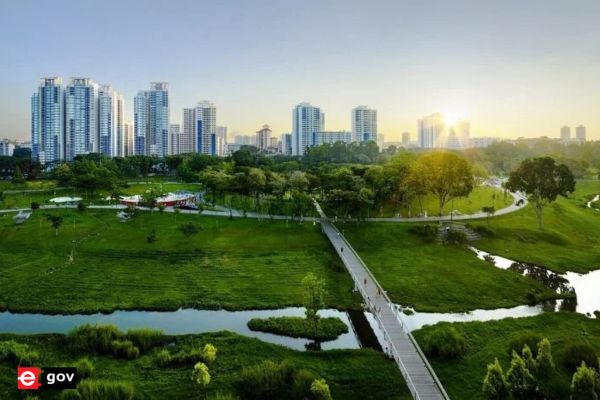 Introduction
In recent years, the rapid urbanisation in India has presented both challenges and opportunities for sustainable urban development. Townships play a significant role in shaping the urban landscape, providing a unique opportunity to implement innovative approaches to urban design and infrastructure development. As India strives to achieve its sustainable development goals, it becomes essential to understand the emerging trends in urban planning, tackle the challenges, and capitalise on the opportunities for creating environmentally friendly and resilient communities. This article explores the concept of sustainable townships, discusses emerging trends in urban planning, and examines the challenges and opportunities involved in their development, with a focus on India's government policies and budget data.
Understanding Sustainable Townships
Sustainable townships are well-planned, self-contained urban areas designed with a focus on environmental, social, and economic sustainability. They promote a balanced and harmonious lifestyle, integrating green spaces, efficient infrastructure, renewable energy sources, and waste management systems. These townships aim to reduce carbon footprints, improve residents' quality of life, and enhance overall well-being.
According to a recent report, Four Indian cities–Bengaluru, Delhi, Hyderabad and Mumbai–made it to the list of top 20 sustainable cities, as per the Asia Pacific Sustainability Index 2021. Global property consultant, Knight Frank's APAC Sustainably Led Cities Index rated 36 cities based on urbanisation pressure, climate risk, carbon emissions and government initiatives.
Bengaluru led the sustainability index amongst the top Indian cities and ranked 14th in the APAC region. Bengaluru was the only Indian city to achieve the 'Gold' standard category. Delhi ranked second amongst the Indian cities (ranked 17th in the APAC region) followed by Hyderabad (ranked 18th) and Mumbai (ranked 20th).
Shishir Baijal, chairman and managing director Knight Frank India, said, "New market dynamics have propelled the growth of sustainable development in India. The global commitment to carbon neutrality and net zero is firmly focused on creating environmentally friendly premises has led Indian developers to augment their products to meet the requirements. With more and more occupiers demanding sustainable, green and well standard buildings, we expect these features to become a universal standard, rather than a novelty, in the foreseeable future.
Emerging Trends in Urban Planning
Mixed-Use Developments: Sustainable townships emphasise mixed-use developments that blend residential, commercial, and recreational spaces. This approach reduces the need for long commutes, promotes walkability, and ensures efficient land utilisation.
Green and Smart Infrastructure: Incorporating green and smart infrastructure is a growing trend in sustainable urban planning. From eco-friendly buildings with energyefficient designs to smart grids and water management systems, these measures conserve resources and reduce environmental impact.
Transit-Oriented Development (TOD): TOD focuses on developing public transportation infrastructure and amenities around transportation hubs. By encouraging the use of public transport and reducing dependency on private vehicles, TOD mitigates traffic congestion and air pollution.
Also Read | Waste Reduction & Management for Sustainable Urban Development
Low-Carbon Solutions: Sustainable townships are adopting low-carbon solutions like renewable energy sources, solar power installations, and waste-to-energy plants to reduce greenhouse gas emissions and combat climate change.
Challenges and Opportunities in Sustainable Urban Development
Infrastructure Investment: One of the primary challenges is securing adequate funding for sustainable infrastructure development. However, the Indian government has shown commitment by allocating substantial budgets for urban development projects.
According to the Union Budget 2022- 2023, the Indian government allocated INR 2.87 lakh crore ($38.35 billion) for the Atal Mission for Rejuvenation and Urban Transformation (AMRUT) and INR 1.41 lakh crore ($18.80 billion) for the Smart Cities Mission. These initiatives aim to address infrastructure challenges and create sustainable and resilient urban areas across the country.
Land Acquisition and Zoning: Obtaining suitable land for large-scale township projects is a complex process that often involves navigating legal, environmental, and social challenges. Effective zoning and land-use policies can help ensure that appropriate land is designated for sustainable urban development.
Stakeholder Engagement: Engaging with various stakeholders, including local communities, businesses, and government agencies, is essential for successful township development. Public consultations and participatory planning processes can help address concerns and garner support.
Affordable Housing: Balancing sustainability and affordability is critical to ensure that the benefits of sustainable townships reach all socio-economic segments of the population. Implementing policies that incentivize developers to include affordable housing options is crucial.
Innovative Approaches to Urban Design and Infrastructure Development
Green Building Certifications: Adopting green building certifications like Leadership in Energy and Environmental Design (LEED) or Indian Green Building Council (IGBC) can promote eco-friendly construction practices and resourceefficient designs.
Smart Water Management: Implementing smart water management systems that include rainwater harvesting, water recycling, and waterefficient technologies can significantly reduce water consumption in townships.
Waste Management and Recycling: Townships can prioritise waste segregation, recycling facilities, and composting to minimise the amount of waste sent to landfills.
Urban Agriculture and Green Spaces: Integrating urban agriculture and green spaces within townships can improve air quality, provide recreational areas, and promote sustainable food production.
Examples of Indian Sustainable Cities: Chandigarh is the Capital of two states Punjab and Haryana and at the same time it is one of the 7 beautiful Union Territories of India. The Green city, Chandigarh is located near the foothills of the Shivalik range of the Himalayas. Chandigarh is the best planned city in India, with architecture which is world-renowned, and offers a quality of life. The beautiful, cleanest and greenest city of India Chandigarh is famous for its Eco- friendly environment which makes it one of the sustainable cities of India.
Gandhinagar – The capital of Gujarat is a second well planned city of India and one of the greenest cities in India With 32 lakh trees. It is situated on the west bank of the Sabarmati River. The green and clean city Gandhinagar is also considered as the "greenest" town in the world.
Also Read | Urban 20 (U20): Shaping the Global Discourse on Urban Development
Conclusion
Sustainable townships are the future of urban development in India and beyond. As the nation grapples with the challenges of rapid urbanisation, emerging trends in urban planning offer hope for creating environmentally friendly, inclusive, and resilient communities. While infrastructure investment and stakeholder engagement remain crucial, the Indian government's commitment to sustainable urban development, as reflected in budget allocations, is a positive sign. By embracing innovative approaches in urban design and infrastructure development, India can move towards a greener and more sustainable future.
"Exciting news! Elets eGov is now on WhatsApp Channels 🚀 Subscribe today by clicking the link and stay updated with the latest insights!"
Click here!