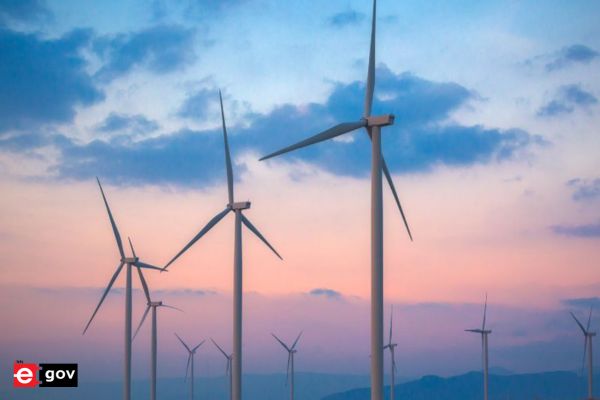 In a recent statement, D V Giri, Secretary General of the Indian Wind Turbine Manufacturers Association (IWTMA), announced that the wind industry is anticipating a significant surge in new capacity installations for the period of 2023-24. Giri revealed that these additions are projected to surpass the noteworthy milestone of 5 gigawatts (GW) and are estimated to reach approximately 5.1 GW. This development highlights the continued growth and promising prospects within the wind sector.
Giri addressed attendees at a pre-event celebration for Global Wind Day, held at the National Institute of Wind Energy in collaboration with the Ministry of New and Renewable Energy, IWTMA, and other wind power developer associations. He highlighted that the wind power sector has experienced a sluggish performance in the past seven years, with annual capacity additions averaging around 1.5GW, representing only 10% of the country's wind turbine manufacturing capacity. The most favorable year for the wind industry was 2016-17, when capacity additions surpassed 5.4GW.
The optimism for the present year arises from the ongoing implementation of tenders issued by the government-owned company, SECI. Giri stated that approximately 5.1GW of capacity will be completed this year, with an additional 3GW expected in 2024-25. This positive trend is attributed to the government's transition from the unsuccessful "reverse bidding" method to "closed bidding" auctions. Under the previous approach, bidding continued even after the initial bids were opened, while "closed bidding" entails finalizing the initial bids. The use of reverse bidding resulted in extremely low tariffs, with rates as low as ₹2.43 per kilowatt-hour (kWh) before rising to around ₹2.90 per kWh. Despite the allegations of "irrational exuberance" surrounding the bids, the fact remains that capacity additions suffered significantly over the past seven years.
First tender under closed bidding
The announcement has been made for the first tender of 2.5 GW through a 'closed bidding' process. These projects will be established in five states: Tamil Nadu (300 MW), Karnataka (1,200 MW), Telangana (400 MW), Andhra Pradesh (300 MW), and Maharashtra (300 MW). Bidders will offer different tariffs for each state, while the electricity utilities, as buyers, will pay a common average price.
Giri stated that the government is currently working on a national 'renewable purchase obligation' (RPO), which will require obligated entities to purchase a specified amount of renewable energy. Previously, India had state-specific RPOs that were often difficult to enforce.
The implementation of a national RPO is expected to boost the demand for wind power in the country, providing confidence to energy companies to invest in wind power projects.
"Exciting news! Elets eGov is now on WhatsApp Channels 🚀 Subscribe today by clicking the link and stay updated with the latest insights!"
Click here!