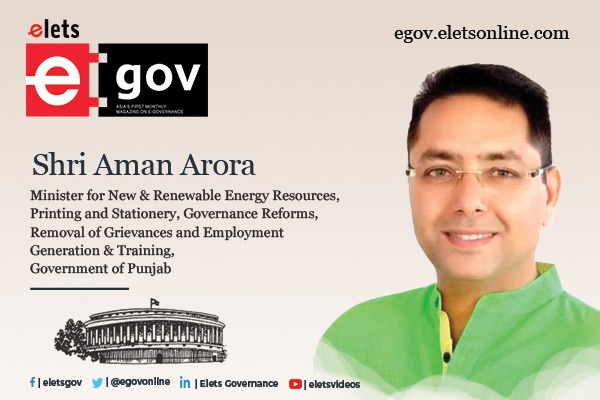 By promoting clean energy technologies and encouraging public participation, the Punjab government aims to ensure a sustainable and prosperous future for the people while contributing to the global fight against climate change, shares Shri Aman Arora, Minister for New & Renewable Energy Resources, Printing and Stationery, Governance Reforms, Removal of Grievances and Employment Generation & Training, Government of Punjab in an exclusive interview with Priya Yadav of Elets News Network (ENN). Edited excerpts:
What are the various forms of alternative energy that Punjab is exploring and what is your vision for clean energy?
As the Minister of Renewable Energy in Punjab, I am proud to say that our state is actively exploring various forms of alternative energy to foster a cleaner and more sustainable future. Punjab recognizes the importance of diversifying its energy sources and reducing reliance on fossil fuels. Currently, we are focusing on several key areas like exploring Solar Power, Wind Power, Biomass Energy and Hydro Power.
My vision for clean energy in Punjab is to achieve energy self-sufficiency through a diversified and decentralised renewable energy mix. The state aims to increase the share of renewable energy in our overall energy consumption, reduce greenhouse gas emissions, and create green jobs in the sector. By promoting clean energy technologies and encouraging public participation, we can ensure a sustainable and prosperous future for Punjab, while contributing to the global fight against climate change.
There has been a global discussion recently regarding the shift towards green hydrogen, highlighting the pressing need for clean and environmentally friendly energy. It is evident that our actions have had a detrimental impact on the environment, emphasising the urgency for a transition. Both the Indian government and the Punjab government have recognized this importance and have formulated their respective plans. However, there is still much work to be done, and we are fully committed to accomplishing it.
Punjab has set up Asia's biggest compressed biogas plant in Sangrur district. What are your thoughts on how this endeavour by Punjab could inspire the rest of the nation?
In Punjab, there is a significant opportunity of compressed biogas due to the annual generation of 20 million tons of paddy straw. Of this amount, approximately seven to 8 million tons are effectively managed in waste management plants. However, around 12 million tons of paddy straw still gets burned by farmers, who do so reluctantly due to the lack of alternative options. Consequently, paddy straw is currently regarded as a burden by farmers, society, and everyone involved. By proactively focusing on waste-to- energy initiatives, such as CBG (Compressed BioGas), CNG
(Compressed Natural Gas), and green hydrogen, we can achieve remarkable results. Our efforts have already commenced with the establishment of Asia's largest CBG plant in Sangrur district, and we have an additional 42 projects in the pipeline. To address issues at the state and central levels, we have assembled a task force. With the anticipated transformation of the entire system within the next five to six years, Punjab has the potential to become a frontrunner in green energy.
The state has also implemented an EV policy, primarily aimed at reducing pollution. What are your thoughts on this initiative, and how quickly do you anticipate its implementation?
The EV policy has been implemented in Punjab, but the process of establishing the necessary infrastructure for electric vehicles will require some time. We are currently working on building the required infrastructure, and this task involves various stakeholder departments. In addition to promoting electric vehicles, we are also focused on developing the supporting infrastructure. A recent decision has been made to provide rebates to individuals who wish to switch from petrol or diesel vehicles to electric ones. It is anticipated that within the next five to seven years, we will observe a significant rise in the number of electric vehicles.
Among the various alternative energy sources at our disposal, which option do you believe is most suitable for Punjab? Furthermore, do you foresee it playing a crucial role in the forthcoming future?
In essence, every form of energy holds significant significance and plays a crucial role. It is inadequate to solely concentrate on a single aspect as the sole transformative force for Punjab. It is necessary to consider all these elements such as CBG, CNG, EV, or potentially green hydrogen in a collective manner. It becomes apparent that no particular form is inherently more or less important than others. In a genuine sense, each form of energy carries its own importance.
Also Read | Transition towards Renewable energy
What factors do you believe would motivate people in Punjab to embrace solar energy?
Solar power is undoubtedly crucial, but it does come with certain challenges. One of the main issues is its intermittency, as it can only be generated during daylight hours and is unavailable at night. Despite these limitations, significant efforts are being made to address these concerns. For instance, we are currently focusing on converting all agricultural pump sets to solar power, as well as supplying solar energy to various government departments. Moreover, we are implementing solar systems along canals. However, there is still much work to be done, and we remain committed to fulfilling these objectives.
"Exciting news! Elets eGov is now on WhatsApp Channels 🚀 Subscribe today by clicking the link and stay updated with the latest insights!"
Click here!