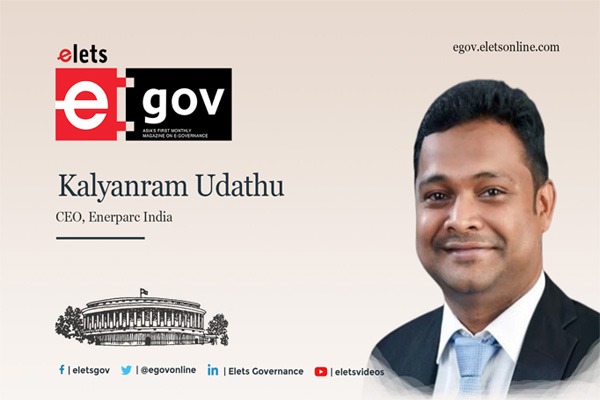 Policy and financial support for battery technology and manufacturing would lead to greater adaption of EVs and implementation of large scale storage projects, shares Kalyanram Udathu, CEO – Enerparc India with Elets News Network (ENN). Edited excerpts
What are the major initiatives & contributions of your organization in the renewable energy space?

Enerparc as group has been pioneer in adopting latest technological advancements being it developing medium to large solar PV installation coupled with battery system, under development green hydrogen project etc. The group has already installed more than 3500MWp across 26+ countries. In India, we have very ambitious plans of developing Rooftop & Open Access portfolio of 500MW in the next 3 years. In addition to developing our own assets, we are also providing EPC, O&M services to clients looking for developing co-located rooftop or captive open access solar projects. Additionally, we are also extending our technical expertise to our potential clients in Oman, Sri Lanka & Philippines.
As part of our long term strategy we are evaluating plausible options to develop Hybrid projects by partnering with strong and reputed partners in wind space, virtual PPAs, provide battery integrated solar systems to C&I customers.
Your thoughts on Energy Outlook 2030 and how Public Private Partnership can be successfully initiated & implemented towards attaining this goal?
I think usage of fossil fuels will still dominate around 2030. However the contribution from Renewable Energy which is currently about 20%+ may reach to 40%+.
It is still a long way to go but there is a shift in thinking process. There are many international and domestic companies which focus on becoming carbon neutral by 2030. These companies are ok to pay premium to meet their sustainability goals. These goals are combination of energy efficiency measures and substituting renewable energy and in this process if they manage to achieve any savings with respect to grid tariff, it will be an icing on the cake.
I think it is unimaginable to think reaching our sustainability goals within the set timelines without Public Private Partnership. Historically, India also have achieved great success under this model being it setting up of solar parks, smart meter programmes, PLI scheme for domestic manufacturing. It is worth to mention that regulatory & policy support also has provided necessary conducive environment in efforts to combating climate change.
Your thoughts on how sustainability can be embedded in the energy segment and what are the reforms at the central and state level needed to take this mission forward?
Sustainability is the new normal now. There has been a lot of awareness amongst all of us including the younger generations on why sustainability is very important for current and future generations' healthy survival.
Also Read: Journeying towards self-reliance & sustainability
Both central and state governments are working towards bringing necessary reforms and the latest is the draft electricity bill which aims at bringing sweeping changes in consumptions and distribution space. State governments are encouraging residential, agricultural & industrial segment to adopt sustainability measures. There are subsidies on solar water heaters and pumps, development of rooftop solar projects and introduction of PM KUSUM & AJAY schemes.
Government should look at bringing in reforms that attract more private investments and one of the ways is to reducing duties and taxes. Upgrading grid infrastructure will ensure grid stability. Policy and financial support for battery technology and manufacturing would lead to greater adaption of EVs and implementation of large scale storage projects.