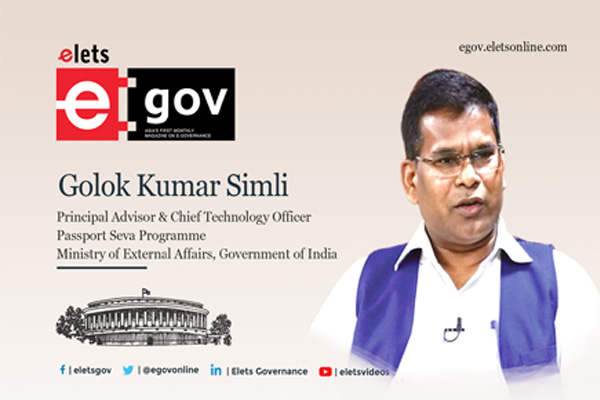 India has made remarkable progress, second to none in the world, in development of digital infrastructure for larger public goods, said Golok Kumar Simli, Principal Advisor & Chief Technology Officer, Passport Seva Programme, Ministry of External Affairs, Government of India, in an exclusive interview with Nisha Samant of Elets News Network (ENN).
You have been associated with the National e-Governance Plan (NeGP) from the beginning and now the Digital India Mission. Could you enlighten us about the journey travelled so far?
We have travelled a long journey and I must proudly say that India has made remarkable progress, second to none in the world, in development of digital infrastructure for larger public goods. I remember those days when NeGP was getting conceptualised to address the concerns and bottleneck in the public service delivery ecosystem for masses which existed in the form of disconnected, silos and disjoint entities. Added to this, the kind of opaqueness, rigidity, paper-trails existed before, and the mindset of me and mine. As the NeGP progressed, we slowly witnessed the connectivity and communication network like State Wide Area Network (SWAN), data storage and processing infrastructure like State Data Centre (SDC) and creation of front end delivery centres at the remotest places of the country like Common Service Centre (CSC) in the country.
Then came the Digital India push, launched on 1 July 2015, by the Hon'ble Prime Minister Shri Narendra Modi, which gave a new momentum to the digital journey. It not only gave us the apparatus and appetite but also gave us a positive environment to excel and accelerate, showcasing the world our capabilities in digital transformation journey on various domains. Be it issuance of passports, filing your tax returns, availing driving licence, booking railway/airline tickets or students appearing for various entrance exams and then seeking admissions in various colleges, institutions and universities, digital has made the end-to-end journey seamless and hassle-free.
Please tell us about the various innovations and learnings of the Passport Seva Program of your Ministry, notably one of the most successful digital transformation programs of India. How have you coped during the pandemic which impacted almost every part of the world and was at its peak for two years? Any learnings and digital takeaways that you would like to share?
The sheer success of the Passport Seva Program comes directly from citizens' acknowledgment and tells us the narrative of its true accomplishment. To the best of my knowledge, we started the journey with an idea beyond obvious, away from a traditional approach, keeping the beneficiaries and common mass of our country at the core. We dreamed of a transparent, accountable, timely and citizen friendly service delivery system and started working vigorously to make it a reality. This helped us to innovate in terms of adoption of technology, leveraging of technology to its fullest potential, engaging industry and stakeholders for a win-win business model, workforce readiness in terms of skilling & re-skilling, understanding the workload and creation of end-to-end digital ecosystem that connects and empowers the citizens and beneficiaries.
Also Read | "India well poised to emerge as world leader in digital technologies"
Whether you apply for a passport service from urban areas like Delhi, Mumbai, Kolkata, Chennai or from remote villages of Jharkhand, Bihar, Bengal, Uttar Pradesh or Madhya Pradesh, the experience of availing the passport services remains the same without differentiating between rural & urban, literate & illiterate, skilled & unskilled and so on. Today, we proudly say that 'if you have a smartphone, you can have passport service' and 'if you have any grievance or feedback, the Passport Seva team is a tweet away.' We are continuously innovating around technology adoption, building applications & services, training & capacity building and engaging industry for new prospects.
Even during pandemic, we continued to serve our citizens in delivering passport services within India and to our diaspora across the globe. While the pandemic resulted in Work From Home (WFH), remote access and changed organisational culture taught us to deal with exigency, to coexist in a hybrid environment (physical + digital) and realign ourselves to the changed digital setting. We also realised the true potential of Digital Identification System, Digital Payment System and the importance of data-driven decisions and predictions became the de-facto platform for achieving the desired speed, scale and security for our daily essence and opportunity. Be it addressing health-related issues, ensuring social protection, managing online/virtual education etc. or having economic responses from an individual, organisation and government, digital paved the way for every one of us.
India has done amazing work in many areas of public service delivery, be it issuance of passports, filing of GST return, health system, education system etc. In your view, what would be the focus areas of the next phase of digital evolution?
While we are progressing leaps and bounds in the digital journey, I firmly believe that the next phase of digital evolution would focus on bringing intelligent transformation among other core sectors, such as agriculture, healthcare, education, road & transport, travel & tourism, logistics etc. The gaps that exist between rural & urban, literate, illiterate and alike need to be bridged at a faster rate.
Technologies such as Cloud, AI, 5G, IOT, Blockchain, Advance BOT etc. would play a pivotal role in removing these barriers and at a larger scale. These advanced technologies have given us a new means of engaging with the stakeholders, citizens and beneficiaries better and has forced us to innovate win-win industry-oriented, sustainable business cases including attaining the required pace and size for business at large, be it private, public or government.
Also Read | "5G to open new vistas for infrastructure development"
I am an avid believer that a digital identity attached with all privileges and entitlements would make our life much smoother and easier, which will address the issue of validation and authentication of breeder documents that is required every time you and I seek any service, be it banking, insurance, education, health and other private or government services and to avail our entitlements. The day has come to move beyond Information and Communication Technology (ICT) and bring in the components of Innovation, Collaboration and Transfer of Intelligence (ICT) to the way we think, decide and act. Gone are the days of post-facto investigation for resolution of any problems, the future is proactive and predictive.
Cyber attacks, advanced threats like ransomware and data security & privacy concerns. Could you suggest a way forward to overcome these issues based on your experience? Whether rollout of e-passports for Indian citizens which would make international travel easier and provide protection against identity theft and data security is the next step towards this direction for the passport delivery system?
The digitisation need at such a larger scale across every sector and the bigger digital footprints in the country has necessitated the data security and privacy issues many fold, both in size and occurrences. In addition to this, services/applications need to run 24×7, 365 days from any device and from anywhere. Thereby, a well coordinated response, BCP mechanism, skill-set and required tools and technologies are must to avoid and predict such untoward incidence. Our experience suggests that the data security & privacy framework requires a zero-trust, holistic, intrinsic, secure by design, risk avoidance and end-to-end security measures that includes all stakeholders. Added to this, a dynamic data strategy that clearly demarcates on the principal owner of the data, execution model, rules of engagement (regulations, compliances, land of laws) and tools and technologies deployed. Then comes developing the digital ethics that nurture the individual and organisation both. We also need to ensure end-to-end observability across all layers of the digital ecosystem, bestowing faith in our employees and beneficiaries together. We also need a privacy framework which focuses less on individual consent at the time of collection of data, and more on holding 'users of data' accountable for what they do. I presume the future privacy laws will define broad categories of uses, including ones that will be permissible with or without limited and standardised safeguards.
As you may be aware, the Ministry has already announced the rollout of e-passports for Indian citizens, which would make international travel smoother, easier and provide protection against identity theft and data security. E-passports would play a vital role as the principle identity document used in international travel. The security and facilitation advantages of e-passports are embedded as part of an integrated closed circuit chip. These added benefits will be realised when border control authorities authenticate the chip and the e-passport has advantage over a traditional, non-electronic passport.