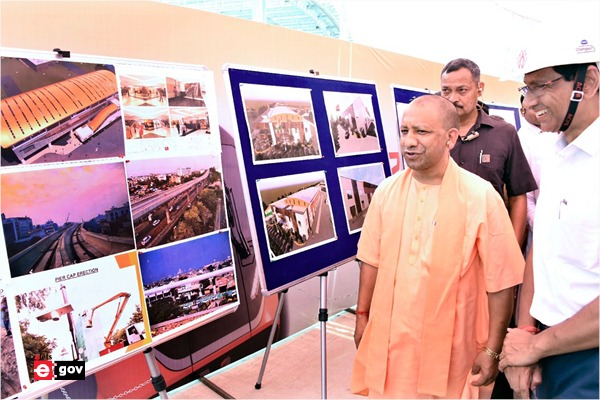 The Chief Minister of Uttar Pradesh, Yogi Adityanath, visited the Agra Metro Rail Project on Monday and digitally unveiled the first look of Agra Metro train at Agra Metro Depot Premise. It is the second city where the first look has been unveiled digitally. Last year, the CM had unveiled the metro train digitally for Kanpur Metro as well.
Further, CM Yogi planted a tree in the Agra Metro Rail depot, giving a strong message for environment conservation.
Speaking on the occasion, Managing Director, UPMRC, Sushil Kumar said, "The Metro coaches for Agra Metro are being manufactured in Savli, Gujarat. It is a big achievement in the direction of the "Make in India' initiative of the Government of India. 87 coaches are to be delivered for the Agra Metro Rail Project, i.e. 29 Rolling Stocks (Metro Trains) of 3 coaches each. These trains would have a designed speed of 90 kmph. With an objective of saving time and ensuring timely delivery of Rolling Stocks, UPMRC had done the integrated contract for Rolling Stock and Signaling for Kanpur and Agra Metro Rail Project."
The ultra-modern rolling stocks to be used in Agra Metro Rail Project are equipped with ATP/ATO (Automatic Train Protection and Automatic Train Operation) mode of train operation which is almost completely automatic, making the train an 'intelligent mode of transport'.
It is also equipped with fire retarding materials having low fire load, low heat release rate, low smoke and toxicity inside the cars.
Also Read | UP to have Metro rail transport in 5 more cities soon
The metro trains of Agra Metro will derive their energy from the third rail running parallel to the tracks. There will be no traditional OHE (Overhead Equipment) which usually gets disrupted due to bird movement, flying of kites, etc. The Third Rail System will not pose these problems and train operations will be more efficient.