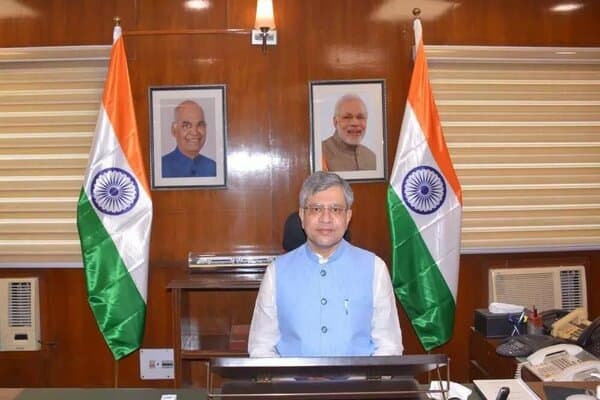 Speaking at an event in New Delhi, the Minister of Electronics and Information Technology (IT), Ashwini Vaishnaw claimed that the use of technology and platforms like MyGov has made it possible for citizens to benefit from various government services and schemes.
The IT minister claimed that MyGov had facilitated public participation with the government and prompted more people to voice their opinions. On July 30, 2022, Shri Ashwini Vaishnaw, Minister of Electronics and IT, began a daylong celebration of '8 Years of MyGov' in New Delhi, carrying forward PM Narendra Modi's goal of Jan Bhagidari.
Speaking at the event, Vaishnaw said, "Use of technology, as well as platforms such as MyGov, have enabled full benefits of government programs and schemes to reach citizens at large. I congratulate team MyGov for completing 8 years. MyGov has helped citizens engage with the government. Would encourage more citizens to share their thoughts."
Commenting on the matter, Chief Executive Officer of MyGov, Abhishek Singh said, "Extremely proud of team MyGov for putting their best in ensuring we meet the expectations of citizens through participatory governance."
The Indian government's platform for citizen participation, MyGov, was introduced in 2014. It is a one-stop location where citizens may contribute their special talents to the development of the country while also bridging the communication gap by disseminating information through a variety of formats and methods.
Also Read | IT Minister Ashwini Vaishnaw emphasises need for stricter norms on cybercrime
Currently, MyGov has over 2.5 crore registered users. It has successfully merged creativity and cutting-edge technology through a variety of services like debates, innovation challenges, quizzes, creative contests, pledges, and polls.
MyGov Saathis has produced some of the most well-known logos for the Government of India, including those for Azadi Ka Amrit Mahotsav, Digital India, PM Jan Dhan Yojana, and Swachh Bharat. Seva Samarpan (20 Years of Good Governance), Azadi Ka Amrit Mahotsav, and Sabka are some of the most notable campaigns steered by MyGov in the previous year.
Besides, MyGov has accumulated 1.4 billion views over a variety of sections, pages, and microsites. Through the MyGov helpline and chatbot set up for the dissemination of COVID-19-related information, almost 42 crore messages were sent to 9 crore people.
Over 4 crore Interactive Voice Response System (IVRS) messages and more than 3.8 lakh ideas have been received for PM Narendra Modi's radio program Mann Ki Baat. With over 13 lakh followers on Facebook, 21 lakh followers on Instagram, 6 lakh subscribers on YouTube, 30 lakh followers on Twitter, and millions of followers across Sharechat, Roposo, Koo, and Chingari, MyGov also has an active presence across social media platforms.
On July 30, 2022, Ashwini Vaishnaw began a daylong celebration of '8 Years of MyGov' in New Delhi, carrying forward PM Narendra Modi's goal of Jan Bhagidari. Additionally, he unveiled the Responsible AI for Youth 2022 initiative, which was created by Intel India, the Ministry of Education, and the National E-Governance Division.
Also Read | IT Minister Ashwini Vaishnaw Inaugurates NIELIT Centres at Leh & Kargil
According to the statement from the ministry, the program will be accessible to all students in grades 8 to 12 and is intended to promote a greater understanding of Artificial Intelligence (AI) technology and inspire young people to become human-centric designers.
Other dignitaries who attended the occasion included the CEO of NITI Aayog, Parameswaran Iyer, the G20 Sherpa, Amitabh Kant, and the Secretary of the Commission for Capacity Building, Hemang Jani.