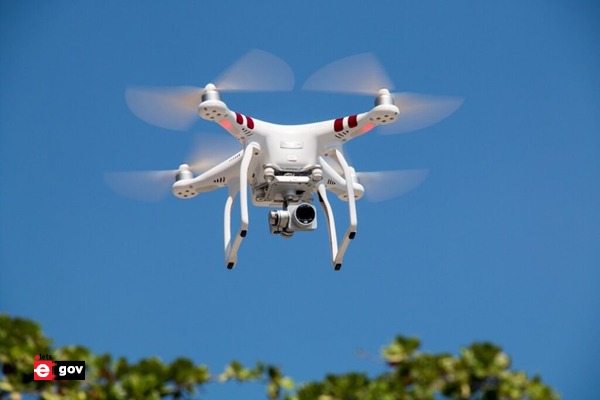 Private players including startups are permitted to use drones for delivery purposes as long as they follow the Drone Rules, 2021, the government recently notified the Rajya Sabha.
In response to a question asked during the Monsoon Session of the Parliament, General (Retd) VK Singh, Minister of State (MoS) for Civil Aviation, stated that the government is already utilising the services of drone players for a variety of purposes, including vaccine delivery, an inspection of oil pipelines and power transmission lines, and agricultural spraying, among others.
The minister further informed that the authorities have also used drones to assess mines and land mapping under the Centre's ambitious Survey of Villages Abadi & Mapping with Improvised Technology in Village Areas (SVAMITVA) scheme.
"Drones offer tremendous benefits to almost all sectors of the economy. These include agriculture, vaccine delivery, surveillance, search and rescue, transportation, mapping, defense, and law enforcement to name a few," the minister added.
Also Read | Samvaad with Scindia: Civil Aviation Minister Interacts with Farmers on Benefits & Challenges of Kisan Drones
Drone Rules, 2021, which were announced in August, defined the usage of private drones. The regulations encompass everything from drone type certification and airspace limits to research and development standards, training, and licensing.
Singh added that a production-linked incentive (PLI) program has been announced by the government to encourage private enterprises to manufacture drones. The scheme was announced in September 2021 with a total incentive of INR 120 Cr.
Besides, it is important to note that the second provisional list of 23 PLI beneficiaries was released last month.
In response to a similar query, Rajeev Chandrasekhar, the MoS for Skill Development and Entrepreneurship, stated that five short-term skilling courses in drone manufacturing, repairing, and maintenance had been implemented by 126 industrial training institutes (ITIs) in 19 different states.
While three of the courses will be technical in form (teaching service, manufacturing, and operating skills), the other two will be agricultural in nature. This follows last week's announcement that the government-backed Agri Infra Fund will begin funding local businesses interested in purchasing agri-drones.
In recent years, startups and other private businesses have exhibited a lot of interest in the drone delivery market. For the trial of its grocery delivery project in Bengaluru and Delhi-NCR, foodtech firm Swiggy shortlisted four drone startups in April which included Garuda Aerospace, Skyeair Mobility, ANRA+TechEagle Consortia, and Marut Dronetech.
Also this year, in January, Zypp Electric announced that it would start offering drone package delivery in Bangalore, Hyderabad, Mumbai, Pune, and Delhi NCR.
Additionally, Piramal Foundation and Redwing Labs used drones in April of this year in Kalahandi, Odisha, to carry tuberculosis samples more quickly.
In June 2021, states including Karnataka, Tamil Nadu, Rajasthan, and Punjab also conducted pilot tests for long-distance drone delivery. The Telangana government also collaborated with the hyperlocal delivery service Dunzo last year to test out drone-based medicine distribution in the state.
Also Read | Union Minister Jyotiraditya Scindia Launches NITI Aayog's Experience Studio on Drones
Recently, the Centre has revealed a plethora of initiatives to boost the drone manufacturing industry. From liberalised drone rules to banning drone imports, the Centre aims to leverage 'Drone Shakti' to push emerging startups from the sector.
New and upcoming players in the market include ideaForge, Garuda Aerospace, IoTechWorld, and Skylark Drones, among others.
In 2022, the Indian drone market generated $19.93 Mn in revenue, according to Statista. Between 2022 and 2027, this amount is projected to increase yearly at a compound annual growth rate (CAGR) of 10.12%.