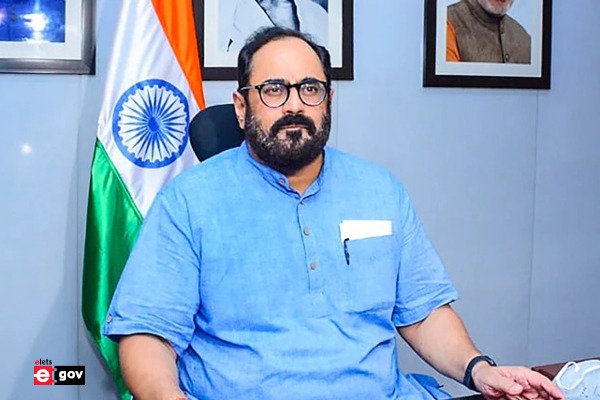 Rajeev Chandrasekhar, Minister of State of the Ministry of Electronics and Information Technology (MeitY), stated that a legislative measure is being considered that would essentially require Google, Meta, Microsoft, Apple, Twitter, and Amazon to give Indian newspapers and websites a cut of the profits for using their original content.
He said, in addition to being fair, it would also be in the country's best interest. "We cannot allow Satyamev Jayate-committed Indian journalism organisations to financially deteriorate if we want democracy to flourish," he said.
The government is considering enacting laws that would require big tech companies to compensate news organisations for using their content. This would address a market distortion while also serving a key national interest.
"The market power on digital advertising that is currently being exercised by the Big Tech majors, which places Indian media companies at a position of disadvantage, is an issue that is seriously being examined…." stated Chandrasekhar.
New Delhi has stated its position clearly with regard to Indian news publishers whose work is frequently used by big tech companies for their own commercial purposes.
Distortions caused by internet gateways could be corrected with the aid of legal leverage accessible to Indian news providers.
The Indian Newspaper Society and the Digital News Publishers Association brought Google before India's regulator of rivalry, last year, arguing that it had abused its dominant position to set the rules for news aggregation. An investigation is being conducted, and the results may help resolve the issue of fair play.
But in this instance, the afflicted sector isn't merely another industry. One crucial institution that protects fundamental Indian values and promotes national sovereignty is the media.
Chandrasekhar said, "Since big tech might try to test our fortitude on the latter, as we've seen previously, this is about governance in the age of globalisation rather than merely a market failure. It has to do with our desire for reform. Unfairness must not be permitted to continue."
According to him, for decades, India's poor governmental emphasis on profitability in particular and incentives, in general, has held back clarity on this issue as to what drives the viability and quality of output.
The Minister argued that as a result of our market reforms, motivations started to match commercial reality. However, a power asymmetry that results in an unequal distribution of returns can also cause market distortions. Thus, the government must step in if a market cannot correct itself.
Fair Play In The Media Is A Worldwide Concern
2014 saw Spain attempt to adopt its own pay mandate after taking a cue from Germany. Google News which left the Spanish market, just recently made a comeback with a number of agreements with publishers that were made possible by the EU's copyright regulations of 2019. This signalled the end of a free ride for Google News across the whole market.
Last year, Australia approved a law to guarantee local media a fairer share; while it was milder than its first design due to a Google exit threat and a Facebook news blackout, it did address a glaring power disparity and aid the Aussie press in negotiating a better deal.
Also Read | India to be world-leader in providing skilled workforce across sectors: Rajeev Chandrasekhar
The then-prime minister of Australia claimed to have discussed the bill with the leaders of India, Canada, France, and the United Kingdom, among other nations. The Canadian version has been moved.
New regulations led to a surge in sign-ups for French media as well. The global search juggernaut Google has recently announced that it would pay more than 300 EU publications for their feeds.
These initiatives are linked to the widely acknowledged necessity to limit the influence of excessive internet news providers.