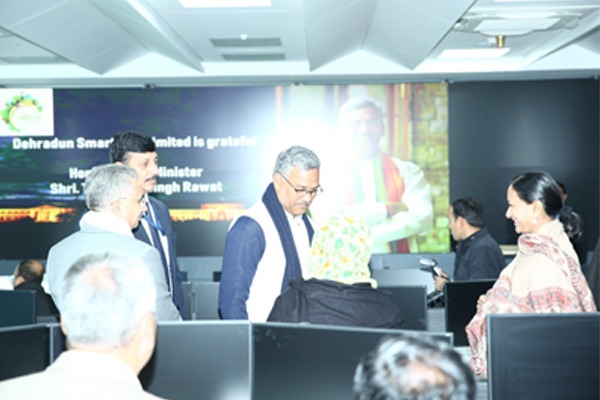 The beautiful city of Dehradun underwent a total transformation as it became the state capital of Uttarakhand. The Dehradun Smart City Project aims to add to this transformation.
Here is a look at some of the key projects under the Dehradun Smart City.
Smart Transportation
The need for public transportation is increasing day by day, so there is a need to plan for a suitable strategy to ensure reliable services at less cost. This can be achieved only by hiring electric buses through a tendering process under Gross Cost Contract. This type of contract will ensure the operator provides a full amount of services, and, by providing the highest achievable utilisation, the operator will have the leverage to earn revenue, as much as possible. The deployment of electric buses on Indian roads will encourage the citizens to explore the electric vehicle industry that will result in achieving the Indian government's vision of electrification of all vehicles by 2050. The electric buses are more comfortable for drivers as well as passengers. These buses have better efficiency in terms of fuel usage and are cheaper as well. These buses have high end features like regenerative braking system, auto gear shifting, etc. which results in higher efficiency, apart from user-friendly features like charging points, emergency call buttons etc, which can be monitored through the Integrated Command & Control Centre (ICCC).
The impact of the project will have various positive effects. The reduction in carbon footprints and emission standards of the city will go down, gradually, as electric buses will replace the existing conventional buses fleet. This will also bypass the cost incurred for buying conventional fuel at a huge cost, since the electric buses will be operated at a lower cost for power charges. Citizens will also have comfortable and reliable service to commute.
The project has commenced and the Charging Depot Development has been completed. 10 buses are already plying the streets of Dehradun and the remaining 20 buses are on their way to Dehradun from the manufacturer's factory at Hyderabad.
Also Read | Uttarakhand: Leading the road to transformation in India

Child Friendly Doon
The 'Child Friendly Doon' initiative aims to become a unique experimentation laboratory for developing child friendly smart cities to promote knowledge driven, advanced and effective child friendly mobility frameworks that will include children's perspectives and encourage children's participation in the planning and management of cities. This initiative, thus focuses on creating a robust knowledge base, through advocacy and policy interventions and provides technical support to city administrations to identify and implement specific child-friendly projects. The Child Friendly Infrastructure Mobility project is a 'Children First' initiative for the city of Dehradun which would make commuting to schools, parks, and other public spaces safe for children with the focus towards ease of access and mobility. The foremost objective of the project is to reset the city planning notion by putting child-friendliness at the cornerstone of city-wide developments and integrating the issues and concerns of young citizens in the context of overall infrastructure planning, renewal and development.
The project went through a 9-month maturation phase where initial surveys of 20,000 students were mapped and the information gathered was used to highlight those routes, where the maximum impact could be attained. With the advent of COVID, various participative techniques like DIY toolkit, tactical urbanism exercise, etc, was used to capture the opinion of people and as a result, it reset the Smart City notion by situating child friendliness at the cornerstone of
city-wide developments and integrating the issues and concerns of young citizens in the context of urban planning and renewal.
E-Governance
This includes Citizen Participation (MDDA), IT connectivity (e-Collectorate), and ICT-enabled government services
Citizen Participation- MDDA
MDDA is a local decision-making agency, and it is totally self-sufficient, capable of undertaking all sorts of activities for well-planned urban development. The challenges in the state, before the formation of MDDA, were massive and diversified, as Dehradun Mussoorie's requires an integrated development process, which should be inexpensive, functionally utilitarian, environmentally healthy, recreationally adequate and aesthetically appealing.
IT connectivity – e-Collectorate
e-Office is an Integrated Administrative Information Management System, designed and developed by National Informatics Centre (NIC) to cater to the needs and help the ministries/state government departments to maintain the control information and day-to-day works along with file movement that drives the operations of state departments. An indigenously developed product from NIC, it has been designed to meet the requirements of day-to-day functions of the various government departments.
• Openness: Open Architecture
• Graphical User Interface (GUI) web-based application which
eliminates separate tutorial session
• Flexibility: Application can be customised as per requirements
• Scalability: Easy to scale up and down
• Innovation: Easy to accommodate new technology
Also Read | Uttarakhand: Paving the path of Transformation
ICT-enabled government services
During the COVID pandemic, Dehradun Smart City helped Government of Uttarakhand to establish COVID Special Task Force/Quick Response Centre at Police Control Room and 24×7 Surveillance Centre in its Doon Integrated Command & Control Centre (DICCC) under the directions of Chief Secretary, Government of Uttarakhand and District Magistrate, Dehradun who has an additional responsibility of CEO of Dehradun Smart City Limited (DSCL).
DICCC was used to monitor the behavioural analysis pattern of residents of Dehradun and Uttarakhand state. The Special Task Force/Quick Response teams helped stranded migrants in Uttarakhand as well as other states by using social media, CM helpline, nearest police station and local administration. Dehradun Smart City has completely managed, monitored and released the critical tasks during COVID. Dehradun Smart City has commissioned various applications during said duration.
GIS Based Spatial Responsive System
This system will be integrated with all city surveillance, emergency routes using shortest route algorithm, disaster distance mapping, hotspot area zonalisation, AI-based application, different GIS layers, so that a quick, responsive system shall be developed.
e-Health services (rural and urban area)
During the pandemic, e-Health system was used for consulting specialist doctors, e-prescription slips were provided, village panchayat and village level monitoring was done using mobile and web-based application. At present,India Transformation Summit DSCL application is supporting state health department at village level via ASHA workers and Aanganwadi workers to minimise the COVID effect on village level.
Information Sourced from Dehradun Smart City