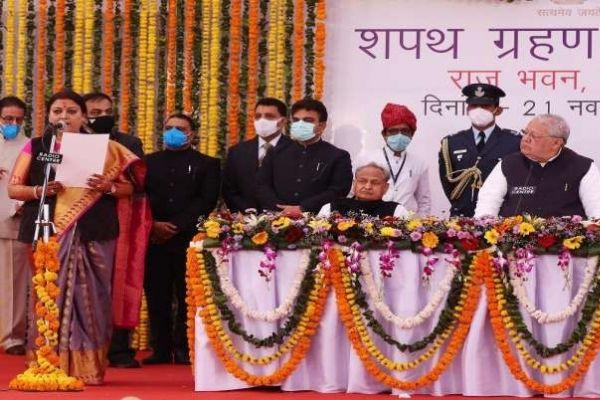 The Government of Rajasthan, 16 months ahead of the state polls, moved a major reshuffle wherein 11 Cabinet Ministers and four Minsters of State (MoS) took the oath on Sunday, November 21, in the presence of the Governor of State Kalraj Mishra.
Among the 11 sworn in Cabinet ministers are Bhajan Lal Jatav, Mamta Bhupesh and Tikaram Jully who have been promoted from Minister of State to the Cabinet. While,, Hemaram Chaudhary was a newly sworn in minister in the cabinet. Also, Ramesh Meena and Vishwendra Singh has returned to the cabinet. Besides, Mahendrajeet Singh Malviya, Ramlal Jat, Maesh Joshi, Govindram Meghwal and Shakuntla Rawat were also sworn in as cabinet ministers.
The four ministers made MoS are Zahida, Brijendra Singh Ola, Murari Lal Meena and Rajendra Gudha.
Taking to Twitter, Chief Minister of Rajasthan Ashok Gehlot congratulated the ministers. He wrote, "राजस्थान सरकार में आज कैबिनेट मंत्री एवं राज्य मंत्री के रूप में शपथ लेने वाले सभी सदस्यों को हार्दिक बधाई एवं शुभकामनाएं।" (Congratulation and best wishes to all the cabinet ministers and ministers of state who have joined the Government of Rajasthan)
राजस्थान सरकार में आज कैबिनेट मंत्री एवं राज्य मंत्री के रूप में शपथ लेने वाले सभी सदस्यों को हार्दिक बधाई एवं शुभकामनाएं। pic.twitter.com/yGfzLjJIEa

— Ashok Gehlot (@ashokgehlot51) November 21, 2021
After this latest reshuffle in the Rajasthan's government, the council of ministers in the state include 19 cabinet ministers and 10 MoS and the Chief Minister.
Also Read: Rajasthan Govt assigns new charges to 7 IPS officers
Ahead of the reshuffle, all ministers tendered their resignations to the governor after CM Ashok Gehlot presided a meeting with his ministers earlier in the evening at his residence. A Pradesh Congress Committee (PCC) meeting was set up on Sunday. Earlier, Party General Secretary in-charge Ajay Maken had put out the word that three minsters including Govind Singh Dotsara, Education minister and PCC President; Harish Chaudhary, Revenue minister and AICC in-charge of Punjab; and Raghu Sharma, medical and health minister had given their resignations to the party president following 'one man, one post' principle.