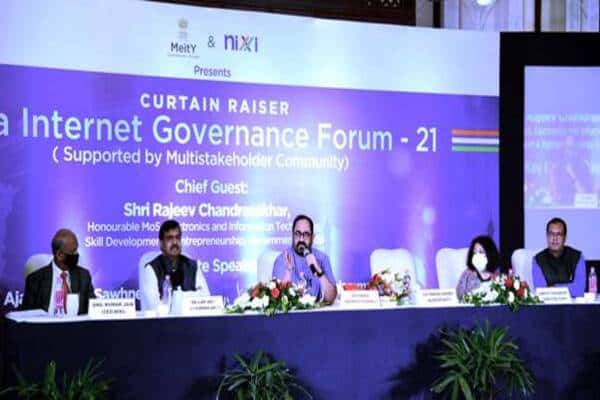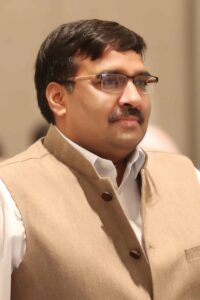 India Internet Governance Forum (IIGF) 2021 recently hosted their first chapter at The Imperial, Janpath, New Delhi, on the theme 'Empower India through the Power of the Internet'. Dr Ajay Data, an IT veteran and Founder of Made in India videoconferencing app VideoMeet and linguistic email platform XgenPlus was present at the event and delivered an insightful speech on the subject 'Importance of Universal Acceptance in Digital Economy'. The event was graced by senior policymakers such as Ajay Sawhney, Secretary, Ministry of Electronics and IT (MeitY), Jyoti Arora, Financial Advisor, MeitY, Anil Kumar Jain, Chair IIGF, and renowned personalities from the IT industry.
The event began with the lighting of the lamp by the Chief Guest Rajeev Chandrasekhar, Minister of State for Electronics and IT, Skill Development and Entrepreneurship, Government of India. The introduction behind constituting IIGF was shared with the audience. This forum is aimed to fill up the gap between India and IGF, and also bring all communities – government, industry, academia, technical community, and civil community together and have a meaningful discussion.
India is the second-largest broadband subscription country in the world and also has the highest data consumption per user on a monthly basis. The forum will catalyse this growth in the right direction and reflect the aspirations for this burgeoning Internet user population of India in International policy formation and stakeholder discussion.
Also Read: VideoMeet rolls out Breakout Rooms feature, ideal for large & small businesses
Dr Ajay Data emphasised on breaking the language barrier to bring people online then only the mission of our PM for 'Digital India' can really be achieved. This event will proceed with workshops on the digital economy, digital governance, trust, security, stability and digital sustainability. Elaborating more on his association and the importance of a body like IIGF, Dr Ajay Data said, "In India, we have 19,000 dialects, 121 Languages and 22 official languages. Indian citizens should have a domain name of their choice. Under universal acceptance, all domain names must be accepted. Only 11 per cent of email servers support Hindi. We should be able to consume content in the language of our choice. This is an apt time for IIGF to be launched and we hope more people participate. This is a journey we have just begun. It is just the beginning not the end and we hope to see more such deliberations."