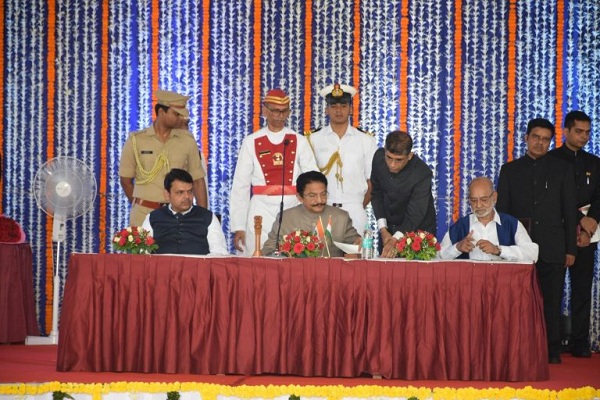 The Maharashtra government, led by Devendra Fadnavis has undergone a major Cabinet reshuffle three months prior to the assembly elections. As many as six ministers have been removed from the Cabinet and 13 have been inducted.
Among the inducted ministers, 10 are from BJP, two are from Shiv Sena and one is from Republican Party of India (Athawale). Radhakrishna Vikhe Patil, Congress legislative party leader and leader of opposition in Maharashtra assembly; Jaydutt Kshirsagar and Tanaji Sawant from the Shiv Sena; Mumbai BJP chief Ashish Shelar, Sanjay Kute, Suresh Khade, Anil Bonde and Ashok Uike from the BJP took oath as Cabinet ministers.
Other ministers who were sworn in as Ministers of State (MoS) were BJP leaders Yogesh Sagar, Sanjay Bhegade, Parinay Fuke and Atul Save along with Avinash Mahatekar of RPI-A.
Three Cabinet ministers and three MoS have resigned from the cabinet. The ousted cabinet ministers include Housing Minister Prakash Mehta, Social Justice Minister Rajkumar Badole and Tribal Welfare Minister Vishnu Savra.
The three Ministers of State who resigned are Dilip Kamble, MoS for Social Justice and Special Assistance, Relief and Rehabilitation, Minority Welfare; Pravin Pote, MoS for Industries, Mining, Environment and Public Works Department; and Raje Ambreeshrao Atram, MoS for Tribal Welfare.
Fadnavis is the first Maharashtra Chief Minister to have inducted two Leaders of Opposition (LoP) in his Cabinet.