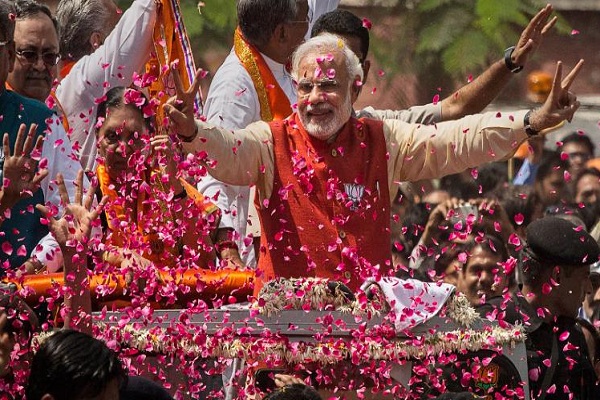 After a landslide victory in the Lok Sabha elections 2019 by coming to power in over 350 seats, BJP comes to power second time in a row with full majority. Prime Minister Narendra Modi, along with the BJP national President Amit Shah met the party veterans LK Advani and Murali Manohar Joshi on Friday morning prior to the cabinet meeting.
Called on respected Advani Ji. The BJP's successes today are possible because greats like him spent decades building the party and providing a fresh ideological narrative to the people. pic.twitter.com/liXK8cfsrI

— Narendra Modi (@narendramodi) May 24, 2019

The indication of BJP's return was clear from the exit polls and was confirmed with the commencement of the counting of votes by the Election Commission of India on Thursday morning.
Leaders across the world congratulated Narendra Modi post the victory.
Congratulations to Prime Minister @NarendraModi and his BJP party on their BIG election victory! Great things are in store for the US-India partnership with the return of PM Modi at the helm. I look forward to continuing our important work together!

— Donald J. Trump (@realDonaldTrump) May 23, 2019
I congratulate Prime Minister Modi on the electoral victory of BJP and allies. Look forward to working with him for peace, progress and prosperity in South Asia

— Imran Khan (@ImranKhanPTI) May 23, 2019
I offer my heartiest congratulations to @narendramodi on the election victory in the Lok Sabha Elections 2019 🇮🇳@Indiainbhutan @PMBhutan

— ForeignMinisterBhutan (@FMBhutan) May 23, 2019
Heartfelt best wishes and congratulations @narendramodi for a second term in office. We wish you and the people of India the very best under your dynamic leadership, as you continue your journey in taking India forward. 1/2

— Mahinda Rajapaksa (@PresRajapaksa) May 23, 2019

Other heavy weight candidates like Smriti Irani and Amit Shah have also won from their respective constituencies with a high margin. Smriti Irani has emerged victorious in Amethi, the Congress bastion against Rahul Gandhi, Congress President. Modi has won in the Varanasi constituency with a margin of 4.79 lakh votes.
However, the party could not have a stronghold in the states of Tamil Nadu, Kerala and Andhra Pradesh where DMK, INC and YSRCP have won in full majority.
On the other hand, BJP has claimed a strong position in the states of West Bengal, Odisha, Maharashtra and Karnataka. Even in Telangana, BJP has won four seats against Telangana Rashtra Samiti out of the total 17 seats of the state.
The states like Gujarat, Haryana, Himachal Pradesh, Madhya Pradesh, Chhattisgarh and Rajasthan saw BJP win over 50 percent seats.