In a landmark ruling on Wednesday, the Supreme Court said that Aadhaar cannot be mandatory for enrollment for school admission, opening bank accounts or applying for a new mobile connection, rendering the Department of Telecommunications notification in this regard unconstitutional.
Reading out the majority judgment in the case, Justice AK Sikri said: "It is better to be unique than the best." While concurring that "the unique identification proof also empowers and gives identity to marginalised sections of the society" and has become the most talked about expression in recent years, Justice Sikri emphasised that a heavy reliance has been placed on privacy judgment of 2017.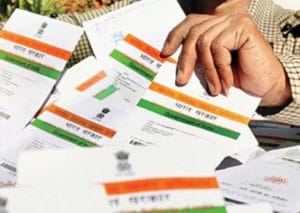 "The main plank of challenge to Aadhaar project and Aadhaar Act is that it infringes Right to Privacy," he said in the much-awaited ruling by the apex court, which "deals with proportionality doctrine, compelling state interest and strict scrutiny test".
The petition against Aadhaar was based on violation of rights under Part III of the Constitution, fearing it will lead India to become a surveillance state. Justice Sikri, however, said that the court examined only Section 7 and 8 of the right to privacy for this purpose.
The Supreme Court also acknowledge that there was no possibility of obtaining duplicate Aadhaar card. However, it said Aadhaar for school education would not be necessary. "Enrolment of children should only be with parental consent. They should be given an option to exit on attaining majority," the ruling added emphasising that school education is neither welfare nor subsidy.
It also read down the decision to make Aadhaar mandatory for CBSE NET and for enrollment under the Sarva Shiksha Abhiyan.
The court said that linking of mobile and aadhaar was not backed by a law and therefore was unconstitutional.
Section 57 of Aadhaar Act allows State or corporate to use Aadhaar to establish identity for any purpose. This has been read down by the apex court which has now asked to strike down such provisions which permit private entities to use Aadhaar.
"Allowing private players to use Aadhaar will lead to profiling which could be used in ascertaining political views etc of citizens," the ruling said.
The court also struck down the national security exception under Section 33 of the Aadhaar Act. It said that Joint secretary mechanism under the Act was arbitrary and required a judicial warrant.
Follow and connect with us on Facebook, Twitter, LinkedIn, Elets video