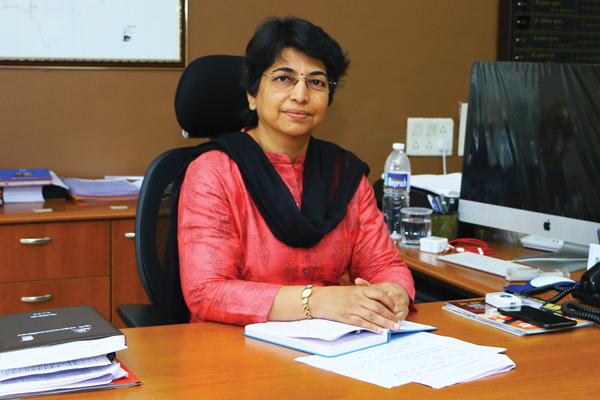 To streamline the traffic, Pune Mahanagar Parivahan Mahamandal Limited (PMPML) has approved 400 CNG buses, 100 diesel buses and 500 electric buses for the city; 32 midibuses were designed specially for women with 15 inspecting teams and CCTV facilities for women safety in it. Also with Intelligent Transit Management System (ITMS) and Automatic Vehicle Location System (AVLS), we track buses easily, says Nayana Gunde, Chairperson and Managing Director of PMPML in conversation with Harshal Desai of Elets News Network (ENN).
What significant role PMPML is playing to strengthen the transport system within Pune City?
As of now, we have around 10-11 lakh people who are using buses. As per Central Institute of Road Transportation (CIRT) report, there should be 50 buses for every one lakh population. Considering that, we are catering to around 60 lakh people. Pune Municipal Corporation  (PMC) and Pimpri Chinchwad Municipal Corporation (PCMC) both. We need around 3,000 buses for that, but we are short of 1,000 buses. In the latest board of directors meeting, we have made provision for that.
Firstly, we are getting 200 midibuses out of which we have got 187 buses, then we are getting 33 Tejaswini buses for which we have given the purchase order, so we are expecting it in the next two-three months. The board of directors has approved 400 CNG buses, 100 diesel buses and 500 electric buses. So, when we have buses for people to use, it will gradually streamline the traffic.
Electric buses is a good idea, but then we would need a good infrastructure for that. What are your initiatives on that? Any other infrastructural development related thing which will process in future?
For electronic buses, the most important thing is charging station. For that, we have asked PMC and PCMC for land, which will fulfil the objective of charging as well as parking at the same time. Regarding supply of electricity, there was a meeting in PMC headed by PMC commissioner, where the requirement was conveyed to MSEB to which they agreed. Another authority, Central Institute of Road Transportation (CIRT) is preparing detailed project report for electric buses.
You're making IT and e-governance to increase efficiency of buses run by PMPML. Tell us something about it.
Pune has implemented Intelligent Transit Management System (ITMS) that establishes a command and control centre, through that we can track the buses. We also have Automatic Vehicle Location System (AVLS), to track the buses as to check wheather they are running on-time, if they taking the right routes and schedules, if there is not a break down. We have also implemented automatic fare collection. There are around 5 modules, which are implemented. There's another tender which has been finalised that is for six modules, for which we are managing funds from Smart City. Those are all IT related modules. We also have app PMPML e-connect. It will also give you many services like timing of buses and you can put grievances and other related issues on it. Around 80,000 people have downloaded it.
How are you ensuring that people must use PMPML buses instead of their vehicles?
First our efforts will be to get maximum buses. Once buses are available, we will ask them to use as these buses are following the exact schedule. Also about the deployment of 187 midibuses, 32 midibuses were designed specially for women. We started this initiative on 8th of March. It was Women's Day, and it had got a tremendous response. The feedback from people we have got says that we should increase the number of buses because the number of women working in Pune is high. For women's safety, we have 15 inspecting teams, which are not only authorised to check the ticketless passengers, but also ensure women safety. We have around 12 buses fitted with CCTV cameras that are working at night. Also, we have authorised a team of security for them. Apart from that, for drivers and conductors, we give upgrade on soft skills and we have sessions on stress management also.
You have to work in coordination with Pune Municipal Corporation (PMC), Smart City SPV and Pimpri Chinchwad Municipal Corporation (PCMC), how do you manage to coordinate ideally among all these bodies?
As per the merging of PMT and PCMC, the government resolution stated that the operational losses will be shared by both of them, 60 per cent by PMT and 40 per cent by PCMC. So, every month they take a call on that. They take time to give the grants which is one major issue which we are trying to sort out. Also, we have funds coming for electric buses. There was meeting related to that where views of everybody were acknowledged and appreciated.
Are you taking any initiatives for revenue generation through innovative processes?
Advertising is one of our major source of revenue. This time, instead of giving the bus stops for advertising, we gave the rates bus stop wise. As compared to lasy year, we have managed to double our revenue this time. Do we need to develop more bus stops? The Smart City will develop 54 bus stops. They are going to make them into smarter bus stops by providing Wi-Fi, LED, requisite signs and many other things. Projects under solar energy and green revolution will be undertaken. We are making efforts to put in more buses, and my appeal will be to use public transport so as to reduce traffic on the roads.