With Hindon Elevated Road and Eastern Peripheral Expressway, Ghaziabad appears well-placed for infrastructural development Ghaziabad was recently awarded the "Fastest Mover big city" by Ministry of Housing and Urban Affairs owing to its cleanliness drive, says Ritu Maheshwari, District Magistrate, Ghaziabad and Vice-Chairman, Ghaziabad Development Authority in conversation with Ritika Srivastava of Elets News Network (ENN).
Give us an overview on Ghaziabad's overall urban development.
Ghaziabad is one of the famous cities of Uttar Pradesh. There are many stakeholders in terms of Ghaziabad's urban development is concerned. A major role here is played by Development Authority and the Municipal Corporation in cooperation with District Administration for taking the city ahead. As of now the focus, not only of the local authority but also of the State and Central government, is on four key agendas. One is on basic road network development. Second, 24-hour Power Supply. Third, curbing pollution control and traffic congestion as far as NCR cities are concerned. Fourth is about ensuring adequate drainage, sewage and water supply facilities. Ghaziabad is quite well-placed in all these aspects.
Today, Ghaziabad is wellconnected to Delhi and other NCR towns as well. For power supply, we are already providing it 24 hours a day in the city. In the rural areas and other subdivisions it is supplied around 18 hours, and 20 hours in B category towns. Speaking of infrastructural development – one is Hindon Elevated Road, developed by Ghaziabad Development Authority at a cost of around Rs 1,200 crores. It has reduced the distance between Ghaziabad and Delhi by almost half. Secondly, Eastern Peripheral Expressway, which was recently opened by the honourable Prime Minister, has ensured Ghaziabad is quite connected to Punjab, Haryana and other neighbouring States.
What initiatives GDA is planning for citizens' Smart and Sustainable housing?
The Ghaziabad Development Authority (GDA) has already a lot of housing projects undergoing. They can be classified in two categories: one category of projects are being billed by GDA for citizens on affordable policy basis. Earlier, there was an affordable housing policy and we constructed EWS, LIG houses under that. Now, we have Pradhan Mantri Awaas Yojana. A lot of housing projects are being planned under this programme. We have identified land for almost 5,000 units. They are in different stages.
Second category is of the ones that the GDA provides. Under this, housing is provided to residents on a PPP model, where builders are given certain targets that are also for low-cost housing. So, these are also around 10,000 units. These are under construction at different places and in various stages of development. Apart from these two categories, there are two other modes of development — the non-EWS and LIG and the other is the normal development wherein new projects come up in the city, the map sanctions, the development charges are levied so that the development of cities housing sector takes place in an organised manner.
Ghaziabad was recently awarded as Fastest Movers City by MoHUA, how district administration plans to foster this drive?
This recent announcement has been a big motivator for all of us. Because almost for past one year, there has been the confluence of a lot of factors, which helped Ghaziabad reach this position. If you would have observed Ghaziabad, you would have noticed various places where just garbage was lying all around across the roads. So shifting of these open points to closed "Kudaa" or, the points where garbage is not collected on the main roads but there is a proper location for it. Also, earlier we didn't have this door-to-door house garbage collection. This has been now launched and ensuring it serves across Ghaziabad.
This has been a big boost for making the city clean. Also, now mechanised sweeping machines have been purchased. Now, not only day-time sweeping is carried out but also night-time sweeping is done across the market. So, this also offers a cleaner look to the city. Also, we focus on all the major entry, exit and major traffic points of the city. So, all of that we've tried to streamline in terms of road network, encroachments, the lighting part, the plantation part, etc.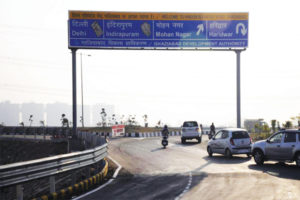 All this has given a better feel of the city. Besides, all these efforts – completion of the elevated road or focus of administration on EP, identifying the major traffic congestion point, lot of u-turns have been built with funds from Ghaziabad Development Authority. These have helped us to livable place for citizens. But, of course, it is just the beginning. Because Ghaziabad was at a very bad position so it has seen the highest jump in its own category of cities. But now taking it higher is going to be a major challenge. Because above Ghaziabad there are many cities where not only administration is making efforts, people too have a real stake in turning the city clean and a better place.
What plans do you have in the pipeline for Ghaziabad for next year?
Firstly, with people going all around from Ghaziabad, be it those working in Delhi, Noida, Gurugram, the connectivity has always been a concern. This one aspect we have largely addressed by elevated road. Secondly, in cleanliness we have reached a particular milestone. But we will have to involve more people, look for more stringent mechanism to implement it so that is another major challenge. Thirdly, though we have a 24-hour power supply in the city, a lot of power-tripping happens. We are working on that aspect. Though Ghaziabad is not the part of the Smart City system but we are pooling in the funds through Ghaziabad Development Authority, Nagar Nigam or District Administration.
Follow and connect with us on Facebook, Twitter, LinkedIn, Elets video