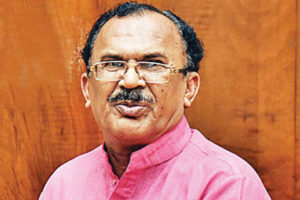 The Government of Rajasthan has started four different portals to help school students, which has also helped the Government to introduce digital innovations in schools, says Vasudev Devnani, Minister of State (Independent Charge) for Primary and Secondary Education, Government of Rajasthan, in conversation with Kartik Sharma of Elets News Network (ENN).

What special initiatives have you undertaken for schools in the State?
My constituency has 30 schools and every school has some smart classrooms. We are doing all the changes under 3T strategy i.e teamwork, transparency and technology. Without teachers' participation, this strategy cannot work. Over 21,000 schools have been merged (primary, secondary), so that students don't have to change their school after every two classes. Girls commuting five kilometers to reach schools are being provided free bicycles. Girls, travelling more that that distance, are provided transport voucher of Rs 25 per day in advance. For students of Class I to V, an amount of Rs 10 is given as transport voucher and for students of class VIth to VIIIth it is worth Rs 15. Over 2.88 lakh primary girl students are availing this facility. We have also implemented teachersstaff pattern so that even distribution of the staff can be done even for schools in the hinterland. To fill the vacant posts in schools, we have admitted 87,000 teachers across the State. 21,000 more such teachers will be given jobs this year. We have also announced another 77,000 teaching jobs.
I am pretty sure that after all these appointments, all the teacher vacancies will be fulfilled in the State and there will be no teachers' shortage.
What ICT innovations have you introduced in the State's education system?
There are two portals for the staff and the students-Shala Darshan (for primary schools) and Shala Darpan (secondary schools). Details of all the 4.75 lakh Government teachers are on these portals, it also has information about the students studying in the Government schools. We are also authenticating the Aadhaar number of the students and teachers. We have created the third portal for the private schools which has information of the staff working in the Government schools. For students, we have created an e-gyan portal. Books from Class I till Class XII are there. We are creating a studio in Jaipur through which over 2,000 schools will benefit. We have increased teaching time by 1.25 hours and now Rajasthan Government schools are functional for 6.25 hours. We have also started an attendance system whereby after the class attendance, students pictures and attendance is sent to their parents on whatsapp. This will ensure accountability. We have gained parents' trust, resulting in enrolment of 14 lakh more students to Government schools. Our board results have increased by 17 per cent in the last three years.
What is the idea behind the Vivekananda Model schools started across the State?
We have started Vivekananda Model schools in association with the Government of India. They are English medium CBSE affiliated schools. So the villagers, unable to pay hefty fees of private schools, can also send their children to these schools that are no less than any private schools. This year we are going to organise four parent- teacher meetings in every Government school. Of these four, one is mothers-teachers meet. Due to our efforts, over 38 lakh parents have attended these meetings. We have started Board examinations in Class V and VIII so that students and teachers remain serious about the education system throughout the school life.
How do you ensure quality of mid-day meals in Government schools?
Twice a year, our officials go for education and mid-day meals inspection to far-flung schools of the State. We have also started providing milk to students thrice a week. Mid-day meals are also provided to poor students even on holidays.
How do you ensure quality of education in schools?
We give a proper brief to the parents as to what a student should know in a particular class and they can check whether their wards know that much or not. Also, we have started the monitoring of the teachers as to what kind of result are they giving.
What is the new posting method of the teachers you have introduced in the State?
Earlier postings of the teachers were decided politically. Now that system has been abolished and a Council has been introduced whereby differently-abled teachers are given preference. After that widows, divorced, ladies and then male teachers come in the line of getting their choice of postings. It is also mandated that every student who has completed his/her B.Ed, has to take five weeks of training in Government school. The school will be allotted to them through an online system. Girls will be given preference in allotting schools on road so that they can reach their easily.
Please give us a brief about the Smart classes initiative of the Rajasthan Government?
Every school has to have smart classes. It is now compulsory for every Government school in Rajasthan to have at least one computer lab. Till now, only 7,000 schools had computer labs. This year, we are going to establish 5,000 new ICT labs in Government schools. We are also ensuring that every such school has at least one smart class. As per my meeting with Ajmer administration, every school there will have at least one smart classroom to be made by Smart Council. We have also made one 42 hours special IT course designed especially to impart ICT training to teachers. More than 1.6 lakh teachers have been trained through this programme. How Government of Rajasthan is emphasising on other aspects of education in schools? We have introduced yoga and meditation in our schools.
Till Class 5th, we have changed the curriculum to more specific of Rajasthan and India rather than teaching them of the world politics. From Class 7th till Class 8th , 50 per cent curriculum will focus on Rajasthan and other 50 per cent on India. From Class 9th, we will teach about the world. We have also started Matra-Pitra Pooja (parents worship) on 14th February every year. We are also building Bharat Darshan Gallery in every school, so that students can understand why their country is great. We are the first State in the country to have constructed separate toilets for girls in every Government school. Every month, there is a Cleanliness Day in the schools and all the students participate in it.
Follow and connect with us on Facebook, Twitter, LinkedIn, Elets video