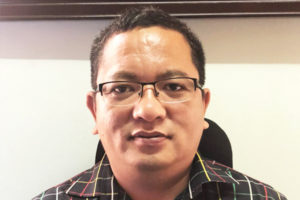 It is not long since Mizoram has taken and accepted urban issues as a real challenge. Although we are still way behind compared to advanced cities in the country and abroad, the State has taken its initiatives towards urban transformation, planning and rejuvenation by implementing various central flagship missions and State projects, writes Joseph H Lalramsanga, Director, Urban development & Poverty Alleviation Department (UD&PA), Government of Mizoram, for Elets News Network (ENN).
The UD&PA was created in the year 2006-2007. The department has been mandated to implement various schemes and programmes on urban development, housing and urban poverty alleviation of the Central Government and the State Government. There are five district offices under it. These district offices which look after matters relating to urban development are also instrumental in implementing various State and Central programmes such as Housing for All, Swachh Bharat Mission (Urban), National Urban Livelihoods Mission (NULM), New Land Use Policy (NLUP) etc. Mizoram has taken initiatives to have smart, clean and flourishing city and urban towns. The UD&PA plays an active role and is gearing all urban development initiatives in the State.
Issues on urban development can be categorised into the following:
Urban Infrastructure: A city cannot withstands the growing population unless it is well established in the form of infrastructure, which does not mean huge constructions and introduction of high-tech facilities only. The main motive of urban development policy is to have an access to clean water, proper sewage treatment, power, housing, transportation, communication and livelihood for every urban household. After having established all these basic amenities, there still is a long way to achieve sustainable urban development.
Urban Sanitation: Enormous increase in population and urbanisation has led to an increase in urban waste. These without proper management and treatment can hamper the urban health and can become an obstacle for the growth of the city. This requires an infrastructure, scientific treatment of waste as well as an awareness among the urbanites as cleanliness can only be achieved through people's participation and is a contribution everyone has to make.
Urban Transport: When a city becomes prosperous, there is an increase in buying capacity and purchasing power which in turn affects an increase in assets. There is an increase in business centres, various urban constructions and moveable assets like public and private vehicles to make our living easier. As a result, the city becomes congested without proper planning in urban transport. A city administration has to keep in mind building regulations, improved traffic management system, enforcement of laws and introduction of non motorised transport and improvement of public transport system.
Urban Housing: Rural-urban immigration is one of the main reasons for the needs of housing in urban areas. People from rural areas migrate to urban region for better and easier access to livelihood. However, due to vulnerability in their mode of living, sustainable and secured living cannot be easily attained by these vulnerable groups. This leads to occurrence of shortage of housing and is a great challenge for urban administration and authorities.
Urban Economy: Urban economy is based on the capacity of cities to mobilise its resources. In urban areas, there is higher mobilisation of resources to enhance economy, better resources and opportunities are many. If these opportunities are captured and mobilised systematically, it affects the whole economy of the State as well. However, competition does not only arise among the haves but also among the haves-not too. These vulnerable groups constitute not less than 25 per cent of urban population and their issues should not be neglected in urban planning.
There should always be a plan for all the stakeholders ensuring security for all. There should always be reliable and practicable setup for lower income groups like urban vendors who play a very important role in urban economy. l Urban Safety: When we dreamt of a beautiful, developed and self sustained city, we may be dreaming a city with fancy cars in the glittering streets, mega business centres, a city with no or less unemployment problems, advanced and technology based public transportation and a cheerful urbanites living in it, but all these dreams are incomplete without security. The people should feel safe and contented to be productive and resourceful. This safety should focus on vulnerable groups especially women, children and youths. The municipal administration and the State administration should not neglect the security of its people, security in terms of employment/ livelihood, housing, access to basic amenities and education.
Keeping in mind the above mentioned issues in urban administration, Mizoram has taken its initiatives to have smart, clean and flourishing city and urban towns. The UD&PA plays an active role and is gearing all urban development initiatives in Mizoram. Since water is the one of the most important necessity among basic amenities and is the main priority to be taken up under AMRUT project, Aizawl has encountered various challenges to get clean water.
Due to its steep terrain, distribution system of drinking water in the city is quite a challenge. However, in order to ensure access to clean water to every household in the city, the department is focussing on improvement of various distribution pipelines, strengthening of line department, infrastructure development and repairing/replacement of existing pipelines under AMRUT.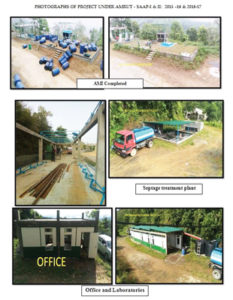 The Department of UD&PA is also giving its effort in Aizawl to have a clean and safe environment, as one of its initiatives Sewerage and Septage Management is executed under AMRUT. With this technology, the existing conventional septic tank will be replaced by introducing bio–digester. It is a technology innovated by Defence Research and Development Organisation (DRDO). It is a great way of promoting water reuses and recycles. This bio– digester requires smaller space and does not require soak pit. Therefore, it is more economical and eco–friendly. Anaerobic Microbial Inoculums (AMI) manufacturing facility has been set up to culture the mother bacteria and reproduce it. Every household in the city would be able to utilise this facility as this unit has already started culturing the bacteria.
The UD&PD under AMRUT is creating green space and parks at the possible sites in the city for recreational purposes. These would serve the needs of free space and peaceful environment for the citizens, especially the children and the youth. These would also serve as environmental protection site and recreational site wherein people in the city would refresh their physical and mental being. The department is initiating and promoting Non Motorised Transport in Aizawl for which a transport masterplan was designed by iTrans. Mizoram is rendering its effort through district administration and local administrative authorities to achieve the Open Defecation Free (ODF) status as early as the end of next financial year.
As of now, there are 16 urban towns and cities out of 23 urban towns had achieved ODF status. Long before Swachh Bharat Mission was launched in our country, cleanliness week has been observed since 1970 in Mizoram. One of the main issues and challenges urban areas have encountered is needs of shelter by urban poor, the land holding pattern etc. In rural areas, there is flexible and easier way of land holding system which can be practised by local self government and the cost of land does not affect much even the weaker sections as the free land is divisible and usually distributed among all the villagers by local authority for livelihood and dwelling purpose. But in urban areas, the land is more valuable and ownership system is complicated.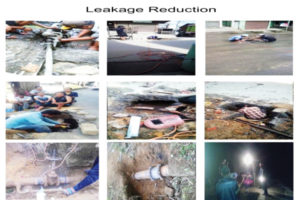 This became a problem for those who need the land even for construction of shelter. Knowing all these stated facts, the Department of UD&PA, Government of Mizoram has taken initiatives towards Urban Housing Schemes/affordable housing in urban areas since the year 2009. Urban immigration which is the main reason for increase in urbanisation also leads to saturation of carrying capacity of urban areas. Hence, supply of basic needs to citizens beomes a challenge.
Planning of the same is often difficult as all urban areas are not static in terms of population and other resources, collection of vital data for projects and planning seems more difficult than rural areas. This contributes to the slow progress in urban development. However, these challenges and tasks are tackled by various means and endless efforts are being made through the above missions and State projects as well. Mizoram has launched New Economic Development Policy (NEDP) and under this, various urban transformations have taken place such as junction improvements to regulate traffic movement, infrastructures at local level, and establishment of e-office, which was initiated under operation and maintenance, to improve work efficiency at the office of the State's Department of UD&PA.
To facilitate the needs of urban areas in the State, UD&PA department has been implementing projects under 10 per cent lumpsum provision for North East region under the ministry of Housing and Urban Affairs (MoHUA). All projects executed under the department has come to an amount of Rs 54,238.85 lakhs and these works mainly includes projects on improvement of water supply schemes for towns, construction of sports infrastructure in various districts, construction of urban resource centres, improvement of city roads, improvement of bus stations and district complexes etc.
These works were executed in eight districts in Mizoram. To strengthen urban livelihood security and to uplift women community in urban areas, Deendayal Antyodaya Yojana – National urban Livelihood Mission was implemented in all districts of Mizoram. 1094 Self Help Groups (SHGs) were formed and individual assistance and group assistance were provided through bank loans to urban women. This has blessed many weaker sections in urban society who are less privileged and on implementation of the said mission, Mizoram has topped in achievements such as Bank linkages and Shelter for Urban Homeless (SUH) in DAY-NULM.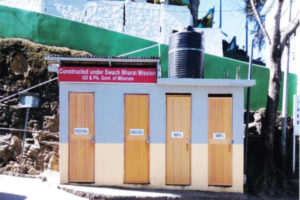 Although, the urban Development and Poverty alleviation Department is progressing in various ways, there are some factors that hinders our activities and smooth implementation of some missions. One of those is the absence of proper administrative set up such as Urban Local Body at local level and intermediary level. This has been an issue since the establishment of the UD&PA Department.
Absence of this hampers smooth transaction of business and funds and decentralisation of powers at local level and intermediary level. It is a well known fact that urban development strategies and initiatives is truly a big challenge for every State in the country. It requires constant effort, enthusiasm and participation of all citizens. Mizoram, though it is a small State, has opportunities in terms of citizen's participation.
People are ambitious, they socialise and are competitive and being the second most literate state, education and awareness through public towards any developmental motive is expected to be easier. It is hopeful and advantageous for the authority and key holders that the compact society and its capability in various forms is suitable in driving the state towards our goals in urban development.
Follow and connect with us on Facebook, Twitter, LinkedIn, Elets video