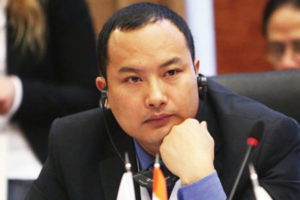 The Department is also implementing North Eastern Region Capital Cities Development Investment Programme (NERCCDIP) for Aizawl City under Asian Development Bank funding, and it is doing very well, says Dr C Vanlalramsanga, Secretary, Urban Development and Poverty Alleviation Department, Government of Mizoram, in conversation with Ritika Srivastava of Elets News Network (ENN).
Give us an overview about urban development of Mizoram?
Mizoram is the most urbanized State in India with more than 52 per cent of the population living in urban areas. Mizoram has unique challenges in urban development due to its location, topography and pace of urbanisation. Urban administration, like all other States in India, has been quite a recent development and urban development has been a recent phenomena.
In spite of this fact, Mizoram has been achieving significant progress in recent years due to dynamic governance and favorable participation of the people. Urban areas have been centres of economic growth in the State and the State Government has been placing urban development as one of the priority area. What major projects have been introduced by your department for the State's urban growth? The State flagship programmes under New Economic Development Policy a comprehensive growth strategy has placed urban development on priority. Composite Urban Infrastructure Development Scheme has been implemented this year.
In parallel, Composite Village Infrastructure Development Scheme has also been implemented to improve livability of rural areas so that unrealistic and rapid rural-urban migration may be checked. This will also promote urban clusters in the State. The Department is also implementing North Eastern Region Capital Cities Development Investment Programme (NERCCDIP) for Aizawl city under Asian Development Bank funding, and it is doing very well. Moreover, the department is also implementing Central flagship programmes such as Swachh Bharat Mission (Urban), Housing for All, National urban Livelihood Mission, AMRUT, and Smart Cities.
What are the major challenges effecting Mizoram's urban development?
Providing urban infrastructure is very costly here due to our topography, location and poor transportation system. The cost of providing urban infrastructure is much higher than in plain areas. Moreover, due to heavy and prolong rainy season and topographical disadvantage, most of our urban infrastructure requires high cost of maintenance. Also, as stated earlier, rural-urban migration has been quite a phenomenon here in the State culminating in high urban population.
Where do you see urban development of Mizoram in the coming years?
The challenges of urban development in Mizoram are enormous, especially in the capital city of Aizawl where the terrain and space constraints serious problems. But the Government and the people of Mizoram has rightly put priority on urban development to improve livability and productivity of out cities and towns. I am sure the initiative undertaken by the Government with people's support will put urban development scenario in the State to a comfortable and sustainable level in the coming years.
As e-governance has created a buzz in the country. How do you view it as influencing the administrative style in your region?
E-governance is an important driving force for efficiency in public service delivery and innovation in public administration. The influence of e-governance in a small State with high literacy like Mizoram has been tremendous. However, we will need credible, reliable and flawless internet connectivity to effectively implement e-governance in the State to be able to transform public administration in a very significant manner.
Do you think e-governance is the need of the hour for a developing country like India, especially where access to basic amenities has been a challenge?
The implementation of e-governance will improve public service delivery in the country. The effective use of e-governance will enable the delivery of public services to a large base of people across different segments and geographical locations, and marks a giant step forward towards creating a more inclusive society. However, to effectively implement e-governance, we will have to address digital divide particularly challenges relating to capabilities of the Government to deliver e-government services and the capabilities of the people to avail e-services.
How do you view the impact of e-governance on employment front in the light of high unemployment rate in the country?
Kindly give an example from your region. ICT revolution has put tremendous pressure on Governments to do more with less by implementing e-government, improvement in public service delivery while saving on costs will enable higher public investments and therefore, generate larger employments. Moreover, e-government will put women in a more level playing field or make them more competitive that will also provide better employment opportunities to them.
What steps have you taken for public awareness with regard to new methodologies of providing services being increasingly adopted by digitised Government system?
Mizoram Government has made computer skills mandatory for entry into government services. We also have e-governance society who spearheads public awareness campaign for e-Governance initiatives in the State. What kind of security measures have you already put in place to make the system foolproof from sabotage like recently attempted through ransomware cyber attack? The Government of Mizoram has a dedicated ICT Department to closely monitor the growth of ICT projects in the State. The ICT Department has set up the State Data Centre for data security, and they are also proposing to set up Cyber Security Centre.
Follow and connect with us on Facebook, Twitter, LinkedIn, Elets video