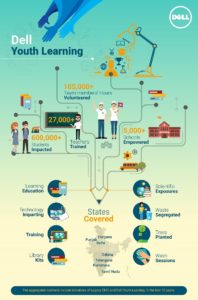 Dell completed a milestone of 10 years of 'Dell Giving' in India. Through Dell Youth Learning initiatives, which focus on improving learning outcomes in schools by providing technology access – the company has successfully empowered students across 5000+ schools across the country in the last ten years. Dell commemorated this momentous occasion by conducting various volunteering activities for student projects across schools adopted under the programme between September 18 and 29, 2017.

Programme milestones over the last decade
Dell Youth Learning programme empowered 6,00,000+ students across India with technology access
Through the programme, over 27,000+ teachers were trained to inspire students to innovate, collaborate and learn
Dell employees clocked in a record high 1,05,000+ volunteerism hours spent on working with the NGOs to impart Information and Communication Technology (ICT) skills and

education

through visual content
The programme touches 5000+ schools across India – covering Tamil Nadu, Karnataka, Telangana, Odisha, Punjab, Haryana and Delhi
The initiative provided schools access to a minimum of a Dell Laptop, Dell projector and interactive e-learning content that is developed with support from Dell funding
In addition to fostering creativity among partner schools, an important component of the Dell Youth Learning is to utilize the technology for community outreach. In many of the schools, the Dell computer lab is used to impart ICT skills to children from other schools in the neighborhood.
Significant impact delivered by Dell Youth Learning NGO Partners such as:
Agastya Foundation
American India Foundation (AIF)
Dream a Dream
Learning Links Foundation
Hope Foundation
Humana People to People India
Literacy India
Sikshana Foundation
Youth for Seva
Building on experience gained over the past ten years, the Dell Youth Learning program is moving towards rigorously measuring outcomes and engaging with state governments to influence systemic changes in school education.
            "We have always believed in leveraging technology to make a positive impact on people and communities around us. The Dell Youth Learning program is a shining example of how we have anticipated and shouldered India's digital dream of creating a knowledge economy since 2007. Our dream is for the long-term, as we invest our energies and resources in the youth to equip them for a digital future. As we look back at a successful decade of Dell Youth Learning in India, we are hopeful of achieving the next milestone, armed with all the learnings from our past experience", Rajeev Kapoor, Vice President Finance and CSR Champion, Dell EMC India.
            "Empowering youth and helping them scale greater heights has always been an important facet of Dell Inc.'s work culture and we have done widespread work in developing technologies that drive human progress. Our commitment to empower the children in our adopted schools through digital learning experiences under the Dell Youth Learning program is a perfect example of our sustained efforts towards creating a digitally enabled society that gives way to innovation in-turn benefiting the world as a whole. We take great pride in preparing youth for success. As a company we feel proud of the achievement and hope to create a wider platform for the youth to help them excel in all walks of life," Chandrasekar Krishnamurthy Vice President, Global Services and Executive Sponsor – Corporate Sustainability, Dell EMC Corporation.
Follow and connect with us on Facebook, Twitter, LinkedIn, Elets video