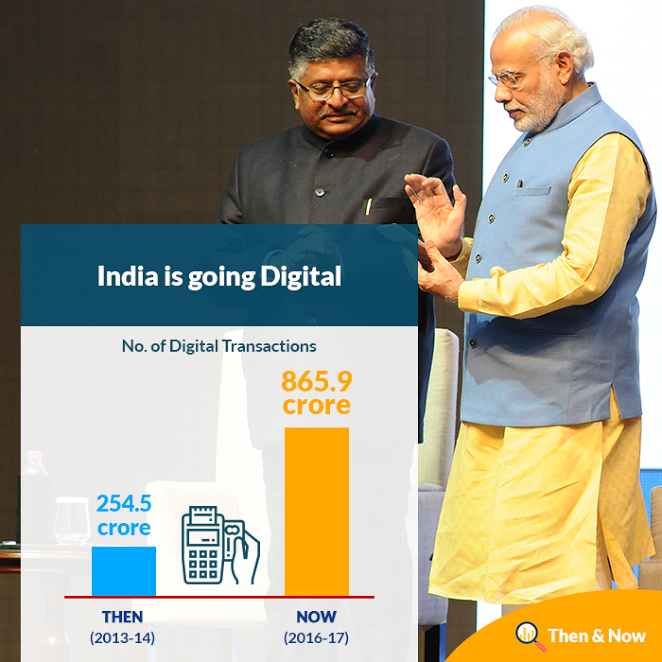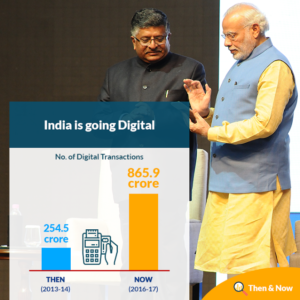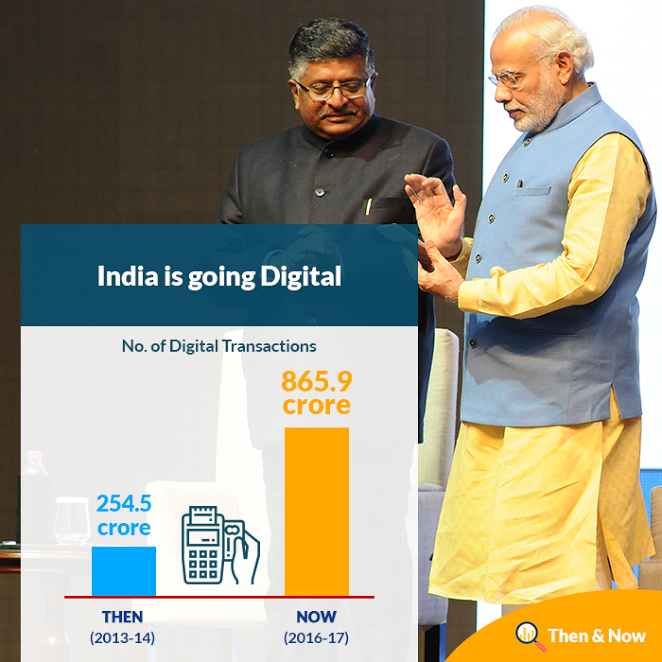 With the BJP-led NDA government completing three years at the Centre, Prime Minister Narendra Modi has been at the helm of all key reforms. The Government's prominent initiatives like Digital India, e-governance, and Aadhaar enablement have drawn much admiration as his favourite schemes.
Some of the prominent projects which made a mark in the lives of common man in the country are:
Digital India
Innovations in Digital Payments have made India the only country in the world with a fingerprint-based payment system (bio-metric system). According to government's statistics, digital transactions have increased to Rs 865.9 crore in 2016-2017 from Rs 254.5 crores.
 As a step to raise the internet connectivity, the Modi government has been able to increase the Optical Fibre Broadband Network to 2,05,404 km this year. In 2013-14, the network was spread over an area of 358 km only.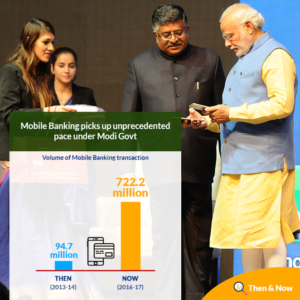 Demonetisation
Demonetisation, a bold move by the Modi government, introduced the country at large to the process of digitisation in a major way. The recent state assembly elections in Uttar Pradesh, Uttarakhand, Goa, Manipur, and Punjab were largely viewed as a statement on this demonetisation push which declared Rs 500 and Rs 1,000 notes as invalid last November.
After initially leaving most of the people flabberghasted, demonetisation later received a rousing welcome in various quarters of society.
In 2016-17, a total of 722.2 million transactions were recorded through mobile banking as compared to 94.7 million transactions recorded in 2013-14.
Aadhaar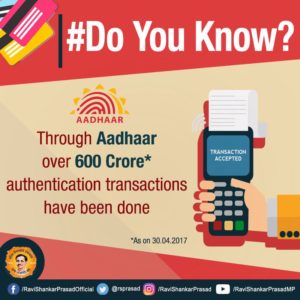 Modi government has also used Aadhaar as a source of one's identification. The government has achieved 600 crore authentications through Aadhaar so far.
The Ministry of Electronics and Information Technology has started training sessions for digital payments. Till now 2.04 crore people have registered for such courses, according to government statistics.
UPI and BHIM
The Government also started Unified Payments Interface (UPI)—a payment system that allows mobile-enabled money transfers between bank accounts. A mobile app by the name of BHIM was also recently launched for a less-cash economy.
Green Economy and Energy
Under Modi government dispensation, rural electrification has increased in the country. The number of electrified villages swelled to 6,015 in 2016-17 from 1,197 villages recorded in 2013-14.
The central government is also encouraging increased usage of electric vehicles. There is a focus to use clean and renewable energy generation.
Swachh Bharat Mission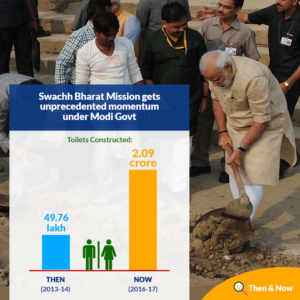 Modi's government's flagship programme — Swachh Bharat Mission — focuses on cleanliness.  In 2013-14, the number of toilets constructed across the country were 49.76 lakh. In 2016-17, it surged to 2.09 crore.
: By Priyanka Sharma