Raipur is competing with Indore to win the tag of No. 1 Indian city in cleanliness. To achieve this goal, Raipur Municipal Corporation (RMC) has launched an awareness campaign on sanitation and waste management, says Pramod Dubey, Mayor, Raipur Municipal Corporation, in conversation with Arpit Gupta of Elets News Network (ENN).
What is Raipur Municipal Corporation's (RMC) plan to make the city Smart? What are the challenges RMC is facing in making old Raipur city an advanced city with the aid of technology?
If Raipur has ensured its place as a smart city among 500 cities of India, the credit for it goes to the city's people, infrastructure and our future planning that was taken into account while preparing the Area Based Development (ABD) and pan-city plan.
"We should compete with Indore, which has been declared the cleanest city of India. We have made it a challenge for ourselves to make Raipur comparative to Indore. We want more participation of people."
By assimilating all the existing challenges, we are committed to make old Raipur a beautiful city. We plan to transform Raipur into a modern city without losing sight of its historical importance, providing citizens – young and old – all the facilities ranging from basic necessities to entertainment.
Raipur continues to grapple with challenges like solid waste management and clean drinking water. How do you plan to solve them through smart solutions?
We have made progress in all these areas, but it was a bit slow. Administrative challenges, tender process, consultant selection, etc, take time. But we are very determined to speed up the process to solve these challenges at the earlier.
For the implementation of Smart City projects, there should be a good coordination between various government departments, what are your views on that?
There should be a regular meeting of the Special Purpose Vehicle (SPV). There is also the need for a proper plan and time limit for execution of every project. The SPV has been formed under the guidance of the state's Chief Secretary, while the nodal officer of SPV is the collector. A proper coordination between all the departments can help overcome hindrances easily.
Big projects like multi-level parking, central library, or bus stand are gaining momentum in Raipur. Does that mean that an important beginning has already been made towards the Smart City goal?
Yes, indeed a good beginning has been made. However, I believe that some of the project would have been started much earlier. It has been more than a year since Raipur was included under the Smart Cities Mission. But I also believe that only those who run could fall. People are working hard under all circumstances and we are hopeful to get good results, even if a bit delayed.
Despite making progress in comparison to the last year, Chhattisgarh has fallen behind in the Swachh Bharat Ranking. What could be the reason behind it?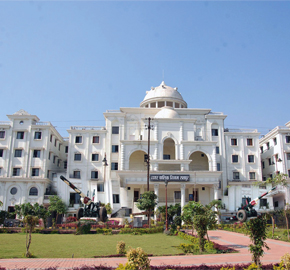 Is it because of lack of public participation? We were ranked 68th last year in the city cleanliness index. This year we are on the 38th rank. Out of 500 cities, Raipur has been ranked 129, which is an improvement from the last year. We have made progress but we are not satisfied with that. We should compete with Indore, which has been declared the cleanest city of India. We have set a challenge for ourselves to make Raipur comparable to Indore in terms of cleanliness. We want more participation from people. We will launch a public awareness campaign; motivate them; and strengthen door-to-door collection. We will provide more facilities to the people. We will ensure better waste collection and disposal. It is for the government to decide whether they want to convert waste to energy or waste to compost.
What are the future plans of RMC? 
It is a matter of pride for us that India's tallest flag measuring 82 metres is in Raipur. We have already done a lot of work for students. We have made a world class library. We have introduced special programmes for areas like Jawahar Bazaar and Shastri Bazaar.
We consider ponds as sacred and have launched special schemes for their maintenance. Almost 54 ponds are covered under the scheme. We plan to make Raipur pollution-free which will transform Raipur as more smart, better and beautiful.