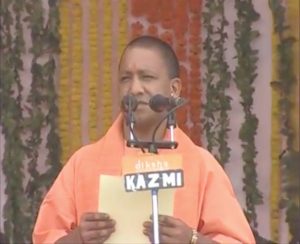 Yogi Adityanath was sworn-in as the new Chief Minister of Uttar Pradesh, along with his two deputies BJP UP Chief Keshav Prasad Maurya and BJP's National Vice-President Dinesh Sharma who also took oath as the Deputy Chief Ministers.
The oath of office and secrecy was administrated by Governor Ram Naik at a function at Kanshiram Smriti Upvan in Lucknow. The oath-taking ceremony was attended by Prime Minister Narendra Modi and BJP President Amit Shah.
The Bharatiya Janata Party elected 44-year-old five-term Member of Parliament from Gorakhpur constituency Yogi Adityanath as their legislature party leader at a meeting of the newly elected MLAs in Uttar Pradesh on Saturday. After the meeting, he met Governor Ram Naik and staked claim to form the Government in the State.
Besides Two Deputy Chief Ministers Keshav Prasad Maurya and Dinesh Sharma, 47 ministers also took oath of office and secrecy today in Lucknow, along with Chief Minister Yogi Adityanath.
Keeping in line with Prime Minister Narendra Modi's motto of 'Sabka Saath, Sabka Vikas', the Yogi Cabinet also has one Muslim face. Mohsin Raza is a spokesperson in BJP and is considered BJP's Muslim face in Uttar Pradesh.
List of Cabinet Ministers, MoS (I/C) and MoS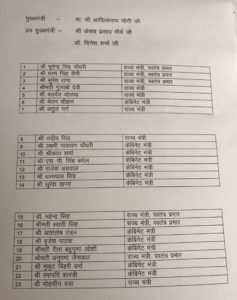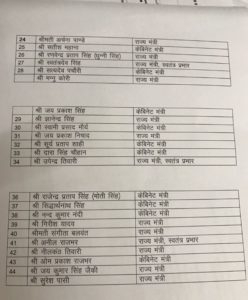 "Our government is committed to fulfill all the promises made by the Bharatiya Janata Party (BJP) in its election manifesto before the Assembly elections. We will work for all sections without bias in line with the Prime Minister Narendra Modi's motto 'Sabka Saath, Sabka Vikas'," said newly-appointed Uttar Pradesh Chief Minister Yogi Adityanath oin his first press conference.
The priority issues of his government would be improved educational system, better law and order, job creation, skill development, round-the-clock power supply and women security, he said.
"We will adhere to the credo of 'Development for All' initiated by Prime Minister Narendra Modi. The government and its officials would be made accountable to the people, Adityanath said.
Cabinet ministers Shrikant Sharma and Sidharth Nath Singh were named the official spokespersons of the new government.
The spokespersons later told the media that the Chief Minister had directed his ministers to declare their assets within the next fortnight and to avoid making statements in the public.
Follow and connect with us on Facebook, Twitter, LinkedIn, Elets video