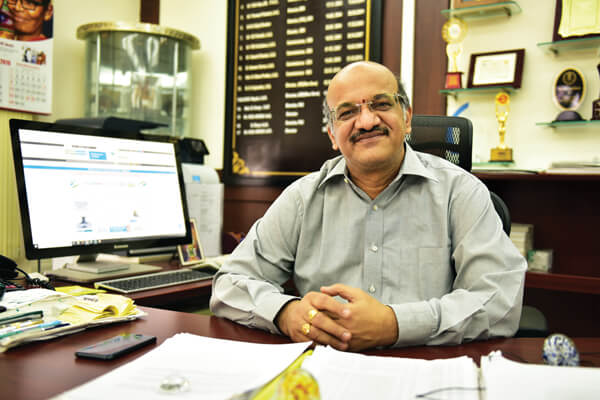 The Government of Telangana has launched 'MeeSeva' to provide smart, citizen centric, ethical, efficient and effective governance facilitated by technology. The initiative involves universal and non-discriminatory delivery of all government services to citizens, says G T Venkateshwara Rao, Special Commissioner, eGovernance and Commissioner, Electronic Service Delivery, MeeSeva, Government of Telangana in conversation with Elets News Network (ENN).
What is the overview of MeeSeva?
MeeSeva platform was earlier part of eSeva platform and over the last 15 years, it has made rapid strides. From 2012, the organisation has witnessed a significant change and incorporated various new options online. After the formation of Telangana, the department has further witnessed tremendous growth as the State ranks number one (on the basis of e-transaction per thousand population) as per the statistics from Electronic Transaction Aggregation and Analysis Layer (eTAAL).
The objective of MeeSeva is to provide smart, citizen-centric, ethical, efficient and effective governance facilitated by technology. The initiative involves universal and non-discriminatory delivery of all government services to citizens and businessmen of all stratas and improved efficiency, transparency and accountability for the government. The initiative features transformed government-citizen interface at all levels of administration along with a shared governance model. The project brings in a digital Public Key Infrastructure (PKI) enabled integrated architecture through multiple service delivery points by fusing in the various preexisting State initiatives with the mission-mode projects like State Data Centre (SDC), State Wide Area Network (SWAN) and Common Service Centers (CSCs) of the National eGovernance Plan (NeGP) of the Government of India.
How the department has evolved over the years to ensure better services? The services of MeeSeva and eSeva are offered through 110 government owned centres and 4,500 franchises. We serve an average of about 50,000-60,000 daily on eSeva platform and about 60,000 to one lakh people on our MeeSeva platform.
We handle about 350 crore to 400 crore of revenue every month. If you see the increasing scale, you will know that we are the best in the country when it comes to number of people served every day, number of services offered and the money routed through the platform.
The biggest achievement of our electronic service delivery platform (ESD) is that we play a crucial role in government's decision to ensure transparency between citizens and bureaucracy. We offer close to 600 services of 34 different departments. If any citizen needs to know about any particular service of any particular department, he/she just needs to visit any of the 4,500 service centres. So, instead of a citizen approaching to the government, we have actually brought the government at citizens' doorstep. So, ensuring transparency and easy access to government and its departments are the two major tasks we are responsible for.
A lot of new projects are being undertaken by your department. Will you please elaborate MeeSeva 2.0? We have already done well. But yes, there is still a lot of scope for improvement. We have identified few concerns which includes the presence of multiple applications. We have four applications maintained by four different vendors which is a little troublesome to manage. Presence of multiple user-interface – We want to uniform the look and feel of our applications;
Lack of analytics, financial reconfiguration and modernisation of available architecture – We will like to have a Service Oriented Architecture (SoA) which is the latest one. These are the areas we will be working upon in near future .
Building TAppFolio is another major initiative undertaken by the government to promote mGovernance. We will develop entire mobile services delivery gateway within the current infrastructure. In very simple words, the government of Telangana wants to deliver all its services on mobile phones. We plan to move all our services to mobile applications in different phases. It will enable the citizen to make the most of governments online services by downloading a single app.
Also Read: Telangana's e-governance measures are aimed towards easing lives of citizens: GT Venkateshwara Rao
The National Institute of Smart Governance is our consultant for both the jobs – TAppFolio and MeeSeval2.0 project. The TAppFolio contract has already been signed and we have initiated the work. We hope we will be able to launch these applications before June 2017.
Mobile platform will certainly be a nice experience for the citizens. It will be a cheaper way for them to get access to different government services.