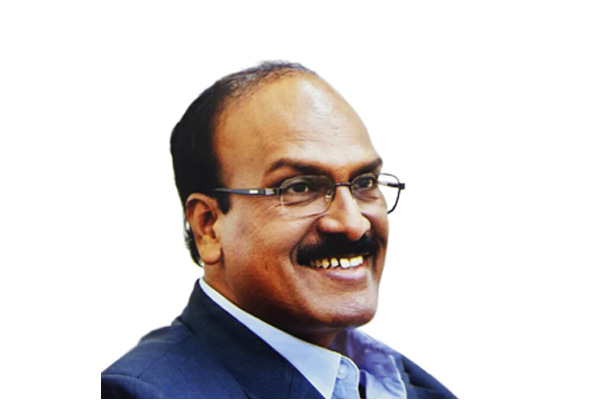 Hyderabad, the fastest growing city of India with over 1 crore population in its limits, is governed by the Greater Hyderabad Municipal Corporation (GHMC) which is the second largest corporation of India. Dr B Janardhan Reddy, IAS, Municipal Commissioner, GHMC gives insights on how the civic body could fare well in the overall inclusive governance, self reliance and transparency in an interaction with Sudheer Goutham of Elets News Network (ENN).
GHMC has been ranked as the number one Municipal Corporation in terms of transparency, online transactions and other digital initiatives. How did you achieve this position?
MyGHMC App has been very crucial here. The app is liked by citizens of Hyderabad and a large number of people have downloaded the applications and are making the best of it. The app has been able to reduce the time spent in Various physical processes. People can report various issues through the app by clicking photographs. Our grievance redressal system is now app based. So, as far as operations and maintenance issues are concerned, about 95 per cent of the issues are addressed within 24 hours. Further, we have also made the process of seeking a couple of permissions online. These initiatives have helped us eliminate the need for middlemen and increase transparency in the functions.
GHMC is the second largest Municipal Corporation in India. How is the corporation dealing with grievances of citizens?
Keep City Running (KCR) is the basic principal for the development of a city. Asset creation can be made but maintenance is an important factor to get the city running. We receive over 600 grievances complaints each day, i.e, 18,000 complaints every month. GHMC has grievance redressal system that runs through multiple modes—social media, Twitter, Facebook , Praja Vani- Live TV show interaction resolving the public grievances and face to face interaction. Grievance redressal forum close the complaint once it is resolved. If it's not resolved the complaint is reopened and redressal process is taken up. If the issue continuous to remain, it will be escalated to a higher officer. This system is working well.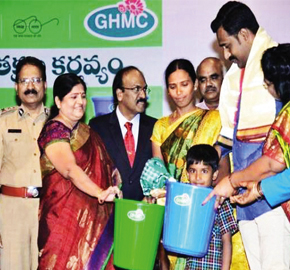 GHMC has also undertaken the Swachh Hyderabad Mission very sincerely and you have personally ensured that the mission achieves significant results. Please share your views.
Waste segregation is very crucial to keep a city clean and pollution free. We have made efforts and fortunately achieved 98 per cent waste segregation with the help of 2,000 autos with segregator compartments to separate dry and wet waste. We also practiced "Gandhigiri" to spread awareness on the importance of keep ingour city clean.
Throw some light on the measures taken for poverty alleviation in GHMC that has ensured remarkable results?
We have made efforts to open banks accounts for urban poor and also ensured mechanism where they can take loans from the banks directly, eliminating the need to get loans from moneylenders. The model has ensured 95 per cent repayment to the banks. Whatever loans they are taking, they are able to pay 95 per cent. Since they are repaying, they are able to get more money.
Also Read: 'Our Main Focus Is To Improve Quality of Education'
We have made efforts and fortunately, achieved 98 per cent waste segregation with the help of 2,000 autos with segregator compartments to separate dry and wet waste.
What is so unique about "unite the family, divide the waste' concept?
Dividing the waste and recycling is which is widely practiced worldwide, especially in developed countries. But even in these countries, there is one thing which is very worrying – 50 per cent of the children are troubled due to divorces. So from them we can adopt how to segregate waste while from us (Indians) they can learn to keep their families united.
Will you please throw some light on the Strategic Road Development Plan (SRDP)?
In order to plan and develop future transport system for Hyderabad a comprehensive study , was undertaken with the help of Local Education Authority (LEA) Associates. As an outcome of this study conducted over a period of three years by collecting extensive data on social economic and travel characteristics of the resident and floating populations in Hyderabad and its surroundings in HMDA jurisdiction, a long term transportation plan was evolved. On the basis of critical evaluations of the present levels of traffic loads and the congestions being experienced in Hyderabad, SRDP was identified to provide relief to the traffic problem. Closely spaced traffic junctions are the major cause of delay in journey, for providing continuous traffic movements SRDP with a conflict free road network is planned.
We would also like to know about the functions of Health Wing? Will you please elaborate?
As an established practice everywhere, the civic authority is responsible for providing all the civic amenities to the urban citizen and maintenance of public health through conservancy is vital towards achievement of this goal. The functions include Swachh Telangana and Swachh Hyderabad under the aegis of Swachh Bharat Abhiyan, conservancy through better solid waste management – introduction of clean auto tipper driver cum owner scheme, distribution of dustbins to segregate the dry and solid waste source, establishing Urban Health Centres, improving the convenience for public for obtaining the birth and death certificate, Swachh App initiatives, providing subsidised food scheme at `5 for the unprivileged sections of the society and use of mix and manual mechanised sweeping, are some of the major initiatives.